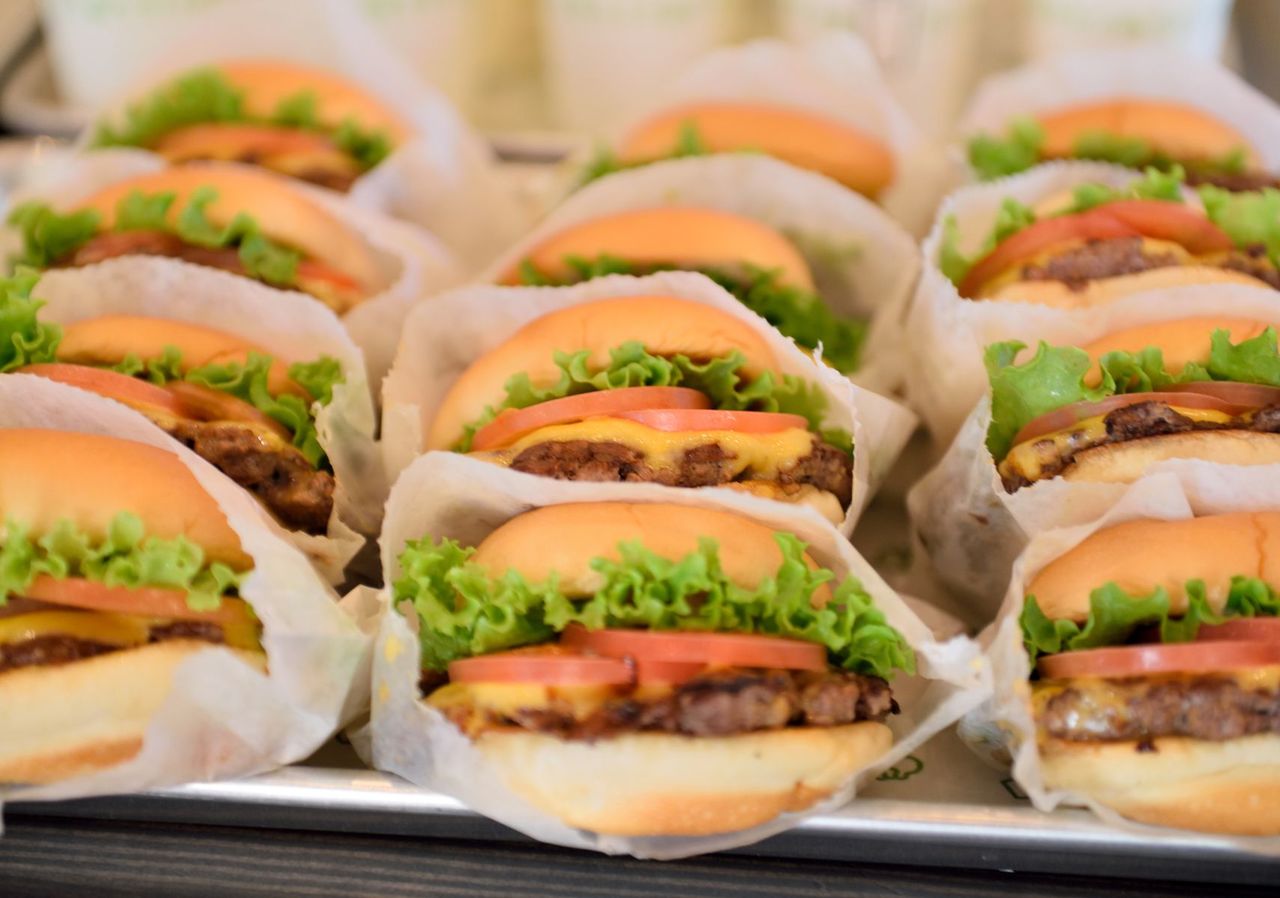 The first Japanese branch of the U.S.-based hamburger chain Shake Shack opened on November 13 right before the leaves on the gingko trees turned yellow, on a tree-lined street leading from Aoyamadori Avenue to Meiji-Jingu Gaien.
The first thing one notices upon entering this shop is a spacious terrace which contains a 200 year old gingko tree. As well as 67 seats inside the restaurant, there are 100 seats outside. Fun additions like table tennis are in place for customers to enjoy.
The interior of the restaurant is decorated mainly with wood wall paneling. Shake Shack is conscious of both cost reduction and the environment by placing tables made with wood salvaged from former bowling alleys.
Customers can taste the same popular menu items as ones sold in the U.S., such as the leading product "Shack Burgers" and the original "Flat-Top Dogs". The restaurant also has four types of ice cream. One additional unique shake flavor only available in Japan is black sesame. Alcoholic beverages such as wine and beer are also offered. They are trying to target a wide range of customers including families, couples and business colleagues.
Two Reasons for Opening Ahead of Schedule
Shake Shack opened the first restaurant in New York City's Madison Square Park in 2004. The franchise now has 79 restaurants in 10 different countries, including this first Japanese branch.
The company chose Sazaby League as its partner for its expansion into Japan. Sazaby League has been managing more than 30 brands in Japan, including Starbucks. When they entered an exclusive agreement regarding the development of Shake Shack in Japan in February of this year, they announced that the first restaurant would open in 2016.
However, the company decided to open it earlier. There were two main reasons for this. One was that the construction of the restaurant went much more smoothly than expected. The other was that the company was able to establish the necessary supply chain of ingredients a lot earlier than originally planned.
Randy Garutti, the CEO of Shake Shack, was thankful that Sazaby acted quickly, thereby allowing the restaurant franchise to get a space in a good location. They had more than 10 prospective locations for their first Japanese restaurant, all mainly in the Tokyo metropolitan area.
Garutti further explained that the reason for selecting this location on the gingko tree street of Meiji-Jingu Gaien was because it has a similar atmosphere as Madison Square Park where Shake Shack opened its first restaurant. The idea of "a park in a business region" perfectly matched the company's vision.
Careful Pricing and Expansion Strategy
Shake Shack took its first step into the Japanese marketplace. They are offering a Shack Burger priced at 734 yen ($6.00). Although it is more expensive than a McDonald's Big Mac (370 yen [$3.00]) or a MOS Food Services' Mos Burger (370 yen [$3.00]), the company kept the price lower than high-quality hamburgers offered in privately-owned shops.
The company was most concerned about keeping the price difference between Japan and the U.S. to a minimum. The price of a Shack Burger in the U.S. is $5.19 (630 yen). Although the price in Japan is set a bit higher than the US, Shake Shack still will not make much of a profit from the hamburgers sold in the Japanese branch.
Garutti has stated that he truly wants to recreate the flavor of New York in Japan. To achieve this, Angus Beef imported from Australia is used for the burger patties, and the buns are imported from the U.S. Therefore, the cost of ingredients inevitably increases as a result of these choices.
Shake Shack set its goal to open nine more restaurants in Japan by the year 2020. This figure seems a lot less ambitious than other hamburger chains. Will the business succeed if it does not increase the number of restaurants, and the cost of ingredients remains high?
In regard to this question, Garutti feels that if you expand too quickly, both taste and customer service suffer greatly. He plans to keep the number of restaurants to a minimum in order to attract more customers. The company will focus on establishing U.S.-style Shack Burgers in Japan for awhile. However, Garutti further notes that there is a possibility of introducing Japan-only hamburgers in the future.
Taco Bell relaunched in Japan in April this year, and Carl's Jr. is planning to reopen this winter. With so many other U.S. restaurant franchises opening restaurants in Japan one after another, will Shake Shack survive in this same market with its careful expansion strategy?