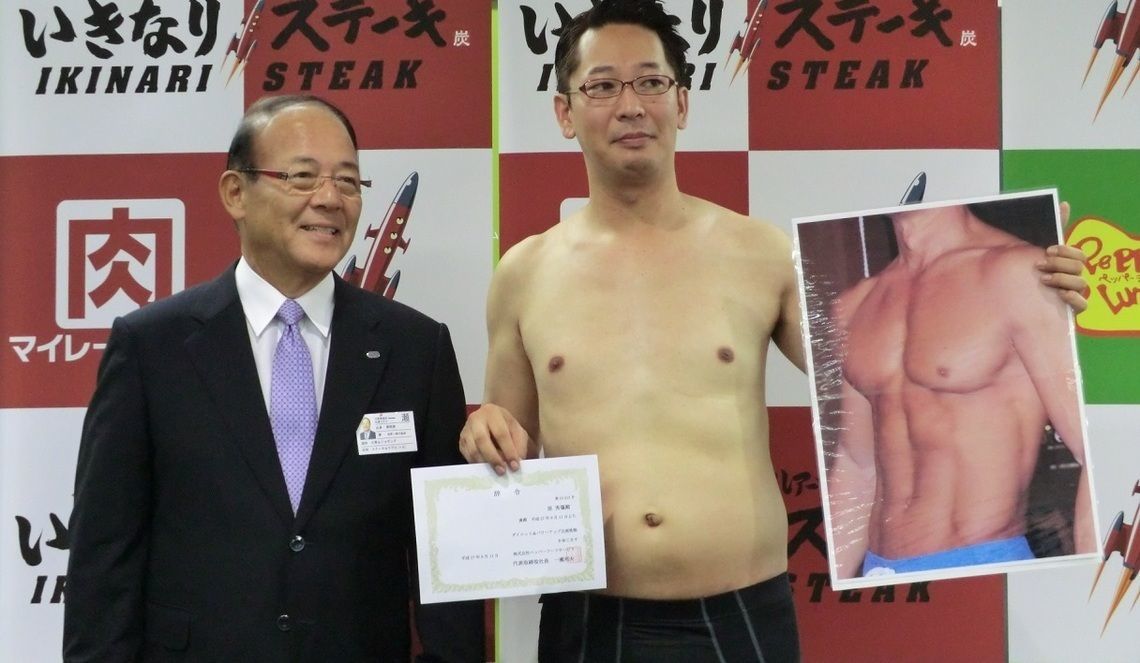 Can anyone lose 18% of his or her weight healthily by eating steaks every day? This is not a question raised by the public healthcare authority nor from researchers studying about the risks of metabolic syndrome.
It is a question that made the headline of a unique PR campaign launched by a steakhouse chain named "Ikinari Steak". The company that runs the chain, Pepper Food Service, is serious about proving that it's possible so that it can defy the generally accepted view that meat is heavy food.
Ikinari Steak is known to serve great sizzling steaks at reasonable prices but offers no seats to its customers. It is receiving strong support from meat lovers who do not mind standing all the time while they savor their favorite dish if it is going to be easy on their wallet.
This restaurant can set its prices lower than many of its competitors serving steaks of similar quality and still make a profit because the stand-up eating format assures faster turnover of customers. This business model turned out to be highly successful and is making the management of Pepper Food Service increasingly confident about expanding this chain.
In February this year, the first Ikinari Steak store opened in a local city outside of major metropolitan network. The management has an aggressive plan to launch a total of 53 new outlets by the end of this year, including one in New York.
Meat can be a health food
The management's idea to challenge the conventional thinking that meat dishes are heavy actually emerged from an astonishing comment made by a loyal customer. This repeater reported that he was able to trim his body fat by eating meat frequently.
On September 11, Pepper Food Service held a press conference to announce this PR event, putting its public relations manager, Hidetoshi Hara, under the spotlight half naked above his belt. Not only was his appearance impactful, but the promise he made in front of the media was even more mind-boggling.
"By November 29, I will lose 15 kg (about 33 pounds) by eating steaks!" declared Hara. At the time, he was weighing 85kg. Theoretically, he has to slim down over 5kg per month in the next two months and 18 days in order to reach the targeted 70kg and make himself 18% lighter. That is quite a tough pace to keep for any strict dieter.
As to how he intended to go at it, he explained that, after consulting with a doctor, he decided to:
- Continue eating 300 g of meat every day to consume enough amount of protein the body requires to stay healthy,
- Work out to strengthen his muscles, and
- Take aerobic exercises throughout the diet period.
He also added that:
- The company would cover all the expenses needed for this challenge, and
- The progress of his disciplined endeavor would be disclosed on the company's website, Facebook and YouTube on a timely basis.
At the press conference, Kunio Ichinose, President of Pepper Food Service and also the proposer of this unheard-of diet plan, expressed his strong feeling of hope on his subordinate's new mission.
"I want him to appeal to everyone that grilled lean meat can actually make people healthy," he said. "And once he shapes up into a muscular build, I would like to have him play an active role as 'Mr. Ikinari Steak' to promote the restaurant's healthy brand image widely."
Ichinose also did not forget to remind Hara how heavy his new responsibility was. "In this project, he is representing our company. Since we are going to show the public the process of his self-controlled training, he has to keep his word without fail. I want to see him pull it through with a firm awareness that the future of the company virtually lies in his timely accomplishment of this challenging task."
Ichinose revealed that the idea to designate Hara as the leader of this PR project came up from the casual conversation they occasionally exchanged when they met in office. The boss used to tell Hara half-jokingly "you know you'll look great if you lose some weight."
This anecdote soon spread throughout the company. And when the plan to launch this project was officially approved, it all seemed so natural for the management to assign Hara the position to work as the company's human billboard.
Hara could not help but force a wry grin when he had to stand in front of the cameras half-naked, exposing his chubby upper body. But as a public relations manager with rich experience in planning and implementing catchy advertisements, he knew all too well what he had to do to draw the media's attention.
For this project too, he already has a number of ideas to keep the public interested in this PR event until the declared date of completion due late November. As the first action, he produced a short dramatized documentary-styled film featuring himself, his boss Ichinose, and several other colleagues, and distributed it on YouTube.
As the next step, the project team will roll out a quiz campaign on the company's website that offers the viewers the chance to win 3000 yen worth of points if they can correctly guess Hara's interim weight while he is working on the diet.
Ichinose and Hara were not the only two who shared the spotlight at the press conference. A well-proportioned man named Taka later appeared, being introduced as the legendary frequenter of Ikinari Steak who ate a total of 158kg of steaks in between July 2014 and August 2015.
He was the one earlier mentioned as the loyal customer who succeeded in trimming the body fat by eating steaks in Ikinari Steak. He was invited to the press conference to cheer Hara up and also speak about his own experience as a living proof that drastic diet could be accomplished by just eating meat.
"I started trimming the body fat because I was strongly advised by my doctor to do so. After repeated trials and errors, I finally came to a conclusion that eating meat at Ikinari Steak was the best approach for me," said Taka.
According to his explanation, he found Ikinari! Steak to be very fit because he did not have to order any appetizers or carbohydrates like rice, which is needless to say, an impediment to dietary efforts. He could just order grilled red meat that consists of little fat but contains good-quality protein, and leave the restaurant as soon as he finished emptying the steak dish.
"I just kept on eating filet mignon every three hours" recalled Taka. Through this highly stoic dietary routine, his body fat percentage dropped from 26% to as low as 6% at one time. Now, he is maintaining it at 15% by relaxing the rigorous food restriction slightly and taking up muscle training.
He confided that the secret to continue engaging in such a strict dietary practice is to take a day off once a month. "When you continue dieting, your body gets used to that routine too and the stoic efforts become less effective. So I decided to spend one day every month eating whatever I want. It's also helping me relieve the stress that builds up while restraining my appetite on other days."
Another basic rule that should be followed by lean meat dieters, he said, would be to avoid adding sauce that contains sugar. Instead, Taka opted to have thickly cut red meat cooked rare, and eat it with only salt and pepper. He sometimes brought in "a tube of sour Japanese plum sauce" when he wanted to enjoy a different flavor.
"Before I started dieting, I was suffering from apnea syndrome. Just before turning to 50, my doctor warned me that I won't be able to get over this syndrome for the rest of my life if I continued to live intemperately."
"But now that I succeeded in trimming the body fat, I don't have to worry about it at all. The doctor, in fact, even congratulated me for improving my AGE to the level equivalent of an average young man in his 20s."
AGE, or advanced glycation end-product, is a substance formed through the glycation of protein materials inside the body, and is used as a barometer to measure the degree of physical aging. "Aging" in this context does not only refer to how decayed you look, but also to the extent your blood vessels and internal organs have deteriorated.
Recently, AGE is gaining increased attention for its direct connection to lifestyle-related diseases like diabetes. Glycation occurs when carbohydrates are accumulated excessively in the body. Choosing low lipid meat as the regular food for dieting therefore makes a lot of sense. Let's see if that speaks for Hara himself as well.