There are more meat dishes that you can enjoy in Tokyo other than the traditional teppanyaki, sukiyaki, and shabu-shabu, as the city is seeing a meat boom.
Over the last couple of years, a growing number of steak houses and yakiniku or grilled meat and other meat-specialized restaurants have been attracting meat lovers in Japan.
Among them is a uniquely named yakiniku restaurant that is attracting an increasing number of customers by word of mouth. Niku-no-Kirikata, a phrase that means "how to cut meat," may sound like a title of a cooking show, but it is indeed the name of a restaurant that has three shops in Tokyo.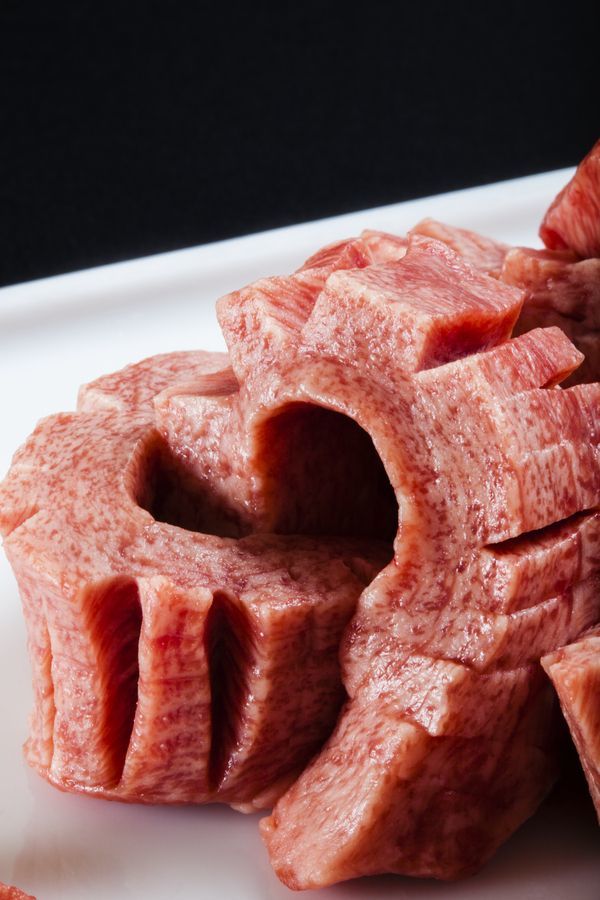 The restaurant's name is an embodiment of its concept: "the taste of yakiniku depends on how you cut the meat." Niku-no-Kirikata is dedicated to bringing out the finest taste in meat by applying the most proper technique for meat cutting.
"We want our customers to enjoy a variety of textures with different cutting techniques," explains Susumu Sakai, the restaurant manager. "The type of meat that tastes good in a thick layer is cut with invisible splits for our customers to enjoy the massive filling. The type that is good in thin cut is sliced chilled in one millimeter thinness, not to break up the fibers, so that they can taste the true deliciousness of the meat."
How you grill meat matters, too
A popular course menu offers an appetizer, side dish, rice, and various meats, including sirloin and other parts of the Japanese black cow, purchased fresh from the Oumi market in in Ishikawa Prefecture. In this menu, a customer can enjoy 8 to 10 slices of meat, each cut in the most suitable way. The total weight of meat offered in a course is 180 grams (0.4 lb) per person. A superior menu, the Kirikata-makase (chef-recommended cut) course is worth 6,480 yen, and the more affordable Kirikata-hajime (beginner's cut) course is also available at 4,630 yen.
In a yakiniku restaurant, meat is usually served raw for the customers themselves to cook using a grill placed on top of or embedded onto the table. But in this restaurant, the staff grill certain meats that require special cooking techniques.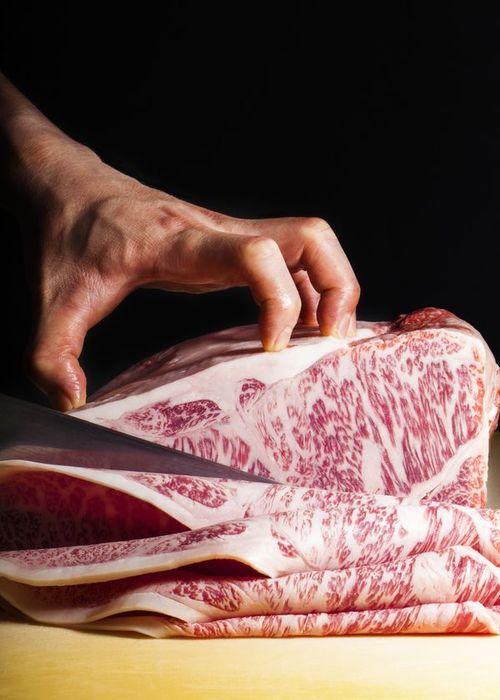 "Customers can enjoy various types of meat bit by bit, which is the reason behind the popularity," Sakai says. "We also receive favorable feedback from female customers, who explain that they can eat slowly while enjoying the good atmosphere of the restaurant."
Niku-no-Kirikata is run by Meijiza Food Community, a subsidiary of Meijiza, which is a historical theater in Tokyo established in 1873. In 2011, Meijiza Food Community purchased a former yakiniku restaurant on sale in Ginza, a popular upscale area in Tokyo. The place was previously owned by a foreigner who had returned to his home country, and the company was able to purchase the restaurant with all its furnishings.
Initially, Meijiza Food Community was established to manage pubs and restaurants near the Meijiza Theatre for its visitors to enjoy food and drinks before or after the show.
Although it was the first time for the company to manage a yakiniku restaurant, one of the staff used to work in a yakiniku restaurant and knew how to handle meat. Sakai reveals that the knowledge of meat cutting all came from this experienced staff member.
Soon after the company purchased the vacant place, the first restaurant opened in September 2011. The restaurant's concept--"the taste of meat depends on how you cut the meat"--drew some attention, but it did not lead to instant popularity.
A turning point came in June 2012. Raw beef liver, a popular yakiniku menu, would be banned starting July 1 of that year. This prompted many customers to rush to yakiniku restaurants for a last-minute demand. Sakai recalls that his restaurant attracted many customers too.
The increase in the number of customers at Niku-no-Kirikata was not just a temporary phenomenon. People who came for raw beef liver noticed that other meats in the restaurant were good too. They grew fond of the taste of the food, the concept, and the unique way the meat was served.
The company's new business was finally on track. In March 2014, it opened its second shop in Nihonbashi, and the a third one in Ningyocho in July 2015--at a steady pace of one new branch every year.
A number of factors led to this success, one of which is the presence of an experienced staff member, whose skills were excellent to become the restaurant's major feature. Another was the luck of finding a vacant place in Ginza at an undervalued price. The unique name of the restaurant worked well too as the concept appealed to customers instantly. Also, Niku-no-Kirikata made strenuous efforts to constantly offer high-quality food and services.
"It is extremely important to maintain our level of quality. What we fear most is getting used to the current state. If we feel satisfied with the level of service that we are now offering, customers will notice that nuance. Once a restaurant goes into a decline, it will be over in no time. We must continuously take actions to keep our customers' interest," says Sakai, who visits their two shops--Ginza and Ningyocho--at least twice a week as a supervisor to actually work on site to ensure that the quality of service is maintained.
Each shop offers different menu
Niku-no-Kirikata regularly changes each shop's ambience and theme, which is also a positive factor in gaining popularity. For example, the Nihonbashi shop is often used by corporate customers to entertain their guests, so according to Sakai, it prepares higher-grade sake and drinks and sets a more relaxed atmosphere for the customers to enjoy dinner.
On the other hand, Ningyocho is an area with a downtown feel, so the shop in this location offers a more affordable line of menus. Just like in other locations, the Ningyocho shop offers Kirikata-kiwame (supreme cut) and Kirikata-makase courses, but the price ranges from 3,700 yen to 6,500 yen per customer, which is approximately half of the price range at the Nihonbashi shop.
The Ningyocho shop has a course offering lean meat with salad and cheese fondue, which is cheaper but appealing to different target markets: women and health-conscious customers.
The Ningyocho shop has just started its operation, so the company has not gotten hold of its exact figures, such as daily customer visits. According to Sakai, however, the branch attracted a considerable number of customers on the first three-day weekend after its opening.
Will their target of female customers succeed as planned and further contribute to the meat boom?