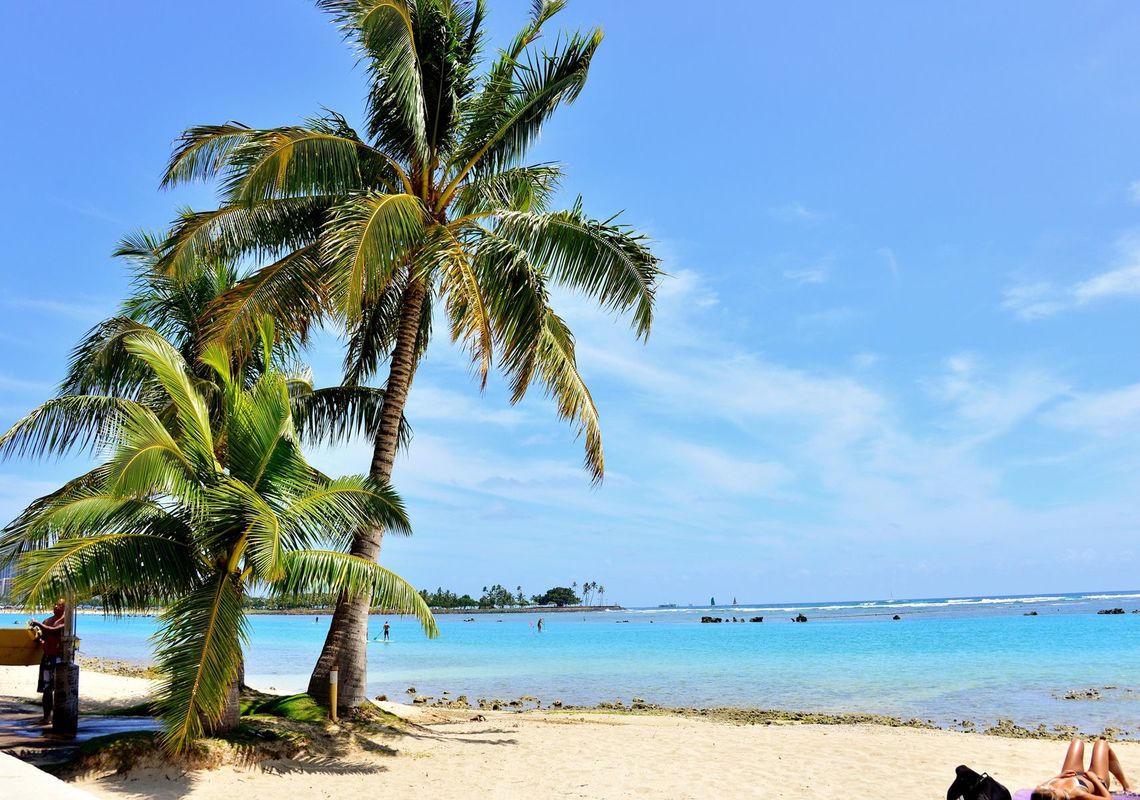 Marugame Seimen is a familiar self-serve Sanuki udon noodle restaurant chain that appears on roadsides, in shopping mall food courts and everywhere else imaginable in Japan. It is operated by Toridoll Corporation, a company headquartered in Kobe and listed on the First Section of the Tokyo Stock Exchange.
The company started out as a yakitori (grilled chicken skewer) shop, incorporated in 1995, and launched its Marugame Seimen chain of restaurants in 2000 which now account for nearly 90% of the company's 90 billion yen in sales.
Why Hawaii?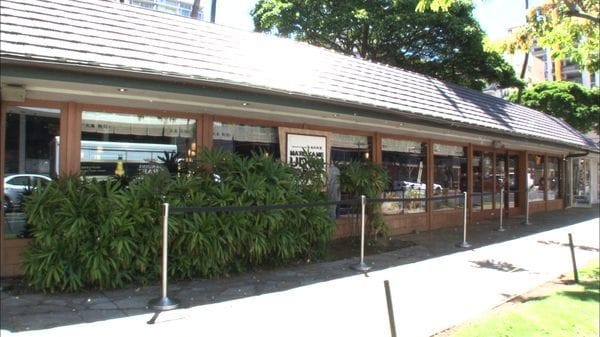 Surprisingly, the top-selling Marugame Seimen shop is in Waikiki, a world-class resort destination located near Honolulu City in Hawaii. Since its grand opening in April 2011, the Waikiki Shop has maintained its top spot among shops worldwide.
Marugame Seimen has roughly 780 shops in Japan and 110 in other parts of the world. Two Taiwanese locations have secured the second- and fourth-place spots among worldwide shops, but for some reason this common Japanese noodle dish udon has established an unshakeable popularity in Hawaii's perpetual summer paradise.
The culinary competition in Waikiki, a hot spot that draws countless tourists, is exceedingly fierce with Hawaiian-style pancakes, loco moco and other local offerings available at every turn. Regardless of this competitive environment, it's common to encounter massive lines outside of Waikiki's Marugame Seimen noodle shop, and many of the customers are tourists from Canada, the mainland United States, Ireland, Australia and other locations around the globe.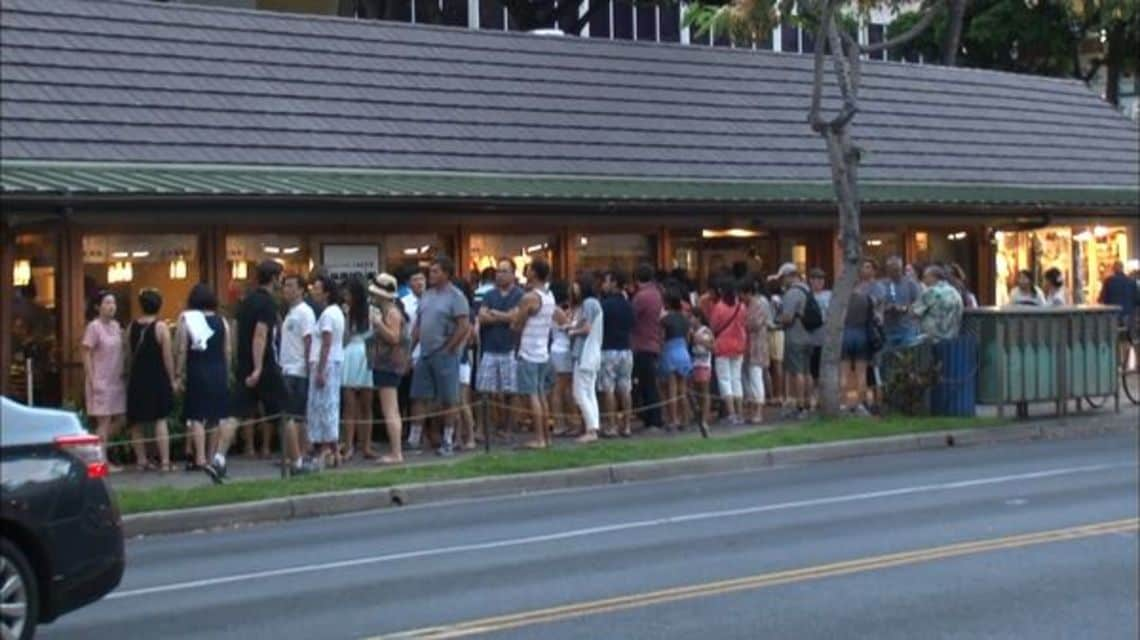 We asked several customers why they choose this udon shop, to which most replied "I looked on Yelp." In fact, Marugame Seimen's Waikiki Shop has received nearly all five-star ratings, the highest rating possible on the website. User comments include "Japanese udon noodles are so delicious!" "I love Marugame--the lines are long but it's worth the wait," "The food came quickly and tasted great."
Apparently, other tourists have been reading these comments, visiting for themselves, and then adding their own remarks to the growing pool of online praise.
The most popular selection at this shop is the tempura. Marugame Seimen adopts a self-serve format wherein customers can pick out whatever they like and then choose from a rich selection of spices including salt, chili powder, various sauces, ketchup and more.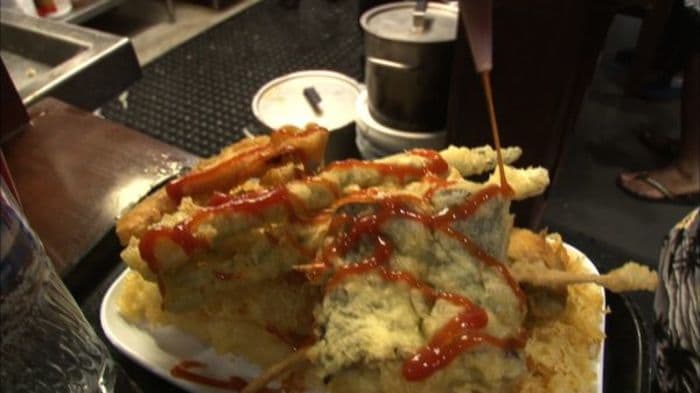 And when it comes to tempura, Waikiki's tourists can really eat. For example, we watched as a Jamaican women ordered six shrimp tempura, three asparagus tempura, one pumpkin tempura and two pieces of fried chicken in one go, smothering them in ketchup before taking them back to her table. It's not uncommon for customers at this shop to skip the udon altogether and order tempura alone.
Of course the udon is popular as well, but Waikiki's noodle dishes are not designed with Japanese tastes in mind, as can clearly be seen by number of unique and unusual menu items.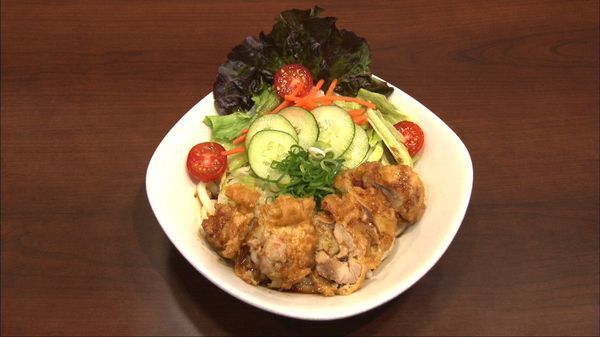 Let's take a look at the top three most popular udon dishes: No. 3 is the Waikiki Shop's original "garlic chicken salad udon," which features generous portions of salad alongside karaage fried chicken infused with plenty of garlic flavor--a taste that keeps customers coming back for more. Curry udon comes in at No. 2, packed with more spicy flavor than one would normally find in Japan's shops.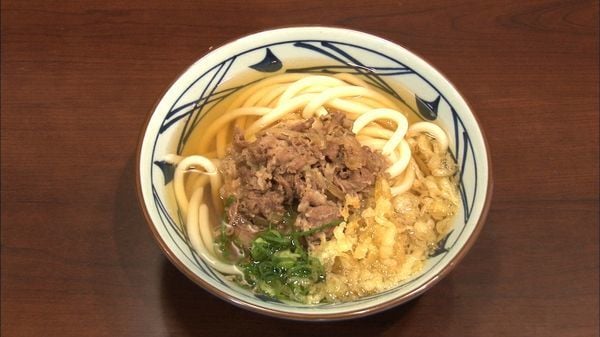 Finally, the number-one item is niku-udon (udon noodles with meat), a Japanese dish that has proven popular around the world. Its soup is rich with the flavor of dashi soup stock.
Reason why the Honolulu shop is a cash cow
During our visit to the Waikiki location, we came to understand why, in addition to its immense popularity among locals, this shop has constantly surpassed domestic Japanese shops in terms of sales. That reason is price.
The average prices at the Waikiki shop are $15 or lunch and $20 for dinner, and a single bowl of kake-udon (udon noodles in broth) costs $4. Furthermore, despite being a widely established custom in Western countries, tipping is not required at this Marugame Seimen shop, giving tourists far more bang for their buck than other restaurants.
In contrast, prices for kake-udon at a Japanese Marugame Seimen shop start at 290 yen, which is approximately 70% of that charged in Waikiki.
This Hawaiian shop not only enjoys higher spending per customer, its customers eat more in comparison with their Japanese counterparts, and the shop attracts enough customers to create long lines that stretch out the door. This is the true reason why the Waikiki Shop's sales performance outshines domestic shops in Japan.
Waikiki's Marugame Seimen is the restaurant chain's leading overseas shop, and in recent times Toridoll has been opening more shops abroad than they have domestically. Although the creation of menus tailored to regional tastes around the globe presents numerous challenges, Marugame Seimen's accelerating international expansion will surely give rise to many more success stories for other business to learn from in the coming years.
(This article was written by a staff of Tokyo Broadcasting System Television's "Yonimo Fushigina Ranking Nande? Nande? Nande?")