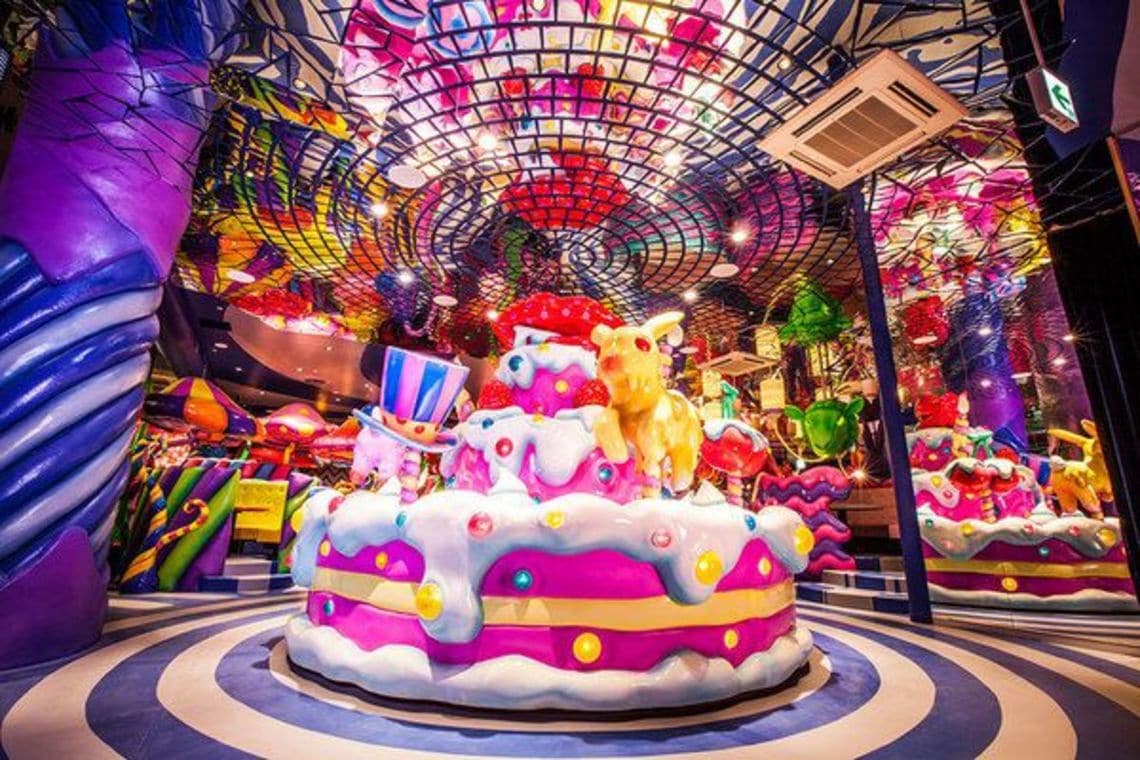 Picture a plate resembling a white palette with paint-looking blobs of red, yellow and blue tossed around a multi-colored pile of thick rubber-like strings sitting in the center. It's hard to imagine who would ever get their appetite stimulated by this bizarre sight even when they are starving.
But it's actually cooked food, and believe it or not, it's one of the featured dishes on the menu of a cafe named KAWAII MONSTER CAFE HARAJUKU (Monster cafe hereafter) that opened in early August in Harajuku, the home ground of "kawaii" culture.
What's more surprising is that, contrary to its uninviting appearance, it doesn't taste bad at all. But that's no wonder if you are told that this cafe is run by Diamond Dining, a restaurant chain renowned for entertaining customers with fun-filled dining experiences.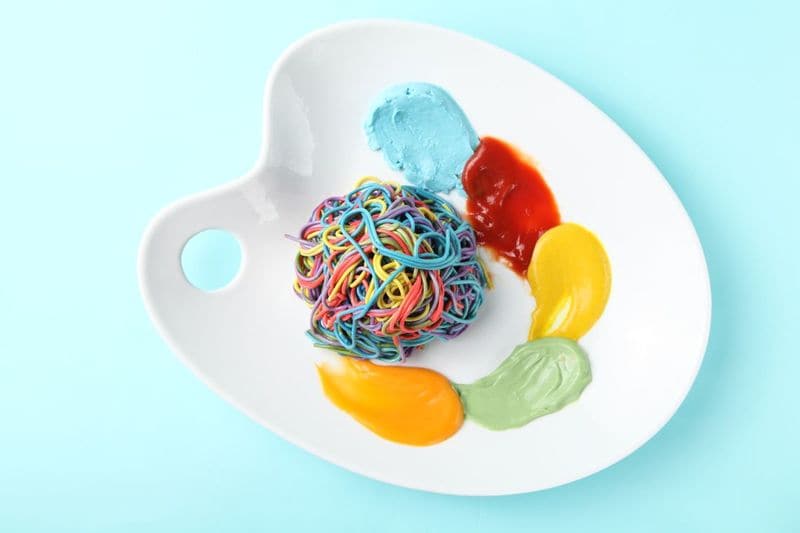 The name of this "yucky" but "yummy" plate is Colorful Rainbow Pasta. The red, yellow and blue paint-looking blobs are dipping sauces of different flavors, and the thick rubber-like strings are all fresh long pasta, each pigmented with one of numerous food coloring agents specially selected for this dish. The recipe has been carefully prepared to amuse the guests through both their eyes and tongues.
"When the food is decorated to be visually impactful, it tends to be not that palatable," says Sebastian Masuda, the producer of this cafe or more widely known as the artist who has been the forerunner of the "kawaii" cultural movement spreading mainly from Harajuku since the 1990s. "But I urged the cooking staff not to fall into that pitfall this time and create something 'delicious, enjoyable and also photogenic'. That was my specific request."
Masuda made his breakthrough as the art director of a music video and the stage designer for an iconic "kawaii" idol popstar, Kyary Pamyu Pamyu. Since then, he is working actively as a global artist, including the solo exhibitions of his representative artworks in New York and Miami.
For this Monster Cafe project, he not only created the concept of the venue, but also designed the interior and gave specific directions on the lineup of food and drinks served in the cafe and the costumes worn by key staff members that will be explained more in detail later.
Cute and grotesque
Masuda's artistic attachments are embodied throughout this Harajuku-based cafe. The interior of the vast 212-tsubo (or 212 x 3.30578 square-metered) floor space accommodating a total of 193 seats is filled with vibrantly colored objects and structures that resemble an indoor amusement park, which Masuda describes as "packed with everything I wanted to express in tangible form from way back in the 1990s."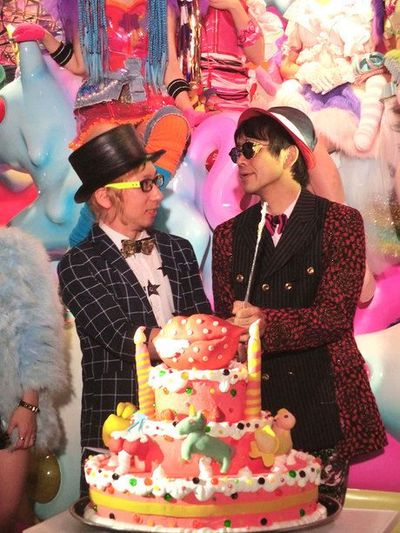 In the press conference held on July 30, Diamond Dining President Atsuhisa Matsumura commented that "all good ideas incorporated in fine restaurants eventually get stolen by competitors, but this one is hard to imitate. I allowed Masuda-san to design the place as freely as he wanted, and honestly speaking, we had to invest a lot in its making." 
In response to his client's public comment, Masuda revealed how the whole idea came about and where his intentions are. "My friends from abroad used to tell me that there's no interesting spot to play around in Tokyo. When we are asked to take foreign visitors around this city, it would end up being the typical tourist spots like Asakusa. I wanted to make Monster Cafe a place that could attract a lot of people from outside Japan to Harujuku."
The cafe indeed has many attractive features. But the most obvious ones are probably the interior furnished imaginatively like the internal organs of a monster, and the food and drink menu designed to guide the visitors straight into the deep world of "kawaii". 
It's pop and cute, but that's not all. As the cafe name "Monster" clearly indicates, the girlish sweetness often associated with the term "kawaii" is mixed here with lurid images of a grotesque creature that altogether makes the atmosphere ambivalently unique and eye-catching.
As you step in the entrance, the first object your eyes would get glued to is a gigantic cake-shaped merry-go-round. Around it is the cafe space separated into four distinctly themed zones, including an area with a milk stand in a make-believe mushroom forest inhabited supposedly by farm animals.
Another zone called Bar Experiment is deliberately designed to target guests in the mid-twenties and above. There are drinks like Danger Cocktail that can only be ordered in this bar. "I would like to see people indulge in the "kawaii" concept in an adult way. The cafe itself is also geared more towards grown-ups rather than the younger generations," insists Masuda.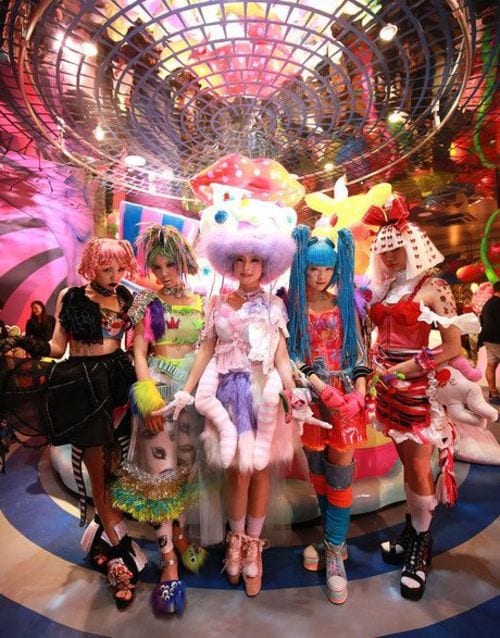 His insistence, however, is not only limited to the interior decors, but has also been extended to human elements. He created five distinctive-looking characters collectively called the Monster Girls that play the role of cafe mascots.
He directly picked the auditioned girls that he thought were most fitting to his concept, and appointed a trendsetting fashion blogger and journalist, Misha Janette, to be the designer of their costumes that he boasts as "our proposition of tomorrow's fashion."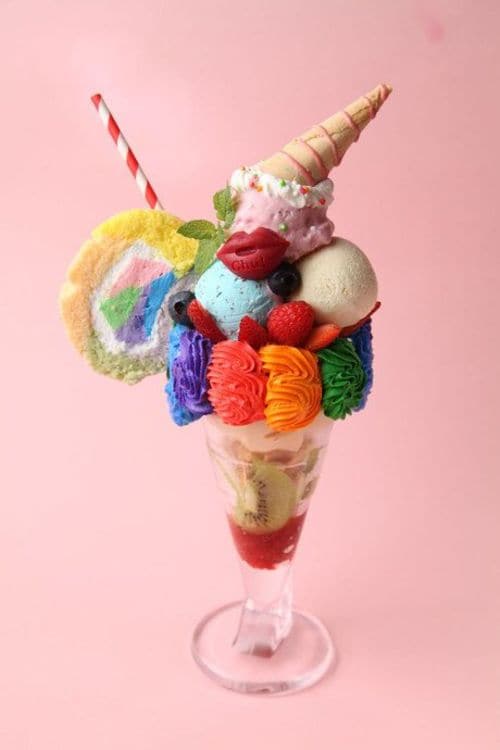 As earlier mentioned, Masuda's creativity is also vividly reflected in the culinary delights offered in this cafe. Don't be mesmerized by just the rainbow-colored pasta. Sweets lovers must try the featured dessert named Colorful Poison Parfait Extreme! and get their mind blown away, if not, healthily intoxicated.
Naming it as "poison" was again Masuda's daring idea that he insisted on using to challenge the social norm that this term is totally inappropriate and unacceptable as a food name.
"Remember the days when we used to chew a lot of multi-colored gummy candies when we were kids?" asks Masuda. "Some colors used for those candies were quite poisonous-looking, weren't they? See, I want the guests to soak in the fun atmosphere of being kids again when they come to this cafe."
Eyeing 2020 Olympics
Masuda's strong wish to attract many overseas tourists to Monster Cafe motivated him to introduce a series of hospitality programs to delight them in particular, including the service to give away the chopsticks they use in the cafe as souvenirs, and receive welcome greetings from Monster Girls and multilingual support, whenever needed, from highly selected staff members who are fluent in English, Chinese, Korean or other languages.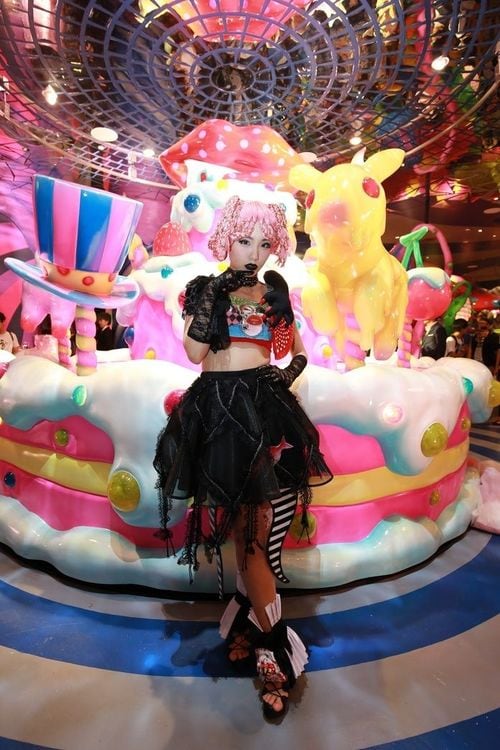 Making Monster Cafe a new favorite spot for foreigners is also a part of the vision embraced by Masuda and the cafe owner who share an eye to the future―specifically five years from now when Tokyo is slated to host the 2020 Olympic Games.
They know the historical fact that Harajuku would not have prospered into such a world-famous main street as we see today, if it had not been located in the vicinity of the original National Stadium built for the 1964 Tokyo Olympics that has been scrapped now and creating a controversy. 
Will Monster Cafe be able to serve as the new driver of Harajuku's centripetal force? Let's see how fiercely this "kawaii" monster can grab the hearts and playful minds of the Japanese and foreigners alike and turn them into frequent repeaters of the cafe and its hometown.