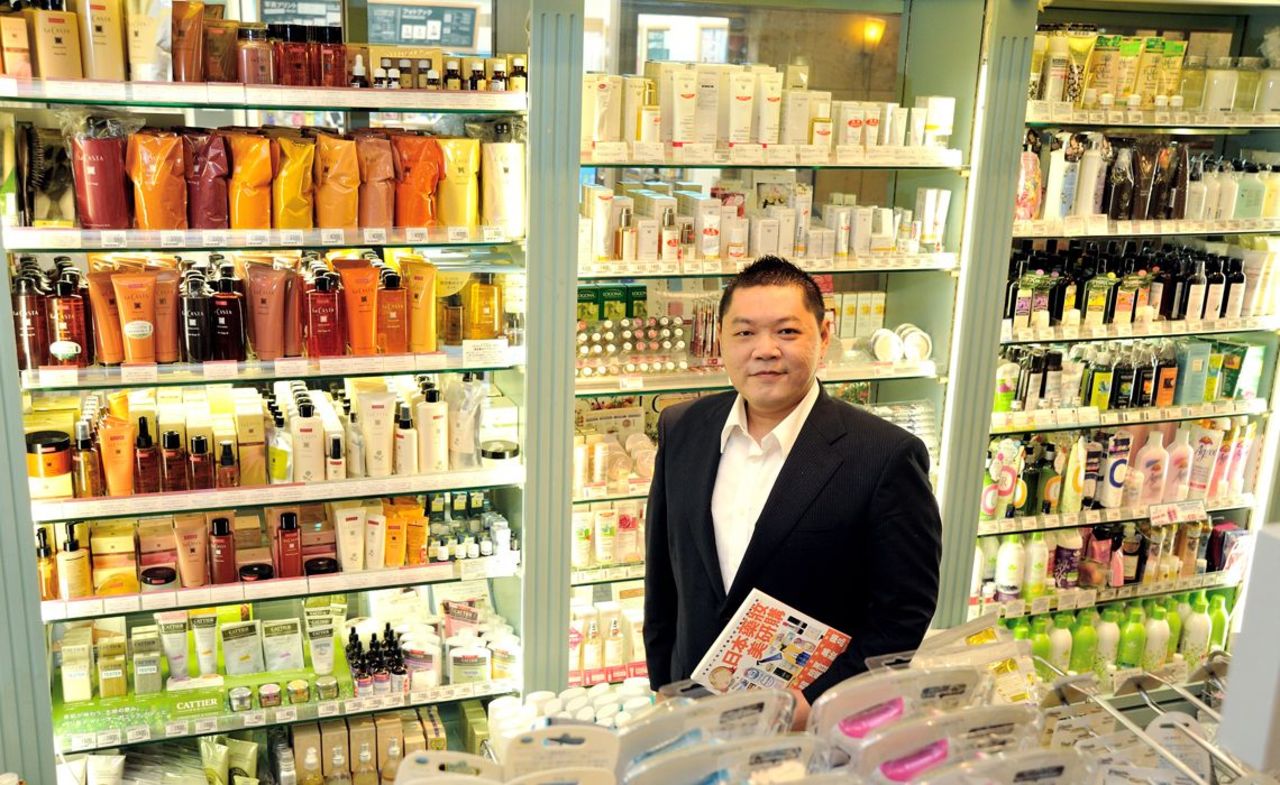 When the Chinese stock market crashed in June, many Japanese feared fewer tourists would cross the border. For now, however, their anxiety appears unfounded.
The Japan National Tourist Organization (JNTO) reported that the number of Chinese tourists reached a record high of 590,000 in August, up 133 percent from the same period last year, and the trend is continuing.
Tourists from China, Hong Kong and Taiwan share a singular goal when visiting Japan: stocking up on beauty products and over-the-counter drugs. According to the JNTO, drugstores have become the third most popular shopping spot for Chinese-speaking tourists since that category of store was granted duty-free status in October 2014.
Taiwanese Zheng Shibing has tremendous influence among Chinese-speaking tourists who are shopping for cosmetics and non-prescription drugs. The simplified Chinese editions of his books are bestsellers. His Facebook page regularly receives "likes" from close to 40,000 followers. Since his first publication, Tokyo Drug and Cosmetics Guide Book, came out in 2012, he has written eight more.
Zheng explains that when he first began writing guide books four years ago, "it was hard to find drug store people interested in being interviewed." Now he is inundated with offers from companies and towns trying to attract more tourists. We talked to him about his views on the cross-border phenomenon.
Japanese drugs work
Why do you think tourists from the Chinese-speaking world go on shopping sprees at drugstores in Japan?
When I was very young, my grandparents would tell me 'Japanese drugs work'. We always had a stock of Japanese medicine in our house. Twenty years ago, when traveling to Japan was difficult, many Taiwanese wanted Japanese drugs–even if it meant going through illegal, parallel importers. Now that it's easier to visit Japan, it's only natural that we make a beeline to the drugstores once we arrive.
I work as a Japanese translator. My neighbors knew that and frequently asked me to translate the packaging for Japanese drugs. Almost every day, in fact. They would say, "I bought this medicine because it looked effective, but I can't tell what kind of drug it is. Please translate it for me." It was then that I decided to write a guidebook on Japanese drugstores.
I gathered that other Taiwanese were having the same trouble figuring out Japanese drugs, so I accepted the request by a publisher to write a guidebook.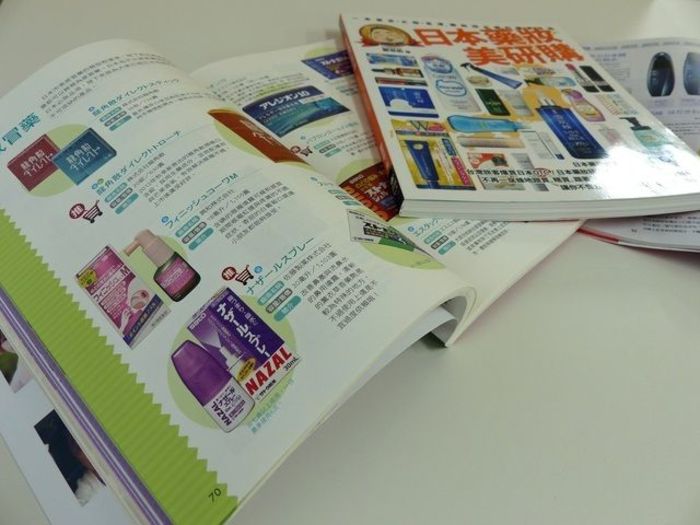 The first run of 5,000 copies sold out instantly and the book promptly went into reprint – an unusual feat in Taiwan given its small population. I even received a phone call from a Japanese drug store chain: 'So many tourists are showing up with your book in hand, would you mind putting our stores in the guide?'
What attracts Chinese tourists to Japanese drugstores?
Above everything else, it's the wide variety of items at Japanese drugstores. Women love this, don't they? And the interiors are brightly lit. I thought it looked like a department store the first time I went into one.
Taiwanese drugstores, on the other hand, are dark and gloomy. We now have drugstore chains with lots of cosmetics, such as Watsons, but until about 10 years ago, drugstores were run by the elderly people and people went there only to buy medicine when they got sick. So the Japanese concept of healthy people going to drugstores for beauty products and over-the-counter drugs was totally new to me.
Try everything before writing about it
Can't Chinese tourists find necessary information online nowadays?
Information on the internet is fragmented and blogs are becoming less reliable. A while ago, you had incidents in Japan where celebrity blogs turned out to be 'stealth marketing'. The same thing has happened in Taiwan, too. So consumers are starting to suspect that blogs are really just advertisements.
My books, on the other hand, are written only after I've actually tried the product and interviewed the manufacturers. I'm not sponsored and I only write about products I trust. I think my readers appreciate this.
Your guide books provide detailed information about product ingredients.
I was the first person to extensively list ingredients in a guide book. Social networks and blogs 'highly recommend' products but we rarely know why the products are being recommended. Taiwanese tourists who buy Japanese products do so in expectation of getting better results. This means that ingredients are what consumers want to know the most.
You were checking the packaging of beauty masks when you were interviewing a Japanese manufacturer. Is product appearance important?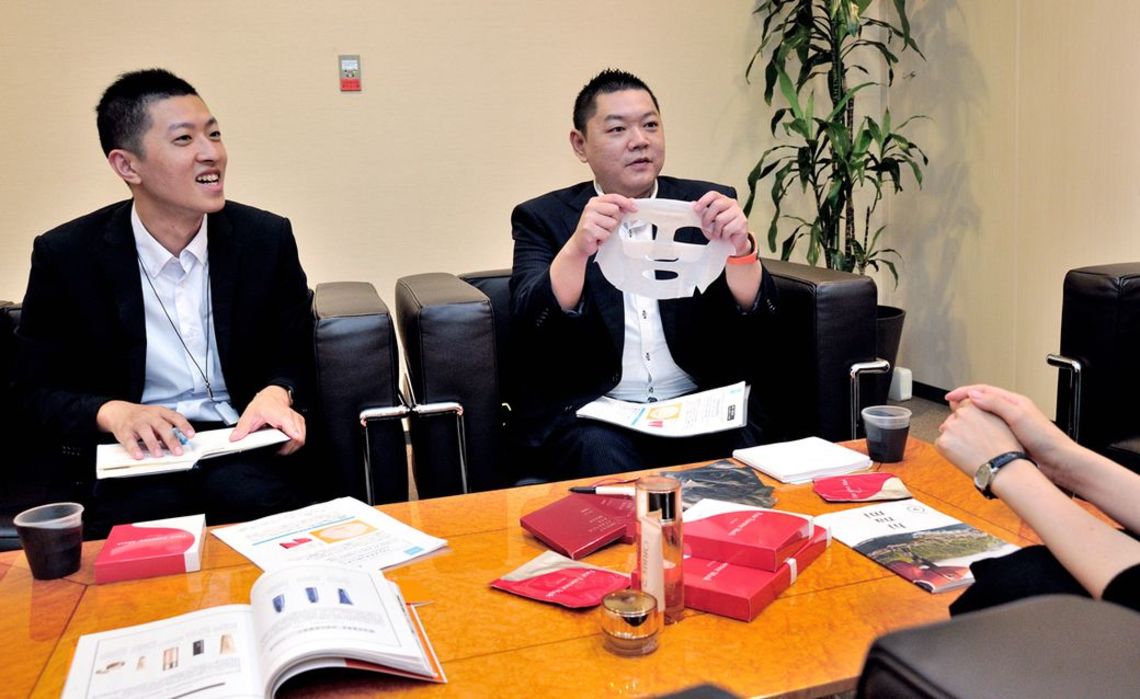 When I shop, the first thing I do is check the appearance: the better the first impression, the more likely the purchase. Chinese men and women alike are attracted to things that are red and sparkling. That kind of packaging is suitable for gifts, so it's preferred across the Chinese-speaking world. For instance, Japanese eye drop Lycée, manufactured by Rohto Pharmaceutical, is really popular among Chinese because it's red and sparkling.
Taiwanese go places with fewer Chinese tourists
Your latest book, which came out in July, includes a special feature on local cosmetics in Kanazawa. Are Taiwanese travelers also interested in destinations outside of major cities?
Among the world's tourists, nobody knows Japan better than the Taiwanese. They know Tokyo and Osaka so well, and have visited these cities so many times, that these cities alone can no longer satisfy them. Taiwanese want to visit local towns.
They also prefer destinations without many mainland Chinese tourists. Since Kyoto is now popular among mainland Chinese, Taiwanese are turning their attention to Kanazawa for its Kyoto-like atmosphere. The opening of the Hokuriku Shinkansen connecting Tokyo and Kanazawa was big news in Taiwan, too. The section on local cosmetics got the best response in my latest book.
Many are speculating that Chinese consumption will decline in reaction to the stock market crash. What's your take on this?
For now, I don't see any signs indicating a decline. Chinese shopping sprees will continue for a while. Even though Japan and China, and Japan and Taiwan, agreed on an open-skies policy in 2011, and services by low-cost carriers have been increasing, the flights are still fully booked. Taiwanese visit Japan more frequently than mainland Chinese. Twice a year is common. It's not rare among my readers to visit five times a year.
Sightseeing and dining will satisfy tourists from Western countries, but not visitors from the Chinese-speaking world. Shopping is a must. Some return from Japan only to find themselves wanting to go to Japan to shop again.
A pressing matter for tourism in Japan is the shortage of hotel rooms. I visit Japan every month, but each time it gets harder to book a hotel, and in a short time the rates have doubled. Solving this problem is absolutely essential if Japan wants Chinese tourists to keep coming here for shopping sprees.