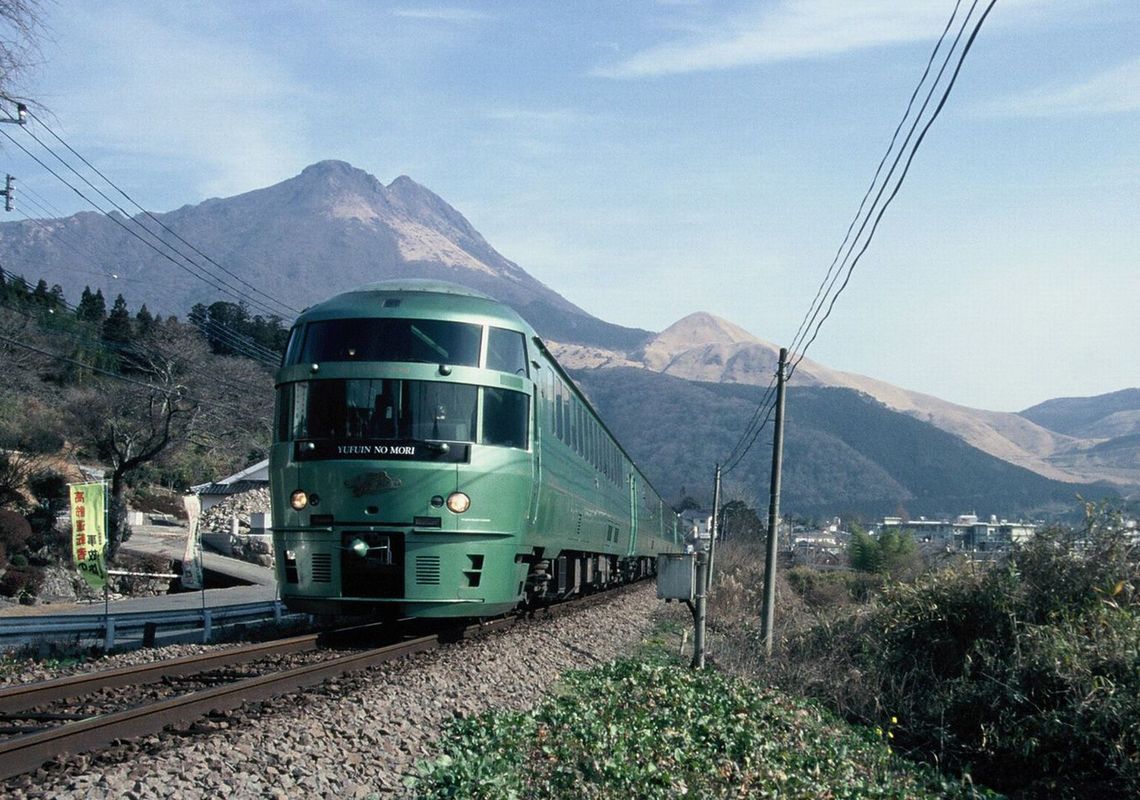 Trains specially furnished for tourists who want to enjoy a ride around sightseeing spots have become a nationwide boom. There are so many of them now that are giving the railroad travelers a hard time choosing. Not only that, some are so popular that require them to reserve their seats several months in advance.
The sightseeing trains I've chosen for this top 10 list are my personal favorites, based on the criterion that they are fairly available throughout the year. (In other words, I've deliberately omitted from this list, the highly expensive and hard-to-reserve trains like "Cruise Train--Seven Stars (Nanatsuboshi) in Kyushu" and "Twilight Express (special version)", as well as the luxurious "Tohoku Emotion" that is usually fully booked for the next half year or so.)
No. 10  "Yumezora"
"Yumezora", which literally means "dream sky" in Japanese, is the first tourist-oriented train in this country that is equipped with an in-carriage theater facility. It runs between Hokuetsu Yuzawa and Naoetsu stations on Hokuhoku Line operated by Hokuetsu Express.
This route has many long tunnels that make the passengers feel like they are riding on a subway rather than on a sightseeing train. To turn that "dim" experience around, the train operator came up with an idea of keeping the lights off and showing spectacular visuals on the ceiling augmented with effective background music while the train frequently passes through those long tunnels. What's also good about this ride is that the passengers can get on this train by just purchasing the regular coach ticket and enjoy this unique, visual experience for an hour or so without paying any additional special fees.
No. 9  "Tetsudo Hobby Train"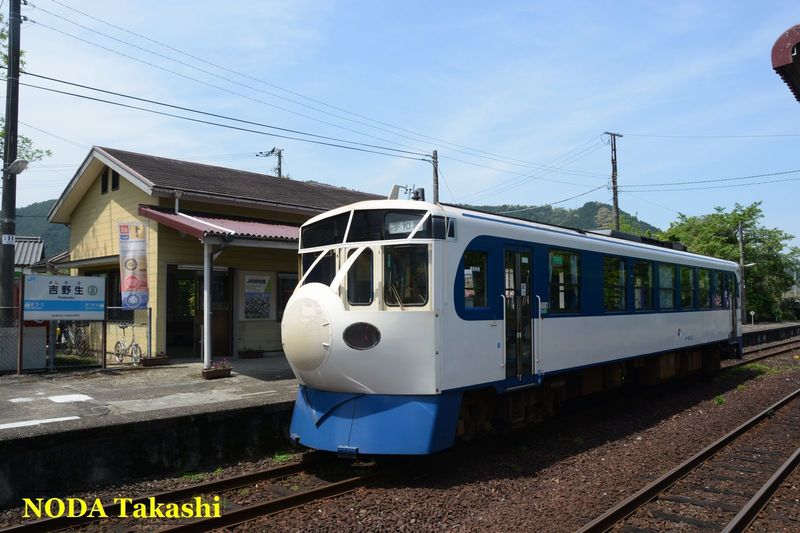 Some trains have been remodeled to particularly amuse the railroad fans with astonishing features. One of them is "Tetsudo Hobby Train" that runs between Kubokawa and Uwajima stations on Yodo Line in Shikoku.
When it first appeared last year, the front view resembling "0 series", the first line of Shinkansen (bullet train) that entered service more than half a century ago, received a lot of media attention. The interior of the carriage is refurnished like a museum showcasing various model trains of the past and present and making train geeks fall into raptures. In addition to "Tetsudo Hobby Train", the railroad operator, Shikoku Railway, offer "Kaiyodo New Hobby Train" and "Shiman Torocco" that are collectively known as the three popular "Yodo Line Brothers" that run on the scenic route along one of the most limpid streams in the country, Shimanto River.
No. 8  "Hayato no Kaze"
What would people normally expect when they hear the term "sightseeing train"? The splendid scenery from the train window that can be captured during the ride? Uniquely decorated interior? Special hospitality offered while on board or at stopovers and terminal stations?
Well, Kyushu Railway provides them all and even more in condensed form to tourists who opt to take a circuit around the southwestern areas of Kyushu transiting a series of sightseeing trains. For such tourists starting their journey from Kagoshima-Chuo Station, they can enjoy the magnificent countryside views along the Hisatsu Line by first hopping on the limited express "Hayato no Kaze" to Yoshimatsu Station, and then change to a local train named "Shimpei" to move on to Hitoyoshi Station. They can extend their excursion from here all the way to Beppu by boarding the Trans-Kyushu Express or enjoy a slow ride to Kumamoto on selected days when a nostalgic steam locomotive named "SL Hitoyoshi" is in service.
On their return trip from Hitoyoshi, "Isaburo" will be the local sightseeing train to board instead of "Shimpei" before changing to "Hayato no Kaze" again at Yoshimatsu to get back to Kagoshima-Chuo. These golden routes featuring a chain of decorative trains with diverse charms are well planned and highly recommended to all those who want to travel leisurely on the rails in a lighthearted manner.
No. 7  "Satoyama-Satoumi"
One of the newest sightseeing trains that runs along the seacoast is "Satoyama-Satoumi-go" operated by Noto Railway in Hokuriku region. Noto Railway is a perfect choice for train fans interested in making a circuit around Noto Peninsula stopping, for example, by the well-renowned spa resort, Wakura Onsen, and the biggest local city, Wajima, famous for lacquerware and morning market.
No. 6  "Resort 21"
As the sightseeing trains that feature breathtaking vistas of the sea horizon, "Resort Shirakami" on Gono Line that runs between Akita and Aomori stations, and "Kirakira Uetsu" on Uetsu Main Line are well-known. But for this top 10 list, I decided instead to include "Resort 21" operated by Izukyu.
Nowadays, mostly all the coast-liners have front carriages furnished with tiered seats and big windows to enjoy the panoramic views. But when it comes to carriages with seats facing the side windows, "Resort 21" is one of the pioneers.
Another reason why I evaluate "Resort 21" highly in particular is that this train specially designed to offer superb sightseeing experience is a local train that only charges the regular train fare, unlike "Resort Shirakami" and "Kirakira Uetsu", which both require a reserved seat ticket in addition to your basic fare to enjoy the luxurious ride. 
No. 5  "Misuzu Shiosai"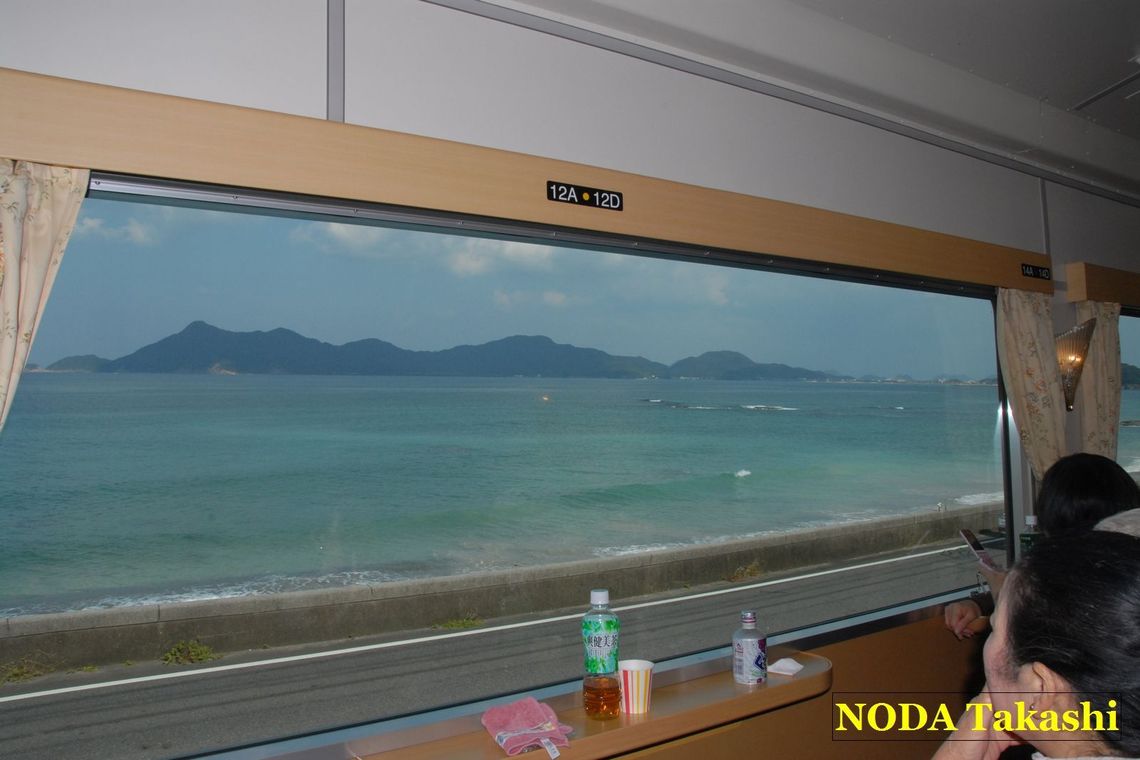 Another option that is highly recommended to tourists who want to indulge in scenic sea views while travelling on train is "Misuzu Shiosai" that runs between Shin-Shimonoseki and Senzaki stations on  Sanyo and San-in Main Lines. The name "Misuzu" derives from a legendary Senzaki-native poet "Misuzu Kaneko" who died young at the age of 26 leaving an array of children's poems.
The train interior has been designed to reminisce her prime days back in the 1920s, which actually looks quite modern rather than traditional, with relaxing sofa seats facing the side windows. The highlight of the trip on board "Misuzu Shiosai" is when the train stops on the way at three view spots to allow the passengers to enjoy the serenity of the subtle rhythmic sound of the surf called "shiosai" in Japanese, together with the encompassing sea view of Hibikinada.
While the train is in motion, the passengers are also entertained with picture-story shows featuring Kaneko's representative works. Some impressive lines and verses of her poems are also posted on the platform bulletin boards.
No. 4  "OYKOT"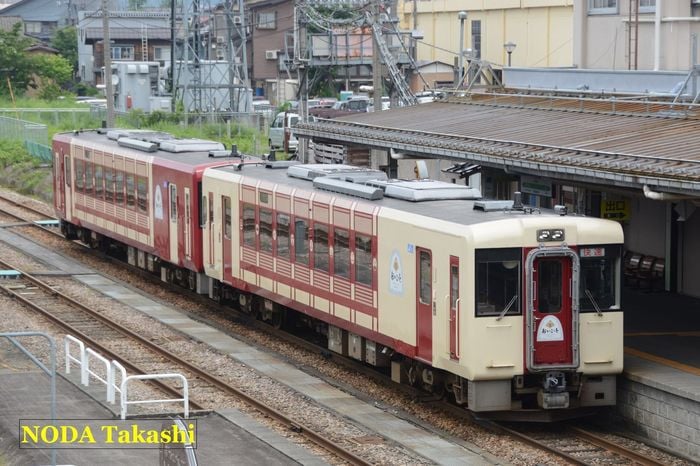 As you can tell, the name of this sightseeing train is spelled backward of TOKYO. East Japan Railway, the operator of this train that runs along Chikuma River on Iiyama Line, chose this name based on the concept that the countryside filled with idyllic scenes along this route is precisely the opposite of the urban cityscape of the capital, and decided to make the interior design of the carriage look like an old, rustic "grandma's home in the back country". The heartwarming services including a small pack of pickled Nozawana vegetables offered as a complimentary gift are also effective in giving the passengers a peace of mind in the down-home atmosphere.
No. 3  "Rokumon"
If you are a train fan and also a gourmet, you can't miss "Rokumon" that runs between Karuizawa and Nagano stations. And don't forget to ride on it both ways, because this train departing Karuizawa will be serving western food, while the menu will change to Japanese food when riding from Nagano.
The train is composed of three carriages with distinct interior features, including a carriage furnished like a traditional Japanese restaurant with private dining cabins separated with sliding rice-paper doors to allow the passengers enjoy the scenic view of Mt. Asama while savoring the washoku dishes, and a carriage designed for those who just want to spend a pleasant pastime riding on the train without being bothered by food service.
No. 2  "Wakka / Nupri / Niseko"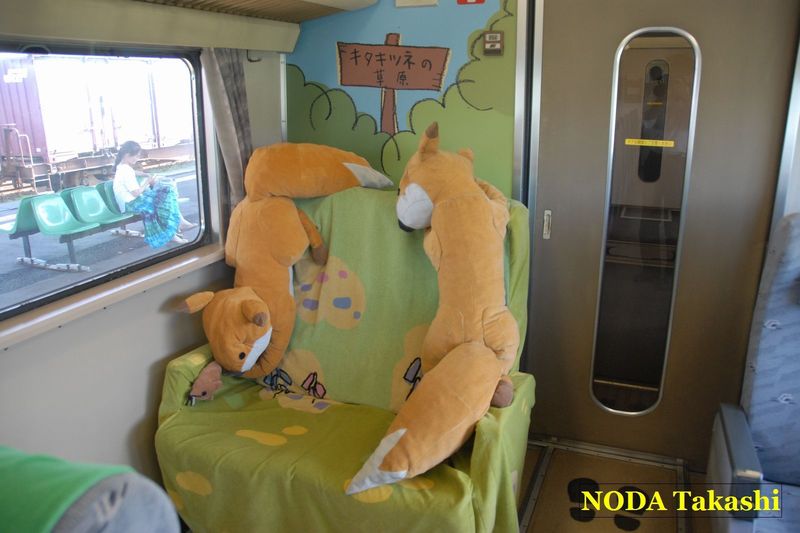 As the second best, I've chosen the limited express trains that take you around numerous sightseeing spots in the highly popular tourist destination, Hokkaido. These trains run on Hakodate Main Line through Oshamambe, Kutchan and Otaru, the so-called "Yamasen" or the "mountain line".  The trains make midway stops at Niseko and Yoichi stations to give the passengers around 10 minutes each to purchase local specialties and enjoy a variety of entertaining events including free food samples and an occasional warm welcome from Nikky, a "yuru-chara" or a local costumed character representing the town of Niseko.
These limited express trains change their names depending on their route and period of service. When you are in Sapporo in late August, "Nupuri" is the train you need to ride. If you are in Hakodate during the same period, hop on the train named "Wakka". For those traveling in Hokkaido from September onward, be sure to get on the limited express that says "Niseko".
No. 1  "Yufuin no Mori"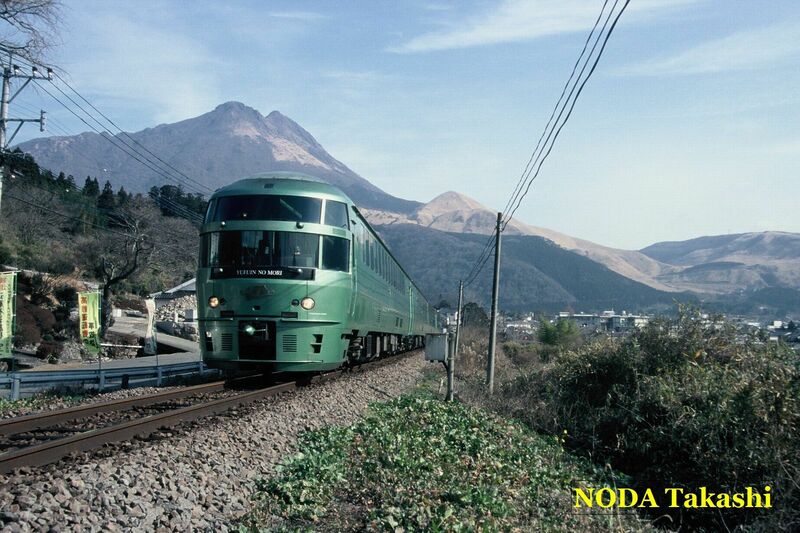 And finally, the sightseeing train that tops my list is "Yufuin no Mori" that has been in service for quarter of a century in Kyushu. It is the first limited express that Kyushu Railway had launched as an exclusive tourist-oriented train to take the passengers to and from Hakata and Beppu on the route that passes through the highly reputed spa resort, Yufuin.
The interior design is, in one word, chic. It's not outlandish nor is it too fancy. It's just right for mature adults to enjoy the serene ambience that can be especially appreciated when relaxing in the high-decker. "Yufuin no Mori" boasts a long-lasting popularity among a wide range of generations, so much so that there are even tour packages planned for tourists who use the plane to fly in and out of Kyushu and mainly travel around this island by car or bus, but include this limited express as the only train they opt to ride during their trip as one of the memorable highlights of their journey.