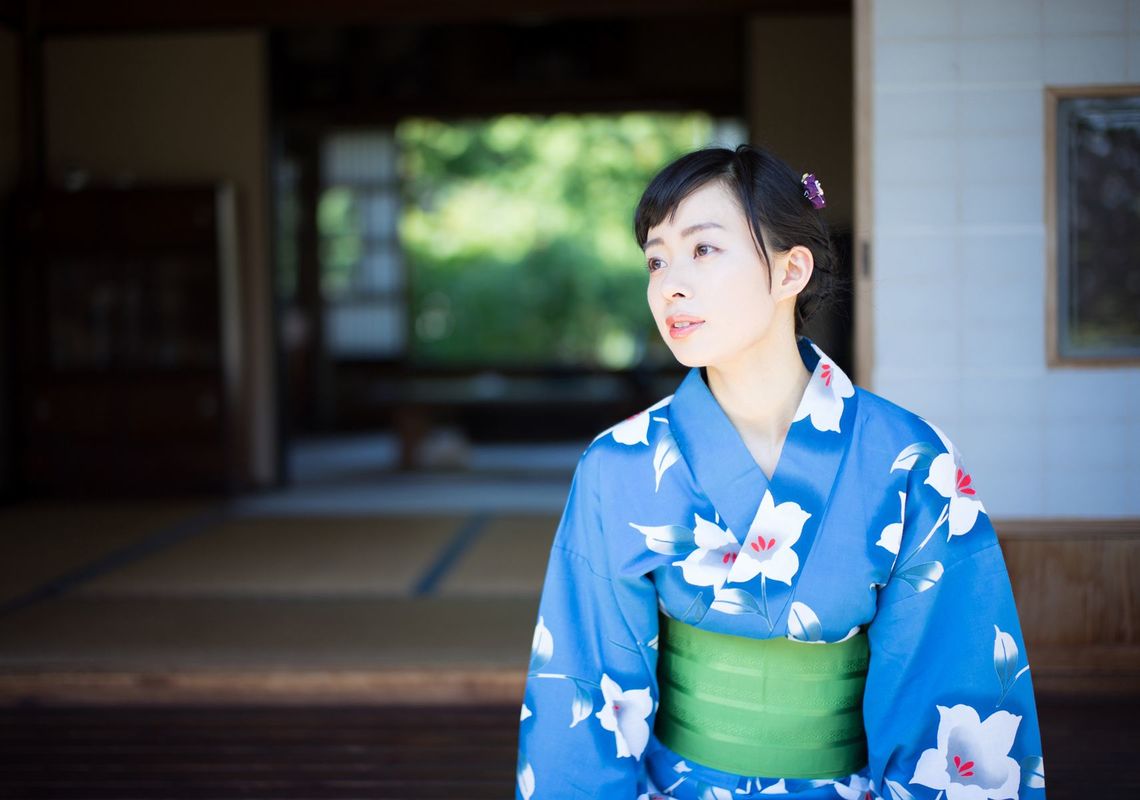 In an era where modernization has influenced all spheres of life, particularly fashion, the more difficult it is to preserve traditions. Particularly in Japan as one of the major fashion capitals of the world, fashions come and go in the blink of an eye, putting traditional garments tucked away in grandma's closets rather than it being out on the town as a modern fashion statement.
However in Japan, seasons are bringing together the latest fashion and traditional garments in a practical and stylish combination.

For over 1000 years, Japanese yukata, a lighter and casual garment similar to kimono has been used by the upper classes as a bathrobe, allowing people to stay cool and comfortable after taking long baths. Continuing the popularity for its practicality,
lightweight material and simplicity, centuries later, yukatas is now widely worn as a casual summer garment as well as a fashion statement combined in one.
Lately, yukatas are worn to summer festivals, and it is also widely worn in traditional ryokans (Japanese inns). Similarly, yukata are becoming popular among foreign tourists as a symbol of Japanese culture. The fabric designs vary from the traditional simplistic patterns to the more elaborate and vibrant designs, paired with colorful sashes to complete the look.
More Yukata plans
Rakuten Travel has observed the increasing popularity of yukata over the last six years. The number of yukata included accommodation plans have increased nearly twice as much in 2015 compared to 2009 due to the growing demand from Japanese tourists to want to wear yukata as the ultimate form of resort and relaxation garment on theirvacations.
Furthermore, 134% more yukata plans were created over the last five years, with 2014 being the year many plans were added. High seasons for yukata plan demands peaked in the summer since 2009, particularly ranging consistently from June until September. Moreover, from 2010, Rakuten Travel has observed an increase in yukata plans in September and October, even after what is widely considered as the "yukata season".
As summer is a core season for Japanese traditional festivals, or matsuri, many tourists like to dress in yukata to escape the scorching heat and get in a festive mood.
Furthermore, tourists are paying 4.5% more to book yukata plans than they would pay for a non-yukata accommodation plan, illustrating the ever-growing popularity and demand for yukata included plans. However, the fact that yukata plans are popular after the festival season in July and August can be accounted by the fact that yukata is also a garment worn as bathrobes when people bathe in hot springs, which are particularly popular around September and October.
As for this summer, July 2015 was at the peak of all yukata plan reservations over the last six years, measuring a total of 176.8% increase compared to July 2009. Similarly, the number of yukata plans available were at its highest, measuring at a total increase of 72.8% compared to the same month in 2009.
Moreover, travelers were willing to pay an additional 6% more for yukata plans compared to the same time last year, which meant tourists payed the most per yukata plan compared to the last six years, signifying a growing demand.
Can you take yutakas as souvenirs?
While it has been common for Japanese hotels and ryokans to provide yukata rentals, it is less common to find accommodation plans that have yukatas guests can take home as souvenirs.
Fueled by this demand to create such plans, Rakuten Travel has compiled a series of yukata souvenir included accommodation plans targeted for the foreign travelers wanting to experience wearing the traditional garment they can also bring home.
Gion Shinmonso
Located 20 minutes away from the central Kyoto Station, Gion Shinmonso is situated in the area of Higashiyama-ku, the renowned temple and shrine district of Kyoto. It is also situated near the picturesque Gion.
At Gion Shinmonso, the small and intimate traditional inn with only 21 rooms and the iconic landlady dressed in a kimono awaits you. The rooms have been renovated into a modern Japanese style, as Gion Shinoso aims to treat their guests to an old traditional excellence, tranquility and harmony that fits the serene environment of Gion.
With wifi installed in all rooms, foreign guests can easily feel at home while being in a traditional getaway. For the female guests, yukatais complimentary, along with tastings of the Kyoto's delicate sweets.
Kinosaki Onsen Nishimuraya Honkan
Kinosaki Onsen Nishimuraya was established in the hot springs district of Kinosaki in the Edo period. For hundreds of years, Kinosaki has been known throughout Japan as a hot springs town. Putting on yukata and visiting the hot springs has been an unchanged tradition that still remains today. Guests of Nishimuraya Honkan can enjoy complimentary access to all the public hot springs, or onsen of Kinosaki.
The gardens of Nishimuraya Honkan allow guests to experience the kaleidoscope of variation that Japanese four seasons bring. Guest rooms are designed to complement the seasons of Kyoto which permeates from the tatami mat floors to the sliding paper window doors, to the wooden terraces with the garden view. To maximize the guest' experience, Nishimuraya Honkan is providing complimentary yukata for all female guests.
SHOUEN
Shouen is a nostalgic guest house located by the Ureshino River in Saga Prefecture. The interiors of this inn makes one think of grandmother's house, full of warmth and hospitality.
With an open space for guests to feel relaxed, Shoen is equipped with open air baths tapped from the fresh spring water of the Ureshino River. Exclusively for women, guests can pick out a yukata of their choice to wear in and around the inn upon check-in, which they can take home to show off to their friends and families.
To make an everlasting memory, Shoen will capture the snapshot of the guests in their yukata. From the specially and locally crafted traditional Japanese cuisine to the interiors of the inn, Shouen will be sure to demonstrate the "omotenashi" spirit of hospitality Japan has to offer.