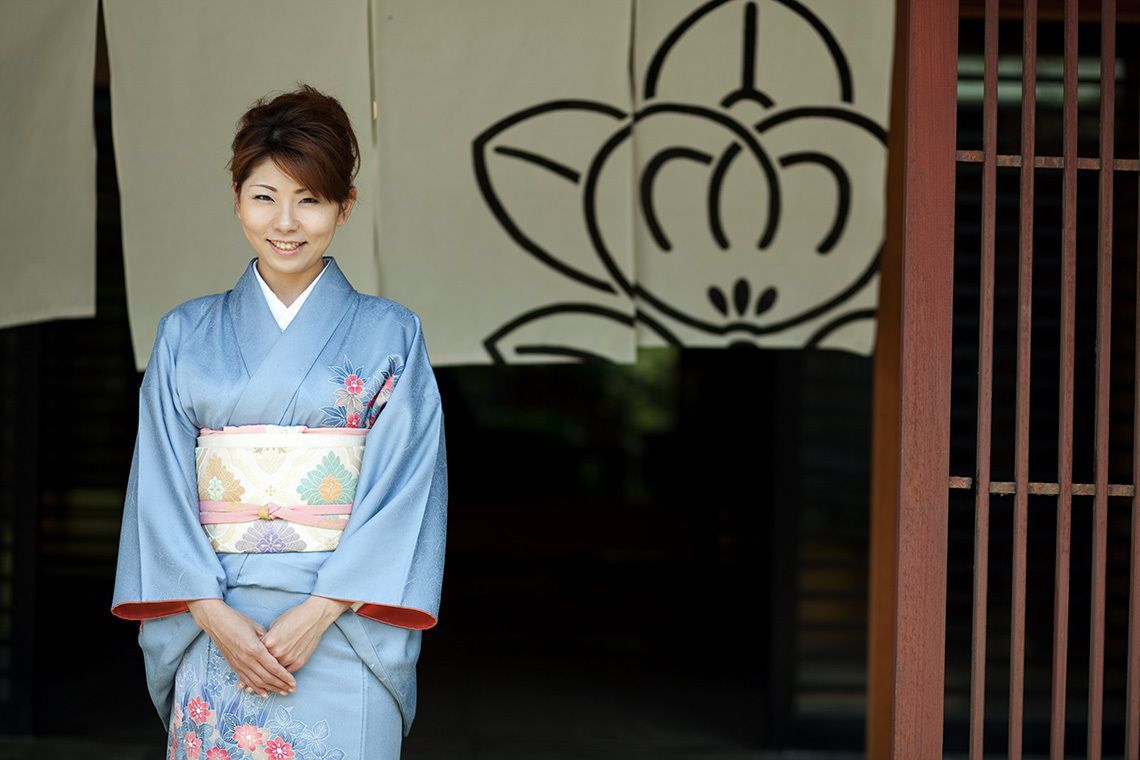 In February 2015 a certain blog became hot news. Crazy wife puts website out of business was posted by Takashi Boshiyama, managing director of the Hoshotei Japanese-style ryokan inn at the Yamashiro Onsen hotsprings in Kaga, Ishikawa Prefecture.
He bemoaned--albeit with some irony and pride--that the inn's website, designed to attract more customers, had been made more or less defunct, thanks to the bold business tactics of his wife, Mai.

Proprietress Mai Boshiyama, is so adept at obtaining future reservations from guests before checkout that the website might as well not be there according to her husband. Sometimes all rooms are occupied with loyal, returning customers.
A reservation ensuring stable occupancy is key to success in the hotel industry. So full occupancy, thanks to loyal customers, is ideal from a business viewpoint. Some months at Hoshotei boast 88.6% occupancy by returning guests.
How does it achieve this? It's down to Mai and her three-point approach.
1) Attend all banquets to track down potential customers
"In most cases, the proprietress only shows up to deliver a formal greeting, after which she serves sake to guests sitting in the places of honor (in Japan, it is considered polite to seat the guest of honor or a high-ranking person like the boss in a place far away from the entrance)," Mai says.
"In my case, I serve drinks to everyone. Guests respond by pouring me a drink too, so we end up drinking together. With some sake in us, we relax and have fun, singing and dancing. By showing I'm a good sport and can enjoy my drink, the guests have a good time too."
On busy days, Hoshotei holds as many as four banquets. Mai says she attends them all and stays for two hours. Physically it can be exhausting, but she adds there are things she could only have learned after doing this.
"To my surprise, high-ranking people such as the company president or chairman often sit in lower places nearer the entrance," Mai explains. "If I were behaving like an ordinary proprietress, I might not even have noticed them. Say, I'm chatting to a company director who's sitting in an inferior place. When I succeed in getting him to tell me something like 'I'm thinking of organizing a school reunion,' I hand him a paper coaster and ask him to write his name and contact details. I then add this information to our directory.'"
2) Limit customers to a 50 km radius
"Most of Hoshotei's loyal clientele are local residents living within a 50 km radius. Other ryokans try to boost their profile by extending their advertising to the metropolitan area, but we've decided not to compete with that," Mai says.
Access has become easier and faster thanks to the Hokuriku Shinkansen high-speed bullet train between Tokyo and Kanazawa. Yet it still takes over three hours to reach Hoshotei from Tokyo. Mai figures that customers willing to spend that much time traveling also tend to have many options as to their travel destinations. In terms of drumming up future business in the shape of returning customers, they present too much of a challenge.
"So it's more effective to market aggressively to those who can be here within an hour. If they feel like coming, they can be here that very day."
3) Contact family of loyal customers
"On summer greetings, New Year, and other seasonal cards, I try to inject a topical, timely element," Mai says. "For example, if it is election season, I will use a card designed like an election poster. For extremely loyal customers, I send letters with a photograph of my family. I have even sent letters informing customers that I have had a baby. At times when many rooms are empty, I sometimes write, 'Next month we're not that busy.'"
On Mother's Day, she sends bouquets of carnations to wives of loyal customers in thanks for "sending off your husband to Hoshotei." On their birthdays, she sends cake.
How did Mai come up with these ideas? She attributes it to her motto of remaining "simple and honest."
"Some loyal customers stay with us over 10 times a year," Mai explains. "I have been frank enough to inform such guests when they request a day when otherwise the inn is empty that 'It is wasteful to turn on the lights for just one set of guests, so please don't come on that day,' and I ask them to come to stay on another night."
With relationships like this, guests become more like friends than just loyal customers. Mai has been able to build such relationships because her business style is about being her natural self.
"It was not like this from the start," she says. "When we opened, I was desperate to ensure all overnight guests went home satisfied. But even when we tried our best, some guests would complain. Some will even go as far as saying, 'Other inns will do XYZ for us. Why can't you do it too?' I decided at that moment to only make an effort with those who would like me. As for the complainers, I simply said, 'If you don't like it here, don't come anymore.'"
Of course this means she sometimes gets into arguments. Yet strangely enough, she claims it is these most prickly of guests who become their most loyal customers.