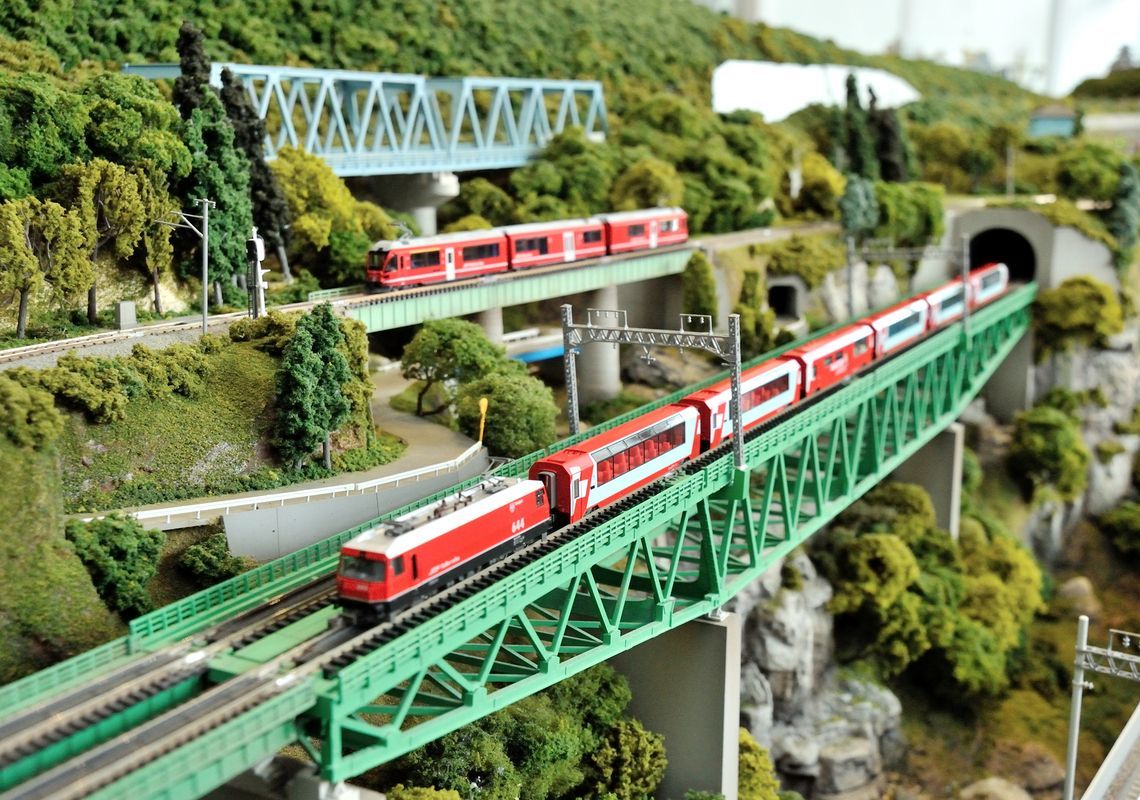 The Glacier Express connects the mountain resorts of St. Moritz and Zermatt in Switzerland with an eight-hour journey. This tourist train features a red body with large windows and the flag of Switzerland on it. It is popular, catering to visiting tourists from all over the world.
The train's model was released in spring 2013 by Kato, one of the major Japanese railroad model brands. Ryotaro Seki, a sales deputy director who designed the product, says, "We have continued to sell a lot of these [trains]," even though it has been two and half years since its launch.
So far, the volume of sales is almost fifty-fifty between domestic Japanese and European models. Seki says that many people ride trains during overseas travel, a practice that is very popular in Japan. "People who are not so-called railway fans also have many opportunities to see and get models of trains that they rode while travelling," says Seki, and Kato has created a new type of user who is different from conventional model fans.
In Europe, new products sell in a slightly different manner than they do in Japan. Although no new products are explosive hits in Europe, a certain number of products continue to sell. Kato won a place for enduring and popular products with the acceptance of the Glacier Express model in the European market as well as in Japan.
However, this model has features that are different from those of the European model. It is made to a scale of 1/150 of the actual size using the N gauge standard, which is unique to Japan.
There is a unified and worldwide standard for model railroads, thus making it possible to share lines or to connect with vehicles from different manufacturers. N gauge has a standard that uses a line with a 9 mm width, and originally, this standard was reduced to 1/160 of the actual size of railroads with a "standard gauge" of a general line width of 1435 mm in Western countries.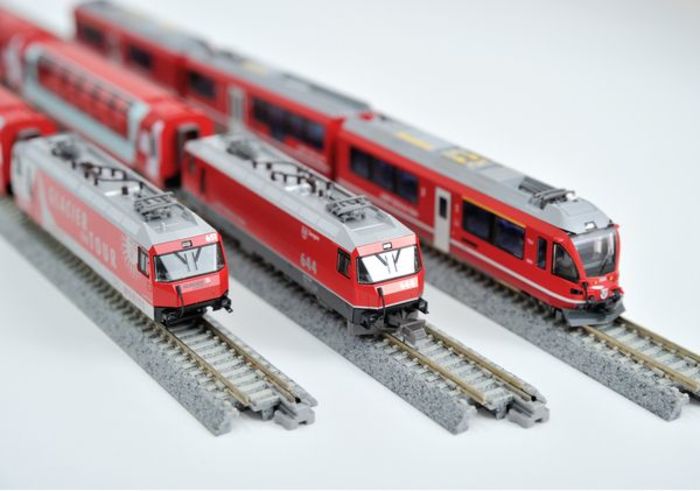 Most railways in Japan, however, have a "narrow gauge" with a line width of 1,067 mm. For this reason, the uniquely Japanese N gauge standard is reduced to 1/150 of the actual size to ensure that there is no incongruity, even when a train is placed on lines with a width of 9 mm, and methods for making the N gauge slightly larger than the world standard were generalized. This is because N gauge standard models in other countries can run over the same lines in this way. The sense of the "1/150" standard is unique to Japan.
The line width of the Glacier Express is closer to the Japanese narrow gauge width of 1,000 mm than to the standard 1,435 mm in Western countries. Usually, if a model like this is made in Western countries, the scale is the same as a standard gauge railway, and the line width is narrower than 9 mm when vehicle scales use the same "1/160" standard with a standard railway gauge.
Kato had a different idea, however. They commercialized the "1/150 - 9 mm" Japanese standard and made products so that they could be enjoyed as is by existing N gauge users who could share lines.
Also, actual mountain railways have many curves, and the Glacier Express was designed to pass through about half of the sharp curves in a typical N gauge vehicle. Because of that, it has gained popularity in the Japanese domestic market as it is able to do such things as run in a narrow space.
On the other hand, there is a higher aim for the overseas market, and that is to spread the banner of Japan's N gauge system. The majority of the N gauge market is in Japan, whereas the market for the HO gauge, which is one step larger than N gauge, accounts for 80% of the market share in Western countries. In addition, rather than assembling a line each time a train is run, as is the practice in Japan, in Western countries, the standard is to keep the layout.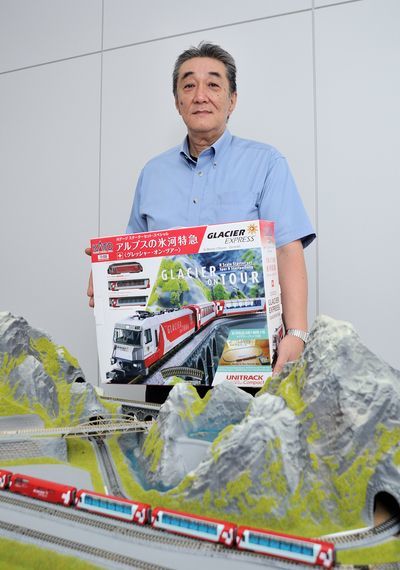 Seki, however, learned from on-site interviews with users that the actual situation is different. Since homes in urban areas are small, instead of having HO gauge products at home, people choose N gauge so they could enjoy model railroads even inside their homes, thereby increasing the demand for this type of gauge.
On the other hand, there is almost no distribution of the typical model line system in Japan, where the models can be assembled easily in places such as on top of a table each time they run and then put away after.
"In Europe, where there is a long history of model railroad culture, we felt that there was a fair chance to enter that market, and commercializing European trains was one of those chances," Seki says.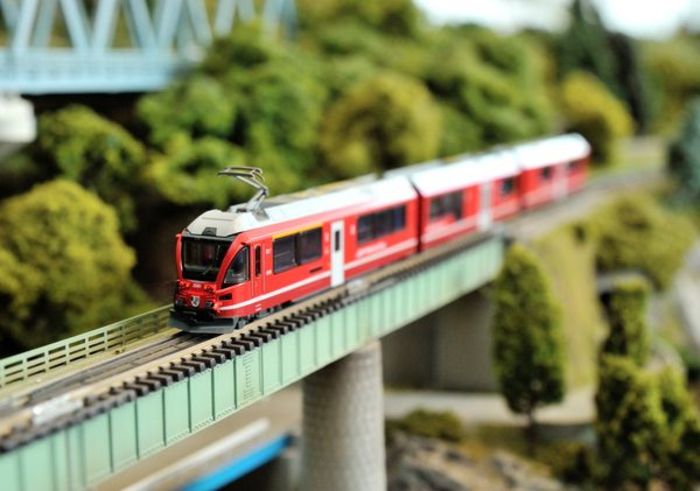 Initially, the Glacier Express that was made with the uniquely Japanese "1/150 - 9mm" standard was considered a strange model in Western countries.
According to Seki, the person in charge of the Rhaetian Railway (which operates the Glacier Express), who signed a commercialization contract, initially wondered, "Why is it not a 1/160 scale even if it is N gauge? Why is the line width 9 mm even if it is a 1/150 scale?"
Until now, model railroad fans in Western countries think that if they want a railway model with a relatively narrow line width, such as the Glacier Express, they also have to buy a line that is different from the typical model railroad standard gauge. With Kato products, models can be enjoyed by fans as is if they have an N gauge standard line. Seki speculates that "this ease and quality" led to the popularity of Kato products.
Certain movements appear to have also been stimulated by Kato products. Veteran Swiss model railroad manufacturer Bemo has recently sold "1/87 - 16.5 mm" models that use typical HO lines (16.5 mm width), in addition to "1/87 - 12 mm" models used until now. These products enjoy the benefits of being able to share lines.
Kato also plans to commercialize new trains on the same lines in Switzerland. There is also an initiative to launch an upgraded system that can emit whistle sounds and sounds of a running train.