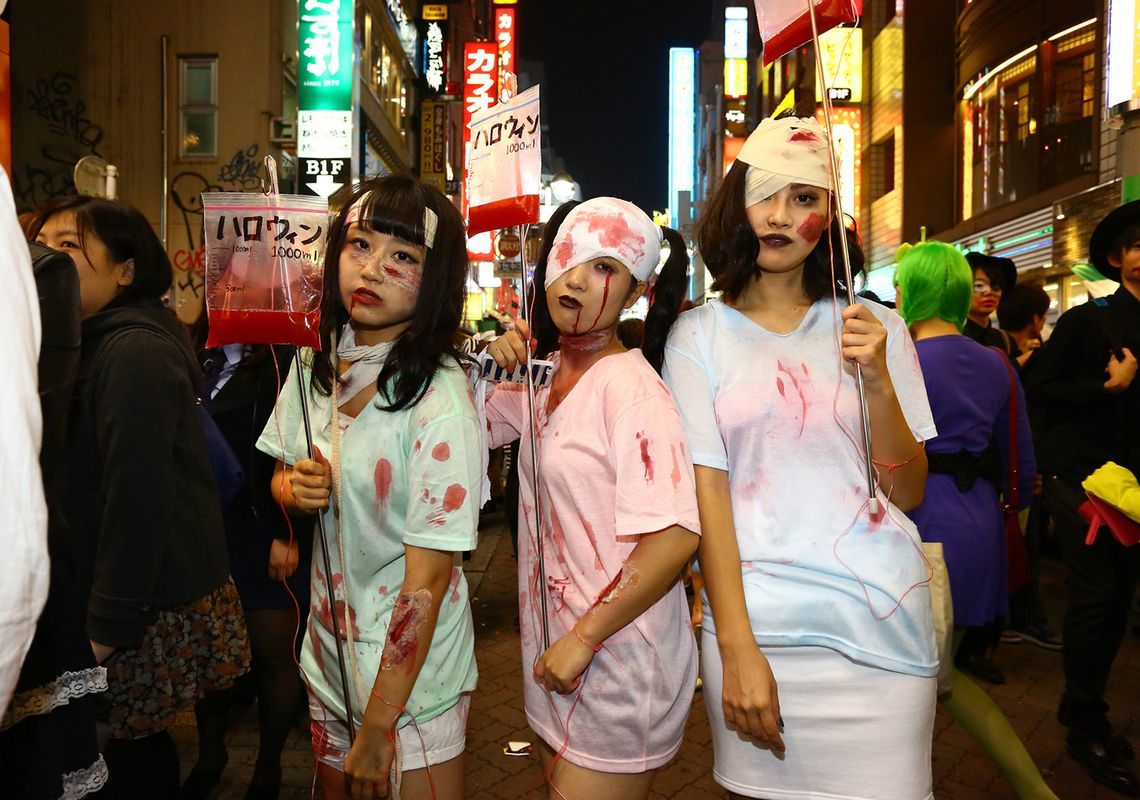 A Taiwanese student in my class once asked "what is making Japanese people so excited about Halloween?" The student, I-Chen Hsieh, is in her 20's and she is currently studying in Rikkyo University Graduate School of Business where I teach marketing.
Many foreigners like her seem to get quite startled when they come to Japan and find shopping areas selling orange and black-colored Halloween goods from even the summertime. They must have felt the same if they had seen the bustling districts in Tokyo like Shibuya Center-gai filled with people last fall going wild parading though the streets in fancy costumes and make-up.
In the eyes of a person like me who spent some time living in the U.S., Singapore and Hong Kong, the Halloween events held in Japan appear to be highly localized in mainly three aspects.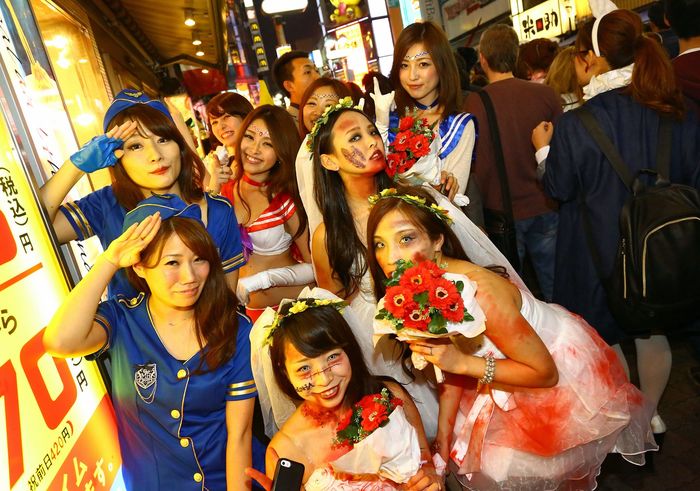 The first point is that in Japan, Halloween is not simply an end-of October event primarily for children going trick-or-treating around the neighborhood decorated with jack-o'-lanterns, like in the U.S.
Rather, it is celebrated more in the form of masquerade parties and parades for adults.
This is probably the most distinct difference that makes the Japanese version of Halloween look so peculiar to foreigners.
Secondly, Halloween season in Japan runs for quite a long time. In amusement parks like Disneyland, Halloween-themed performances start from early September. In schools and offices, Halloween parties and related events fill up their calendars for two months.
Thirdly, Halloween is still a growing market in Japan, unlike in the U.S. where this market has already matured. Recent market size estimates show that American consumers spend approximately 6 billion dollars on Halloween-related goods and events every season.
But in Japan, confectionery and stationery makers, among various other lines of business, are yet hoping to boost their sales more during this season. The business students from abroad are also curious about knowing in which commercial areas Halloween will help expand the Japanese consumer market more, going forward.
Halloween as a "moving" event
Why has Japanese people become so infatuated with Halloween in the first place? Let's see if we can understand this phenomenon better through some observations made from the standpoint of marketing and behavioral science.
To begin with, Halloween in Japan is "highly event-oriented". Japan is a developed economy where the people are content on the overall with what they eat and wear.
In such a mature society, the consumers tend to be more motivated to "do" something, rather than "have" something simply for the sake of possession.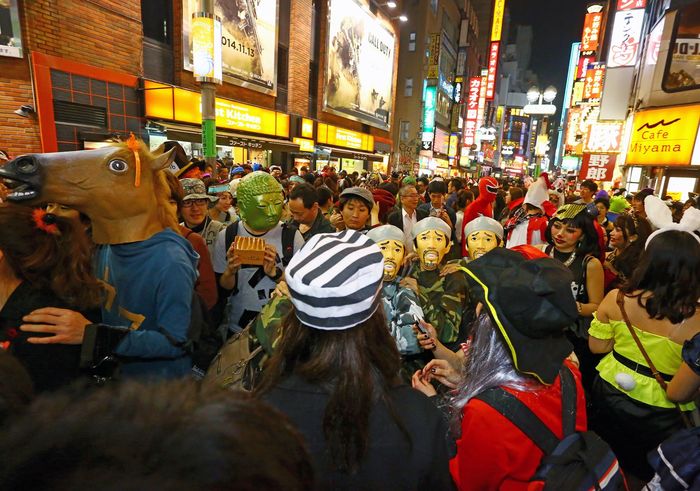 To tap into their real needs, wants, and interests, it is important to propose them the opportunity to do something different or special.
The goods and services that could offer such experience are the ones that would evoke their willingness to buy them.
One type of want that is particularly strong among these consumers is their desire to "gain a higher sense of fulfilment and happiness" if they are going to spend their precious time and money anyway.
Many of them are now finding more value in using their time participating in activities that will enable them to "feel deeply moved" with all their senses together with their friends or loved ones.
To the Japanese, Halloween provides an excellent opportunity to share such emotional experience among like-minded people.
Various Christianized events that find their origin in the western culture have long been favorably received by the Japanese. Among them, Christmas is the most widely accepted tradition, followed by St. Valentine's Day. But these two are considered to be relatively more personal and intimate occasions.
On the other hand, Halloween has been recognized by the Japanese as a more group-oriented occasion where "everybody can enjoy together". One of the reasons why Halloween has become so popular so fast in Japan seems to be hidden in this higher chance of socializing offered during its season compared to other Christianized events.
Another point that we should not dismiss is the fact that Halloween in Japan is largely supported by the younger generations born between 1987 and 1995. Some scientific reports suggest that these generations place more importance on acquiring empathy from the same gender rather than being adored by the opposite sex.
In this country, Halloween has provided the same-sex peers a chance to get together and share the joyful experience openly with one another in a big social setting, if not the biggest already.
"For the ladies too, it is becoming an event that stirs their feminine desire to transform" analyzes Chiyomi Sakuma, the brand manager of Sadamatsu, a jewelry retailer operating 80 stores nationwide.
Based on her rich experience abroad, she views that "The Japanese have been taught intensively in school to be like others and also to be liked by them."
"This is why their potential desire to express their individuality and show a different side of themselves is actually stronger than the westerners."
Japanese women are apparently also beginning to find Halloween as a safe and precious occasion to have a blast with their friends, enjoying watching each other's momentary metamorphoses.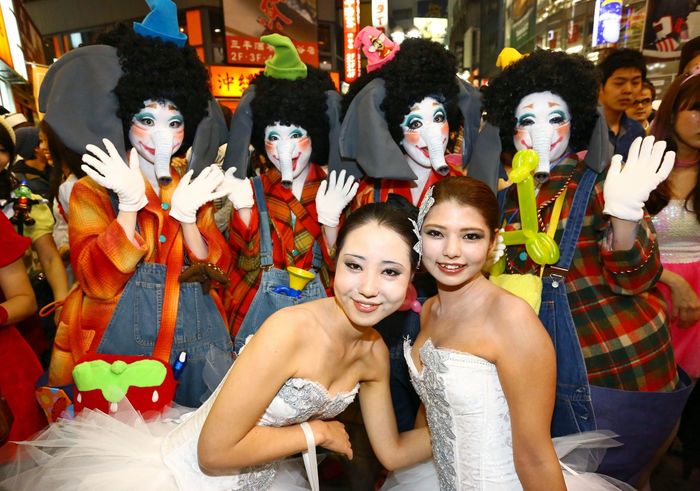 Another factor lending to the rise of popularity of Halloween among the female consumers in this country is the widespread use of SNS. They can easily gain attention and empathy from other SNS users by uploading funny photos of them disguised together with their friends.
Halloween costume and makeup have become one of the most definite ways for them to create and spread their personal "hot topics" instantly. And it would be reasonable to think that these "hot topics" that received a lot of "Like" from the viewers have contributed immensely in increasing the number of Halloween supporters exponentially.
Halloween has become a matsuri in Japan
Philp Kotler who is renowned as one of the world's top marketing "gurus" pointed out the importance of cultural factors as broad and deep influencers of consumer behavior. According to his theory, a company or an event must offer activities that are culturally meaningful in order to be supported for a long time and establish itself as a brand. In other words, the offered activities must each have a cultural value that can stimulate and uplift the spirit of those taking part in them.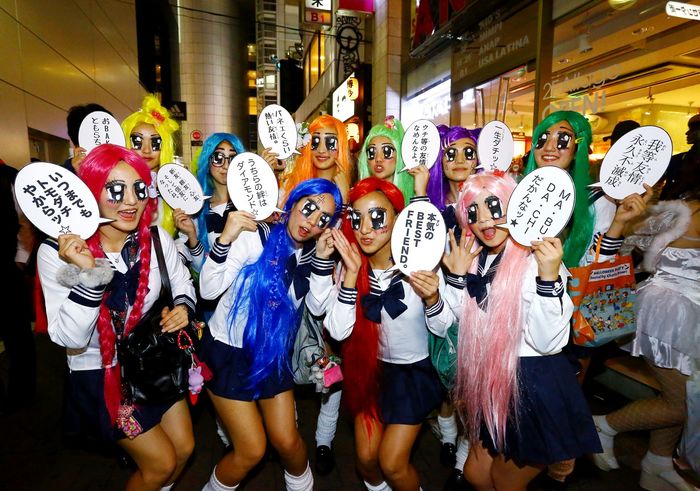 In Japan, autumn has historically been the busiest season of the year for matsuri or Japanese festivals, which are events that typically symbolize the cultural heritage or tradition of each location where they are held. But in urban areas, there are actually not so many festivals where people can feel easy to participate and enjoy freewheelingly.
Halloween in Japan has grown into a set of festive events held in the form of parties and parades open to literally anybody who just wants to join and have some fun, with or without the disguise kit.
We also should not forget that the "ephemeral" nature of a festival has a special cultural significance to the Japanese. Making the most out of "the moment" has been traditionally considered a positive attitude to take in this country where the people inherently appreciate and respect the transience of life as a virtue.
So in one sense, we can view the Japanese version of Halloween as a period of cultural events that have been founded on the combination of old and new aesthetic principles valued in this country.
In the world of marketing today, we regard the ability to "inspire" the consumers as one of the most important elements of successful marketing. The word "inspire" in Japanese is composed of two kanji characters that stand for "drum" and "dance" respectively.
Dancing to the rhythm of drumbeat is a heat-conductive act that represents the cultural behavior of the people participating in a festival. Halloween in Japan allows the participants to embody that vital energy.
Whether Halloween can flourish further in this country or not depends largely on how effectively the related events, goods and services can continue to inspire the consumers. Without question, this would be the key for anyone interested in exploring new opportunities in Halloween-themed business in the Japanese market.
(Photos by Koichi Imai)