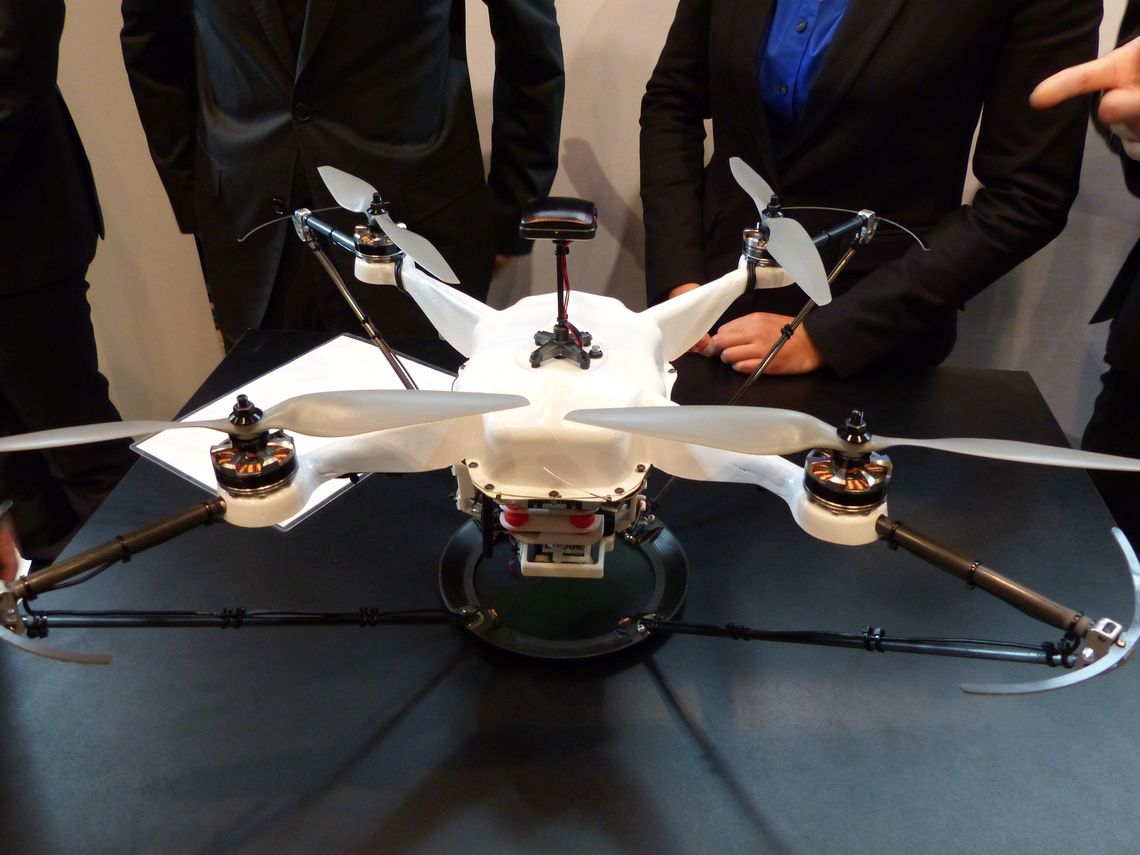 Komatsu, known as a rival to Caterpillar, will put its own drone on the market. Camera-mounted drones will play a major role in the "Smart Construction" service that will start from February 1st.
Komatsu has distinguished itself from competitors by installing the "KOMTRAX" system, which automatically manages its vehicles' operations and maintenance using GPS, in all of its construction vehicles since 2001. The "Smart Construction" presented here is also such a movement toward applying communications technologies and digital technologies, and could be called the culmination of the technology that Komatsu has been cultivating to this point.
KOMTRAX effect

"With the advent of KOMTRAX, the company's internal operations changed. Then the system for operating unmanned dump trucks came out, but it was limited to mining. This new service can be used for a wide range of of general construction equipment sites. I think this is the biggest thing we have put out since KOMTRAX." (Mr. Tetsuji Ohashi, president and CEO of Komatsu)
The new system is used for every aspect of the work process at construction sites from start to finish. The aforementioned drones are used to carry out surveys to ascertain the status of construction sites.
Work at a construction site starts by ascertaining the site's status prior to work. With Komatsu's "Smart Construction", the work that would usually be carried out by two workers can be done automatically by a camera and 3D laser scanner mounted on the drone. Work that would take months can be completed in 10 to 15 minutes, and with improved accuracy.
The customer's blueprints can be turned into 3D data by Komatsu. By combining this with the field data from unmanned surveying and adding information such as the desired deadline and number of workers and data accumulated from other sites, it is possible to calculate the most effective way to proceed.
Then these procedures are loaded into the ICT(information&comunication technology) bulldozers and ICT hydraulic excavators and the actual work begins. Since much of the construction equipment is automated, it can easily be handled even by untrained workers.
Komatsu's goal is to use the Smart Construction service as a springboard to increase the number of ICT machines on the market to 1,500 (currently 300). President Ohashi says he would like related sales to "quickly reach ¥10 billion."
First they will focus on Japan, where the lack of construction workers is becoming more severe, developing through the group's rental companies and Komatsu Rental. Then, they will turn their eye toward expanding into the overseas market.