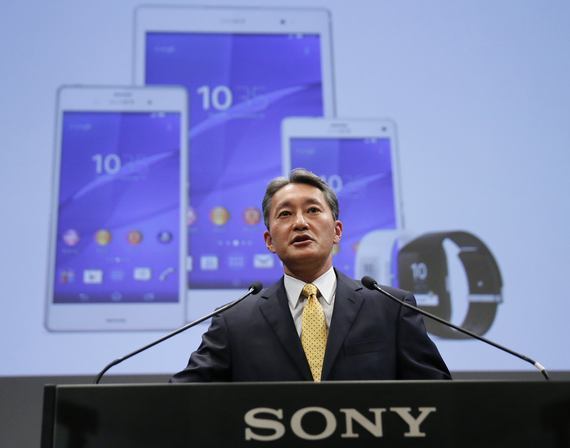 On Nov 25, 2014, Sony held the second day of its IR Meeting targeted at analysts. The schedule was arranged around the three main growth areas that company President and CEO, Kazuo Hirai, had decided to focus on to revive the electronics business: digital imaging, games, and mobile.
One particular division that caught everyone's attention was the mobile division, which had recorded a 172 billion Yen operating loss. In lieu of the operating loss write-off in September, Kunimasa Suzuki will leave his position as CEO of Sony Mobile Communications, and it was announced that Corporate Executive Officer Hiroki Totoki, who was the head Sony Bank, will take over Sony's Mobile Division duties.
A lot of people are paying attention to how Mr. Totoki will rebuild Sony's Mobile Division.
The amortization of goodwill in the Mobile Division
The main cause for the loss is the 176 billion Yen goodwill impairment charge in the Mobile Division. It would seem that Sony plans to be more agile after lowering its earnings forecast. When Mr. Hirai took over as the Group CEO and President, he had set a deadline and promised a performance evaluation after three years, of which the deadline would be next year.
If the goodwill impairment charge were to be excluded, the Mobile Division would have been in the black. Although the charge was recorded as a huge loss, in reality there were no operating expenses. Sony must have thought that providing a good explanation during the announcement would take away some of the possible negative reaction. However, that judgment was off the mark, and the once favored Mobile Division has now propagated a lot of dissatisfaction from many sides, due to the huge loss it incurred.
Following the loss, Japanese mobile carriers, International mobile carriers that it is partnered with, and mobile carriers who are potential partners (that Sony is still in negotiation with), voiced their concerns toward Sony's Mobile Division.
From the point of view of mobile carriers that get their supply of devices from Sony, it is only natural that they would be concerned if the Mobile Division ended up being sold like the PC division.
The fact is, when Sony Corporation bought out Ericsson's shares in the Sony Ericsson joint venture, Sony went on to own the goodwill. If the amortization had not been allocated to a specific division, but was allocated to the electronics business or its other businesses, the Mobile Division would not have ended up in such a bad state.
At the same time, Sony revealed that it would be lowering its target for smartphone sales from 43 million units (its target in July) to 41 million units, an announcement that left the impression that the division is troubled. Since sales of the Xperia series is growing steadily in many European countries, and people knew that the loss was due to goodwill impairment charge and not actual operating expenses, Sony executives admitted that they were surprised that various parties were judging Sony so critically.
Suppose it had started positive, and announced the good performance of its high-end models in North America, and explained that it will focus its attention on countries in North America and Europe, the response might not have been as antipathetic.
There were certainly some discrepancies in the forecast of the number of shipments. Moreover, in order to increase its global presence, there were talks of withdrawing from the Chinese market that it had long waited to enter, adding on to the bad news.
However, we should also analyze the reason behind that decision. Before touching on the topic of the measures that Sony decided to take, let us briefly summarize the changes that are taking place in the Chinese market.
First of all, there had been significant changes in the number of manufacturers that had established their presence in the Chinese market between the years 2013 and 2014. Early last year, the only smartphone manufacturer with a strong presence in China was Huawei Technologies.
However, due to the improvement in hardware design support by system LSI manufacturers, the maturation of Android provided by Google, and the accumulation of know-how from the EMS providers, the barriers to entry for the smartphone industry had dropped significantly. This led to new manufacturers such as Xiaomi, Lenovo, Yulong and others to emerge one after the other.
The share of these new manufacturers in the Chinese smartphone market had grown tremendously. Xiaomi had overtaken Samsung Electronics to be the number one smartphone manufacturer, and become the top vendor in the Chinese market.
According to the research firm Canalys, in contrast to Xiaomi's 14% market share in terms of the number of smartphone units sold in China in the second quarter of 2014 (April to June), Lenovo, Yulong and Samsung all had 12% each, while Huawei has 11%. It seems like it would only be a matter of time before other manufacturers overtake Samsung.
The rapid progress of new manufacturers
Sony was not the only manufacturer that could not catch up with the rapid rise of new manufacturers. The same could be said of Foxconn, the world's largest EMS company.
Back when Xiaomi was relatively unknown, it tried placing orders at Foxconn in order to cope with the sudden rise in demand for its devices. However, the Foxconn personnel who dealt with it had rejected the order, thinking that Xiaomi is just a "small fry". The top brass at Foxconn, Terry Gou, finally caught on to this and was reportedly furious that his staff had refused the order, failing to catch the big fish.
The authenticity of the story aside, the sudden rapid rise and growth of Chinese manufacturers has reached a point where "folklore" such as this are being circulated. As one would expect, Samsung was also not able to avoid the effects and had already announced a significant decrease in its profits. However, it was not going to back down so easily, and although there was a decrease in demand, they still held on to the large quantity of inventory they had.
Currently, although these relatively new Chinese manufacturers are not selling outside of the Chinese market, it is only a matter of time before they expand into the Asian market. Samsung, which had been successful in selling large numbers of smartphone units in emerging markets, would have to steer carefully in order to compete in this industry.
Under these conditions, what kind of strategy should Sony come up with?
Sony considered itself "lucky" that it was able to review the emerging markets, including China, before expanding its business in these places. During an interview at the International CES held in January 2014, Mr. Hirai said that "although the expansion of the smartphone business into the emerging markets has been said to be too aggressive, we can put a stop to changes in the market environment, and when unexpected situations happen, we can apply the brakes at any time." Even though not much attention was paid to that comment, Mr. Hirai most probably had already sensed the change in tides in the Chinese smartphone market.
There is no doubt that the Android devices manufactured by rising Chinese manufacturers will enter developed markets in the future. When that time comes, a price war might be inevitable, even for Samsung.
If the top manufacturer takes up the challenge of a price war, manufacturers like Sony that are not new or in the number one position would be crushed, and could be forced to lose its presence completely. Moreover, although only the mid-level and low-end smartphones would be affected at first, after a while, even the high-end models that Sony is known for would lose its competitive advantage.
In order to secure and maintain a position in the smartphone market, no time can be spared for hesitation.
However, since Sony had given up on its initial plan of finding a way to increase its shipments to emerging markets, including China, the new management would have to consider pulling up its socks.
What the new management team at Sony Mobile Division should do
1. Reduction in the number of products
The current product lineup is too excessive. Even in Japan where products are limited to high-end models that sell well, Sony provided NTT, DoCoMo, and KDDI with derived models of each of the 3 different sizes from its global Xperia Z Series, with each carrier getting an exclusive design.
For its lineup abroad, Sony should take into consideration the difference in the range of the selling price and the economic disparity, and develop smartphones based on the derivative models that is adapted to each area. These should then be reduced to just 2 or 3 types.
Speaking of the 2014 year-end models, Sony had narrowed them down to just the Xperia Z3, equipped with 5.2-inch display, and the Xperia Z3 Compact with 4.6-inch display. Even though the number of units had been temporarily reduced, Sony would be able to maintain its profits. By simplifying its development resources and distribution strategy, and focusing on products that have been perfected, it would be able to increase its brand value.
Also, with the current condition of having various derivative models, a sales strategy is needed to negotiate with the various smartphone carriers in each country, for each model. The cost for these activities should not be treated lightly since it would eat into the profits. Sony is not the only player in the market that had to come up with sales promotion for each model, and marketing strategies aimed at carriers. With the exception of Apple, all other smartphone manufacturers are laden with similar problems. By reducing the number of products, Sony will be able to reduce support costs in the future.
Previous Sony smartphones did not have the product appeal of model integration. However within a short period of time, it had made continuous improvements, resulting in dramatic advancements in both the hardware and software of the current generation (Xperia Z3 series).
Although it still does not have the biometric lock screen function, if the next generation were to be equipped with this capability, it is possible to narrow down the number of products offered.
2. Reduce the frequency of model change and increase the product life cycle
After declaring that it will direct management resources to its smartphone business, Sony also mentioned that it would work at double the pace of its rivals to update basic designs. Also, now that the product quality has gone up, it would start thinking in the long term and ideally "spend 2 years on mechanical design, and 1 year on electrical design" for its products.
Reducing the frequency of model change is also tied to the process of development. It is necessary to set up a framework to establish a long-term roadmap, and at the same time clarify and decide on what to include in the next model.
3. Management grip
It is necessary for Sony to thoroughly implement its management style globally, and prevent any specific region from making a "grandstand play". Even if the Xperia Z Series is able to garner high reputation and become a popular product in various countries, it is still has a long way to go to reach the kind of presence that Apple and Samsung have in various markets.
Nevertheless, in order to have a high reputation, everything starts with the people in charge of product planning taking pride in their work. By unnecessarily adding on to the number of derived models and color variation, a lot of effort is being put into the trivial matters, thus taking attention away from the long-term vision.
By loading a device with too many function and components, a wide range of users will treat it as an "all-purpose" device without carefully examining and experiencing the product, making it difficult to build the brand.
Because of that, the new CEO Mr. Totoki will clarify the product strategy for the Xperia series as a soon as possible, so that the company can find its direction.
The fourth strategy

By following the three strategies mentioned above, there is a possibility that the sales volume could decrease in the short term, so it is also important to come up with a strategy to increase sales volume simultaneously.
By giving up its distribution and sales in China, which accounts for close to 40% of its global smartphone sales, Sony will no longer be able see a surge in its sales volume. On top of that, it would have to be careful of maintaining an amicable relationship with Qualcomm, one of the biggest manufacturers of system LSI for high-end smartphones.
The same goes to its OS. In order to make rapid progress in the Xperia Z Series, Sony has to work hard to maintain the good relationship that it currently has with Google. On that note, Google had shown its intention in strengthening its relationship with Sony, in the hopes that it will curb Samsung's lead as one of the biggest Android smartphone vendors.
However, if Sony's presence in the Android community drops, Google might just decide to strengthen its partnership with newer manufacturers such as Xiaomi.
For Sony to increase its presence, the fourth strategy is crucial.
As a recognized market leader in technology and creating trends, Sony should proactively introduce new concepts to the Android community. Although Samsung was a market leader, looking back, apart from the Galaxy NOTE, it was not able to deliver a new concept or establish a trend.
Sony could narrow down the number of models it offers, put the resources into future prospects to increase its presence, and maintain its relationship with Qualcomm and Google. On top of that, it is also necessary to find the key to growth in terms of sales volume.
If Sony is not able to maintain its presence in the smartphone business, it would also lose its position in the electronics industry. Just for that reason alone, Sony would have to come up with a good strategy that will help it regain its footing in the smartphone business.