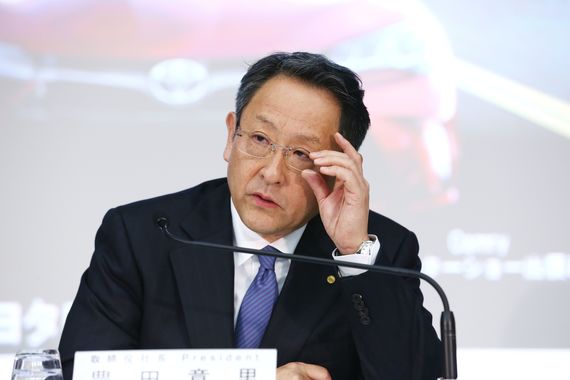 Toyota Motor has climbed to new heights.On November 5, the company raised its full-year earnings outlook, and that is the new figure. The ¥2 trillion figure puts Toyota in uncharted territory for any Japanese company.

Why is Toyota's performance so good? It has worked on cutting costs, increasing prices, and slashing selling expenses. But those account for only several tens of billions of yen, and although that is a large amount in absolute terms, it is not enough to propel Toyota to such heights of profitability. More to the point, the effects of a one yen drop in value against the dollar can raise the year's operating profits by ¥40 billion.
Of course, the company is getting steadily stronger in fundamental ways. "Before the 2008 financial crisis, the exchange rate was ¥114 to the dollar. Now it is ¥104. That exchange rate difference loses us a ¥1 trillion, but our work to improve sales and costs took us beyond the ¥2.2 trillion yen operating income that we posted in March 08," says VP Nobuyori Kodaira with pride.
The second fiscal half plan is based on an assumption of ¥105 to the dollar, September's average exchange rate. But following the yen's declining trend based on a fundamental level of ¥115 yen to the dollar, there is a strong possibility that the forecast ¥2.5 trillion full-year operating profit will be adjusted upward by another ¥100 billion.
As Toyota positions itself to deliberately land in that zone, according to President Akio Toyoda, the company is determined to maintain its firm grip on additional measures to fortify its constitution, even amid unprecedented profits. The company has instituted a policy of freezing the construction of new plants until the fiscal year ending March 31, 2016. VP Kodaira says "Our aim is only to take our existing plants and equipment to their maximum by adding production lines and improving productivity. We are now at around 90%." While maintaining the company's high rate of capacity utilization, little by little they are adding lines and improving productivity at existing factories.
Six months ago, Toyota executives said "We are not saying a blanket 'no' to any new factory. We are avoiding too-easy factory building when we can do more with what we already have." They say that the policy will not prevent approval of any truly necessary new factory. But there was no green light to plan a new plant in Mexico, a plant that would serve the U.S. market that may face a supply shortage within a few years.
Saying farewell to price cuts
Toyota is not only being tightfisted. For the second half, Toyota has cancelled its usual price cut demands to parts suppliers. Once every six months there have been negotiations with suppliers over their revisions to sourcing and procurement prices, but "As far as I know, this is the first time they have dispensed with price cuts," says the CEO of a Toyota Group company.
The unusual measures may be due to the obvious possibility of even higher profits at Toyota, and may indicate an intention to "allocate" a portion of the profits to trading partners in order to strengthen the entire supply chain. However, some involved individuals express fear that the end of Toyota's price cut demands may lead to a less tense feeling among parts suppliers.
However, the impact on Toyota of shelving price cut demands amounts to only several tens of billion yen. Considering that even a one yen drop in the yen's value can raise profits by ¥40 billion, this is almost painless. If parts suppliers can afford to, it will be satisfactory if they cut prices when the yen's value may climb once again. This aim is also clear in this year's cancellation of price cut demands.