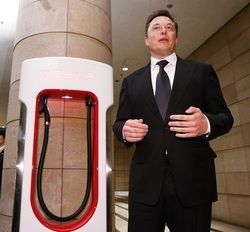 The luxury electric vehicle has finally made its debut in Japan.
On September 8th the US electric vehicle venture Tesla Motors began delivering the Model S luxury sedan in Japan. Nine of the Model S vehicles have been arranged in the 52nd floor observation deck of the Roppongi Hills Mori Tower in Tokyo, Japan. Tesla CEO Elon Musk was there to personally hand over the keys to these first 9 customers, starting with Yoshihiko Yamada, the Executive Vice President of Panasonic, one of Tesla's business partners.
The spread of sustainable vehicles

Also on September 8th their original rapid-charging hardware known as the Supercharger made its debut in Japan. The Supercharger is able to charge the battery to 50% capacity in 20 minutes. Musk stated that Model S owners will be able to use the Superchargers for free forever. The first was installed in the Grand Hyatt Tokyo hotel in Roppongi. There are plans to expand them to about 20 locations by the end of 2015.
The spread of sustainable vehiclesーー. Tesla was incorporated in 2003 and received funding the following year from Musk, who was appointed as chairman of the board of directors (taking on a concurrent position as CEO starting in 2008). Since that time Musk's end goal has not wavered. The scenario toward this growth was released in August of 2006 in their "Secret Master Plan."
First create a high-class sports car and use the profit from selling that vehicle to produce a vehicle at a reasonable price. Then use the profit from selling that car to produce a vehicle at an even more reasonable price, and so on. Their plan is to develop an inexpensive vehicle in order to propagate electric vehicles, but to do that one must first establish the brand with luxury vehicles and obtain funding.
In accordance with this plan Tesla's first vehicle to the market was the Roadster, an open two-seat car. They began selling the Model S luxury sedan in 2012 and next they plan to release the Model X luxury SUV. In addition, from 2017 onward they plan to reduce the Model S to half price or less while also selling the Model 3 for $35,000 US dollars.
The Model S was released in June of 2012 and is currently sold in Europe as well as China, with sales of approximately 40,000. It is the only Tesla model that was mass produced. The worldwide sales for this year is expected to reach 35,000 units, an increase of 56% over the previous year.
In 2008 while the Model S was under development the bankruptcy of Lehman Brothers and the resulting financial downturn made financing more difficult, causing Tesla to run into financial difficulties. Musk reflected that during that time it was nearly impossible to procure funding for an electric vehicle. In the end, Musk invested his own money into the company and was able to survive by receiving funding from Tesla's three partners, the car manufacturers Toyota and Germany's Daimler as well as Panasonic, the supplier of their batteries.
Musk stated that without the funding from those three companies Tesla would not have succeeded. This strengthened ties with these companies, particularly Panasonic which went on to supply all of the lithium-ion batteries used in the Model S from its factory in Japan.
Tesla has escaped this predicament and will now plans to build the biggest battery factory in the world in 2017, which will be known as the Gigafactory. It is planned to be the strategic production base for the Model 3 and mass produce batteries while at the same time reducing the production cost by 30%. It is anticipated to be in full operation by 2020, producing 500,000 vehicles annually. The success of the mass-produced Model 3 outlined by Musk will lie with Gigafactory.
Panasonic will continue to support Tesla in this endeavor. In July of this year they agreed to a joint investment in the factory. Tesla will provide the land and building and Panasonic will take on the funding for the facilities and equipment necessary to the production of batteries. Funding is expected to reach 400 to 500 billion Yen, half of which will be contributed by Tesla. According to Musk Panasonic is expected to contribute 30% to 40%.
Musk's effort to expand electric vehicles does not stop there. In an interview with Toyo Keizai last year Musk stated that he would adopt any technology better than that of his own company, but he would only work with each field's best supplier. Rather than having Tesla battle alone to mass produce vehicles, the best partners are chosen to achieve their goal.
In fact, in June of this year Musk made the unprecedented decision to open up Tesla's patents as an automobile manufacturer. Musk determined that, "We will open up our patents to any other company that would like to use them to produce electric vehicles. We will do everything in our power to make electric vehicles more common." He jokes that in the future it may turn out to be a stupid decision, but his outlook is serious.
In the first quarter of 2013 (January through March), 10 years after Tesla was founded it made a profit for the first time in its history. Tesla has never made an annual profit. More recently, the sales costs and Model X productions costs have added up. Musk stated, "If we slow down development or investments we would turn a profit right away. However, we will continue to build reasonably priced vehicles even if we don't make a profit in the short-term."
Market Capitalization Approaching Global Vehicle Manufacturers
Surprisingly, even the American stock market, which tends to put a strong emphasis on short-term profits, is supporting Tesla's strategy. This is because even though their vehicles sales are at the fairly low level of tens of thousands, their market capitalization has reached an astounding 3.5 trillion Yen. This is a scale in the automobile industry larger than those selling over one million vehicles such as Italy's Fiat and France's Renault. It is approaching the level of manufacturers that sell far more, such as American General Motors (5.3 trillion Yen) or Ford (6.5 trillion Yen). This may be evidence that as CEO Musk has done an excellent job communicating his plan for the future with stockholders.
In the interview on the 8th Musk strongly asserted, "If you don't like me then you should sell your stocks. If you feel like Tesla is no longer being innovative then go ahead and fire me." This is the degree of his confidence.
Of course, none of the shareholders are thinking of firing him. At this point he has become an electric vehicle "evangelist" managing everything. If anything, it could be said that it would be even more risky for him to step down as CEO. At any rate, the world's eyes will be on the direction of Tesla as well as Musk, the rare entrepreneur who is using every method to make electric vehicles common around the world.