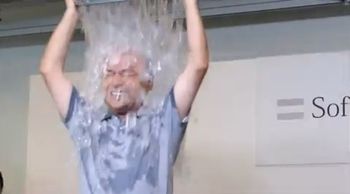 "Ready, set," splash!
At 9:30am on August 20th, Masayoshi Son, the president of Softbank got showered with a bucket of water along with a buzz from his employees. This was followed by a tub full of ice water. The 100-plus employees who had assembled at the staff canteen on the upper floors of the headquarters building exploded at once with laughter.
This, of course, is no entertainment at a party, a sideshow, or anything like that. It is part of a charity campaign to support research for an intractable disease, Amyotrophic lateral sclerosis (ALS), in which muscles contract and their functions degenerate. The nominated person must either "get doused in water containing ice within 24 hours" or "donate $100 to the ALS Association." Participants are to be showered with the ice water with goodwill only, and they are by all means allowed to refuse.
Son was nominated by Terry Gou.

The world's famous people have taken on this "Ice Bucket Challenge", such as those from the IT industry, including chairman of Microsoft, Bill Gates; CEO of Apple, Tim Cook; and CEO of Facebook, Mark Zuckerberg, all companies of which are from the United States. Episodes of their getting soaked by water have been sent out to the world through channels such as YouTube.
The person who nominated Mr. Son was Mr. Terry Gou of Hon Hai (Foxconn) from Taiwan. On August 19th at 6:48pm, on his own Twitter account, he announced, "Tomorrow, Wednesday, August 20th at 9:30am, I will pour a bucket of ice water over my head as part of a charity to raise awareness of and combat ALS, an intractable disease, as I have been nominated by Foxconn's Mr. Terry Gou." The media immediately gathered at the scene as well.
In the past, Mr. Son has "happily" been soaked with beer in front of the TV camera at the beer splash during the championship celebration of the Softbank Hawks, and such episodes have made him famous for his "party love". Of course, this time it is a respectable and serious charity event, but it will no doubt also contribute greatly to Softbank's publicity.
Next up are from his company group.
Just before pouring the water on himself, Mr. Son assigned the next appointees of the big role to, unfortunately (?), not the "father dog" (a major character in Softbank's TV ads) or the robot, "Pepper". Instead, he nominated Mr. Manabu Miyasaka, president of Yahoo; Mr. Kazuki Morishita, president of GungHo Online Entertainment; and Mr. Ilkka Paananen, CEO of Supercell. He was canny to make sure he handed over the baton to people in his own company group.
"It's cold," said Mr. Son. As he came out of the inflatable pool for kids, he laughed and wrapped himself in a white gown. So now, will this campaign spread among the celebrities in Japan, where awareness for charity is not deep-rooted?