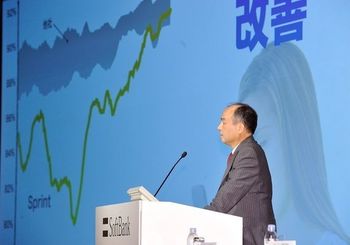 "History shows that whenever three opponents of the same size go up against each other, the fight is intense. The history of the Three Kingdoms bears this out. But for now the issue is the extent to which Sprint itself can succeed."
SoftBank President Masayoshi Son, commenting at the August 8 announcement of his company's business results for the first quarter of fiscal 2014 (April-June). In effect, he acknowledged that there will be no acquisition of T-Mobile US for the time being.
Sales Expand as Group Companies Increase

Through its U.S. subsidiary mobile phone giant Sprint, SoftBank has been trying to buy out T-Mobile US, which ranks fourth in the U.S. industry. Now that the effort has unraveled, the U.S. strategy advanced with Son's prodding will have to be turned around.
The U.S. market is dominated by Verizon Wireless and AT&T, the top two competitors that hold a combined market share of about 70%. Beginning last year, however, T-Mobile has enjoyed a sudden increase in subscriptions as it undertakes an aggressive campaign to attract customers switching from other carriers. Subscriptions during the April-June quarter of 2014 showed net increases from the January-March quarter of 1.42 million at Verizon, 1.02 million at AT@T, and 1.47 million at T-Mobile, which is doing better than just holding its own. Sprint, meanwhile, was the sole loser during the quarter, suffering a net decrease of 334,000 subscriptions for a total subscription count of 54.55 million as of the end of June. This is only about 4 million more than T-Mobile, which raises a real possibility of Sprint being overtaken before the business year is out.
These are the circumstances in which Son announced on August 8 that the immediate future strategy for Sprint would be to cut costs while also working out an aggressive sales strategy. "Up to now, our network quality has been poor, so we've avoided battling it out. But now we've improved to where we can hold our own against the competition, so we'll take them on," he said. In conjunction with this move, Brightstar founder Marcelo Claure was appointed CEO on August 11, replacing Dan Hesse, who had been in the post since 2007. "He is extremely resourceful when it comes to sales," Son said of Hesse, adding his seal of approval: "He has the face of a brigand-- an absolute street fighter. With him at the center of management, Sprint is bound to become a more interesting company."
The explanation persistently given is that the strategy is being turned around because network quality has been improved. But in fact, since they gave up on the bid to acquire T-Mobile, they are now able to undertake price competition without having to concern themselves with T-Mobile. However, attracting customers through ongoing LTE network investment and thoroughgoing cost-cutting is no easy matter. From the moment he takes the helm, Claure will have some very difficult straits to navigate.
One thing I couldn't help noticing was a certain lack of ambition on Son's part at this announcement. Usually apt to give hour-long presentations, he was on and off in 28 minutes this time. And he fielded questions dispassionately from start to finish. He must already be thinking of what step to take next. What will it be? In the past, Son has said, "When you sense that things are going south on you, the sooner you can get out of there, the better." Moving forward, another audacious strategic turnaround could be in the offing, including the option of selling off Sprint.