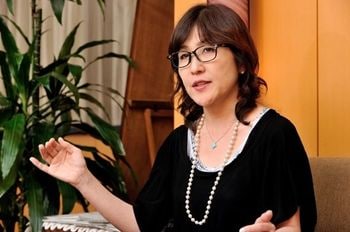 The Cabinet Bureau of Personnel Affairs, inaugurated on May 30, made its first decision on July 4 regarding senior personnel matters at government ministries and agencies.
At the same time, the bureau appointed four women bureau-level directors. Given that Prime Minister Shinzo Abe has touted the personnel bureau's establishment as the "core of reforms in the civil service system," how will government administration change after these decisions? We spoke with Tomomi Inada, Minister of State for National Public Service Personnel Systems.
We changed the personnel systems

Q: Could you explain the role of the Cabinet Bureau of Personnel Affairs?
A: The Cabinet Bureau of Personnel Affairs is an organization that administers personnel matters in order to move forward on important Cabinet issues. In the past, civil service personnel matters were handled within each government ministry and agency. And it was a department called "Organizational Personnel Capacity" in the Ministry of Internal Affairs and Communications that made determinations about institutions and their prescribed numbers of employees. As far as the importance of each post was concerned, the National Personnel Authority determined the ratings and prescribed employee numbers for each organizational class. We changed that.
Q: Regarding those responsible for TPP affairs, Naoko Munakata has been appointed to head the Ministry of Economy, Trade and Industry's Trade and Economic Cooperation Bureau, while Naoko Saito was named Director General of the Foreign Ministry's Economic Affairs Bureau. What is the significance of the fact that both are women?
A: Since I have no implementation authority regarding personnel matters, I'm not entitled to comment on individual posts. However, TPP has reached a crucial pass. It's fair to say this is a real moment of truth for the Abe Cabinet.
To begin with, all of the female government officials recently appointed to lead bureaus are people who began their careers before there was a Law for Equal Employment Opportunity of Men and Women. While disparities between men and women are small among public service employees compared to the private sector, there was no law then like the current one with stipulations such as hiring 30% women.
And the discrepancies in promotion were glaring. Amid circumstances like that, these are women who married, raised children, and have struggled through to the present. I can attest to the fact that the Abe administration's positioning of women's employment as a crucial issue is more than just window dressing, and that we can expect great work to be accomplished. I hope to see them strive hard, being feminine but also strong and hardy.
Q: Up to now, the position of Deputy Vice Minister of Finance for International Affairs has been filled exclusively by "proper" officials of the Ministry of Finance. This is the first time someone has been recruited to the post from the Ministry of Economy, Trade and Industry. So it seems progress is being made in eliminating the walls between government ministries and agencies.
A: In the National Diet, we pledged that we would not create positions that were fixed in such a way that any given post would "belong to" any particular ministry or agency, or that a given post could only be reached through a particular ministry or agency. The Bureau of Personnel Affairs was established in order to place the person with the optimum skills in the optimum post, while at the same time creating a public service workforce that is freed from impediments to working for the sake of Japan.
Article 15 of the Constitution declares that "All public officials are servants of the whole community and not of any group thereof." So obsessively focusing on the interests of a given ministry may be in violation of the Constitution. What we want to cultivate are "fighting" public servants, who will fight for the interests of the nation, and actively take this on as their calling. In order to do that, what we need is a human resources development process that can penetrate throughout Tokyo's Kasumigaseki government administrative district.
Q: Is the Cabinet Bureau of Personnel Affairs going to change the way public officials go about their work?
A: The other day, a group of female public service officials now raising children submitted a petition to Cabinet Bureau of Personnel Affairs Director General Katsunobu Kato, seeking improvements in the ways work is done. With an organization that works out personnel strategies thoroughly, it will become easier to deliver these kinds of requests, and it will become easier for the voices of working public service employees to be reflected.
The original culture of the Kasumigaseki administrative district is a climate in which long work hours and late-night entertainment are considered de rigueur. But that shouldn't be. We want to increase the efficiency of work, eliminate wasted work hours, and respect each lifestyle. This is not a problem of female public service employees alone. It is also a problem with male public service employees' work-styles. If male public service employees can reduce their overtime hours and return home sooner, the lifestyles of their wives and families will also change. And that will have a ripple effect on society as a whole.
Recruitment of women has begun in the private sector as well. If we change the way public service employees work, Japan itself will eventually change.