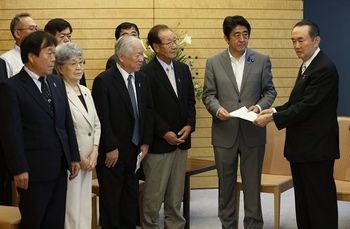 Who is So Tae Ha, the chairman of North Korea's the special investigative committee to look into the fate of Japanese citizens abducted by North Korean agents decades ago? His titles, as publicized through North Korea are "Counselor for Security at the North Korean National Defense Commission (NDC)"and "Vice Minister of the State Security Ministry". The NDC is North Korea's most powerful state entity, and the State Security Ministry is a secret police force.
What is already known to all experts on North Korea both domestic and abroad, is that So is from the Korean People's Army (KPA). Michael Madden, who operates the "North Korea Leadership Watch" specialist web site focusing on the movements of the North Korean leadership, said that So was one of the officials who replaced Ryu Kyong after Ryu had been dismissed from his post as Vice Minister of the State Security Ministry and executed in 2011. Ryu is known as the "Mr. X", who acted as negotiator with Hitoshi Tanaka, then Chief of the Ministry of Foreign Affairs' Asian and Oceanian Affairs Bureau, at the 2002 Japan-North Korea summit.
Madden also suggested that the "Vice Minister" title at the State Security Ministry may be no more than a title used externally in the media or during diplomatic exchanges, and may not reflect reality. Furthermore, just as with other leading members of the State Security Ministry, So has a KPA military rank, but he doesn't sit in the chain of command of the KPA General Staff or Ministry of the People's Armed Forces.
At a press conference on July 3, Chief Cabinet Secretary Yoshihide Suga said that So's title as Counselor in charge of Security at the National Defense Commission was "created out of necessity in order to name him as chairman of the Special Investigative Committee". He stated "[So] will be in charge of the country's security issues at a vice minister level".
So is around 70 years old
So is one of approximately eight NDC councilors, which is a powerful position usually held concurrent to another job. He is most likely part of a group of senior officials who are members of what are sometimes called sangmujo, which First Secretary Kim Jong Un inherited from his father Secretary General Kim Jong Il.
It appears that this inner circle of top aides to the national leader will lead the actual unit tasked with the special duty of investigating the Japanese abduction issue. The sangmujo handles the execution of special missions. It is typically isolated from other senior cadres to fulfill their missions. It has a lot of power to mobilize various resources such as personnel and finances to complete their tasks.
Among the Japanese, there is actually one man who has met So Tae Ha. It is Kenji Fujimoto, who worked as late Kim Jong Il's personal chef. In an interview on July 4, Fujimoto said he met So in 1995 at Mokrangwan, a guest house in the center of Pyongyang. He said he had "absolutely no idea" about So's position at that time. He said So is currently around 70 years old.