Sony's general shareholders' meeting was held in Shinagawa, Tokyo on June 19th. At the beginning of the meeting, Sony president Kazuo Hirai apologized, stating that "I deeply regret our inability to achieve profitability and meet the expectations of all of our shareholders." He then continued: "We will most definitely enact structural reforms in the 2014 fiscal year. I will manage the company with the strong will not to delay this reform any longer."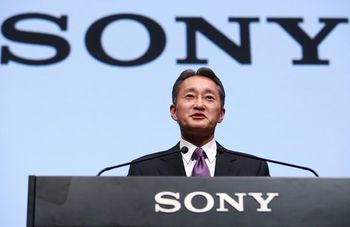 Sony ended the 2013 fiscal years with a deficit of ¥128.3 billion. Their electronics segment, responsible for approximately 70% of sales, has continued to struggle.
"I was disappointed after hearing president Hirai's words."
While the general shareholders' meeting quietly proceeded, a certain individual investor passionately expressed his disappointment in Sony.
"I was disappointed listening to president Hirai's speech today. I simply don't trust that Sony will change in spite of the fact that you have run a deficit (in television sales) for the past 10 periods. You have made two downward revisions (of operating profit forecasts) this year. Don't you think your grasp of the situation might be naïve? Isn't that why you've been influenced by the current states in the exchange markets and developing nations? But this happens because your view on these situations is naïve. Unfortunately, Sony is the only player (in the electronics industry) underwater. I would like you to make commitments next time you announce your plans. I want to say the same to external directors as well. Just what advice have you given the company under these circumstances over the past 10 periods?
As supportive applause erupted throughout the venue, president Hirai gave the following response.
"It is true that difficult changes in the environment, the exchange markets, and others have affected us, but I deeply accept the responsibility for our inability to respond more quickly. Within these difficult circumstances, we unfortunately decided to withdraw from the personal computer (Vaio) market. We will take proactive steps to enact other such protective measures throughout this year. We have also decided to cut fixed distributor costs by 20%, and fixed headquarter costs by 30%, and have begun internal actions in order to do so. We will accomplish all such reforms within this fiscal year, and we believe this to be our greatest challenge. We still have many things that we ought to do in terms of our product focal points, but over the past 2 to 3 years we've begun to hear customers expressing their newfound interest in Sony's electronics. We hope to plant seeds such as these as we progress through this difficult period."
"We will accomplish structural reforms." This is a phrase used over and over by president Hirai. However, he did not touch on why such structural reforms have been delayed, or what is different about the reforms this time, in his response. In order to reclaim the confidence that has been lost as a result of repetitive failures to accomplish plans, it is essential that president Hirai take a stance of using his own words to earnestly explain the company's status.