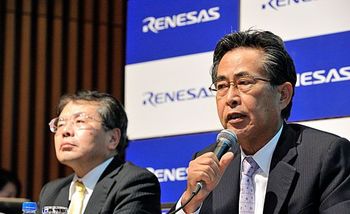 Renesas Electronics announced a reorganization of its Design and Development Division on July 9th. In accordance with the reorganization, they are calling for volunteers to take early retirement from among 800 of the 5,900 group employees in the Design and Development Division. It is aimed at employees who would be required to transfer between bases or offices, and the total number of volunteers desired has not been specified.

This latest round of restructuring is a matter of established policy. CEO Hisao Sakuta had previously stated, "We want to consolidate our scattered design bases," and the policy was also included in the structural reform plan released in October 2013.
The axe has already been taken to the Manufacturing Division, closing or scaling down six factories involved in superconductor wafer manufacturing (pre-processing), leaving three. For post-processing, two factories will remain, with plans to close or sell three factories
Renesas has previously conducted repeated large-scale personnel cuts, but they had not done any fundamental organizational restructuring. CEO Sakuta, who left his post as CEO of Omron to join Renesas in June of last year, unfettered by ties of obligation, has engaged in "surgery," reorganizing factories and design bases. The reception to these structural reorganizations so bold they put even foreign-owned companies to shame has been varied, with an executive at a competing superconductor manufacturer voicing the opinion, "Perhaps it would have been better if they were bought out by the US investment fund KKR."
The infusion of ¥138.3 billion in financing by government-backed fund Innovation Network Corporation of Japan(INCJ) at the end of September last year completed the de facto nationalization of the company, but in the background to their rejection of KKR was significant influence by the views of major business partners such as Toyota Motor Corp. They feared that if Renesas were to be acquired by a foreign-owned fund, there would be an increased possibility of revisions to the product lineup and negotiations to raise prices. However, contrary to the hopes of their business partners, Renesas has narrowed their range of products since last year, and have been negotiating for accompanying price increases.
The restructuring has had an effect, and the profitability of Renesas is rebounding. In fiscal year 2013, they posted their first operating profit in three quarters, and reduced their annual losses to ¥5.2 billion as well (annual losses for fiscal year 2012 were¥167.5 billion). Expectations are growing for a long-awaited annual profit in fiscal year 2014.