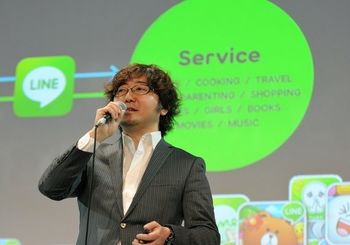 "We are aiming for 1 billion members by 2015." Akira Morikawa, CEO of LINE, spoke about his new goal number for registered users in April at the New Economy Summit 2014, held in Tokyo by the Japan Association of New Economy. At that moment, Morikawa surely had thoughts of "listing" on his mind.

On July 16, LINE's parent company, Naver Corp. of South Korea, announced that it had applied for an initial public offering on the Tokyo Stock Exchange. The company is said to still be considering a dual listing in the U.S., as has been previously rumored.
The outlook is for the application to be approved by autumn, and if things go smoothly, a listing on the Tokyo Stock Exchange by November. Some viewpoints from the marketplace indicate the initial public offering could reach an aggregate market value of over 1 trillion yen, attracting much attention as this year's mega-sized IPO.
500 million users in 3 years
LINE launched its service in June 2011. In the beginning it was an app specializing in messaging features, but with the release of the large-sized emoji "stickers"(which allowed expression of a wide range of emotions) in October 2011, the company experienced explosive growth. By November 2013, the company achieved 300 million worldwide registered users, and with momentum hardly slowing, expanded to its current number of 480 million users.
The 1 billion members figure declared by Morikawa would mean an increase of more than double the current numbers. The capital raised by the offering will most likely be leveraged to accelerate overseas expansion. But with 90% of its users based overseas, only Thailand and Taiwan account for countries and regions with top market shares.
China is a stronghold held by "WeChat," operated by local internet giant Tencent Holdings, with 395,800,000 active users a month(January-March quarter, 2014), mainly in China. Cyprus-based "Viber," which was purchased in March for 93.5 billion yen by Rakuten, boasts 345 million users(registered users as of May 2014), mainly in Europe and the Middle East, followed by "KakaoTalk," operated by the Kakao Corporation with 148 million users mainly in South Korea.
Around the world, there are several services each boasting hundreds of millions of users, making for an arena of rival bosses, each with their own spheres of influence. To raise awareness levels globally, LINE has broadcast television commercials featuring popular local actors in 11 overseas countries and regions, and also developed stickers adapted to each respective country's language and culture. In May, they released the "Creators Market" where creators can sell their own stickers, further enhancing lineups of stickers that embody the tastes of overseas users.
As these and other measures have gained success, users have been increasing mainly in Asian countries, including Indonesia and India. In China, marketing efforts have been developed to target university students on the coasts and the white collar market. Frank Lee, in charge of LINE Plus in Greater China said that as of April, "we have acquired more users(1.7 billion users) than Taiwan."
The task at hand is the North American market
On the other hand, efforts in North America have proved difficult. While 10,000,000 American users have finally been achieved, from a population ratio perspective those results pale in comparison with the successes in Asia. The reigning American market leader and most popular service in the world is "WhatsApp." Although a simple app specializing in messaging, as of April 2014 it had achieved 500,000,000 active users per month, and controls top market share in many countries, centrally in Europe and America.
WhatsApp is a mature messaging app, launched in May 2009. With no competition at the time, it enjoyed the merits of being first on the scene in countries around the world. In February, taking notice of its immense user base, social network service leader Facebook(U.S.) announced that it would acquire WhatsApp for approximately 1.9 million dollars, sending shockwaves throughout the industry.
With WhatsApp having set down roots early in the U.S., it would not appear to be easy to have users, who already use the app to communicate with family and many of their friends, to switch over. With that in mind, the listing in the United States could have the intent of raising awareness as well. Presently, LINE users have been increasing rapidly in Spain, and this has spurred fast growth in Spanish language speaking South and Central America. Hoping to use these sparks to start a fire on the U.S. side, LINE is attempting to grab market share from WhatsApp by targeting Hispanic, Spanish language speaking Americans.
In terms of popularity, LINE plays second fiddle to its formidable rival WhatsApp, but in terms of diversification of its revenue sources, it has the lead. January-March 2014 quarter sales from LINE businesses had increased from the previous year by 3.2 times to 14.6 billion yen. In regards to its record in 2013, 60% were derived from game charges from "LINE POP," 20% from sticker sales, and 20% consisted of advertising revenue such as sponsored stickers using corporate accounts and corporate characters. On the other hand, one major stock brokerage analyst cites that "sales are still small-scale, and its dependence on gaming is cause for concern. It is unknown how much secure growth it can achieve." However, at this stage, with the number of smartphone users still increasing around the world, the most important battle of all is to win the fight for users.