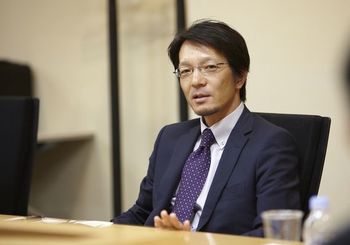 Q: The Japan Automobile Research Institute (JARI) and eight domestic automakers including Toyota, Nissan, and Honda established the Research Association of Automotive Internal Combustion Engines (AICE) to conduct collaborative basic research for engines in April. Why was this organization founded with this particular timing?
Otsu: It was due to a sense of impending crisis that we would fall behind European automakers—centered on Germany—in engine development if things remain as they are. At this point in time, Japanese automakers haven't yet been beaten in terms of technical strength. However, the lag in university-centered basic research and a critical shortage of young personnel have weakened the foundation of engine development in Japan. If we do not do anything now, in 10 years, we will have fallen behind. Our goal is to create a platform for basic technological research for engines like the one that the German automotive industry has built together with academic institutions.

Q: What do you envision for this collaboration in concrete terms?
Otsu: For example, in Germany's FVV—a leading joint research group for engine development—there are more than 140 companies participating, from automakers to parts manufacturers and R&D contractors. After soliciting research themes from universities etc., they commission research from universities financed by contributions from the member companies and funds from the government. The results of the research are returned to the industry, and products are created. The universities can strengthen their research systems with the funding from FVV, and through research, the students can write dissertations and earn degrees. Such students have found employment with automakers and related companies, and are working as core personnel. Furthermore, R&D companies have built close relationships with universities and are amassing advanced technical strength. In the European auto industry, including Germany, this R&D system and personnel training cycle that links together academia and industry functions to support their competitiveness.
Conversely, in Japan, rivalry between manufacturers is the standard. Even in fields of common fundamental technologies such as the investigation of physical phenomena and analytical technologies that FVV is working on, they have worked to constrain each other, and there was no atmosphere of cooperation. They have also not been able to standardize development tools as Germany has done, and with each manufacturer working separately, the efficiency of development is poor. Even for research at universities, budgets are not set aside for the field of engines, and the equipment is outdated. The manufacturers also do not commission universities to do large scale advanced research.
What Europe has that Japan lacks
Q: What are the main themes and tasks for joint basic research?
Otsu: In order to respond to regulations on the amount of carbon dioxide emissions (fuel economy) that get stricter every year and varying global fuel prices, it's necessary for automakers to develop a diverse range of technologies. One part of the development process called combustion analysis is contracted to specialist engine development companies. However, the ones that have the ability to undertake this development are mainly European engine development companies, and there are none in Japan. This is because Japan lacks the foundation for establishing specialist development companies, such as collaboration with advanced university research and a depth of human resources.
In the case of European development companies, they have equipment and knowledge in specialized fields that surpasses that of the automakers. If one contracts with these companies, development efficiency is indeed increased in the short term. However, the Japanese manufacturer's technical strength pertaining to the areas that are contracted out doesn't increase. In contrast, the development companies accumulate even more technical strength by taking on work from large numbers of Japanese manufacturers. If we do not create systems for collaboration between academia and industry to enable the establishment of specialist development companies in Japan as well, the gap with European automakers will continue to widen. Under the current circumstances, they will not be able to overtake Europe in either gasoline engines or diesel engines.
Q: What circumstances led to the establishment of AICE?
Otsu: Ideas had been circulating within the industry about this sense of crisis for a number of years. Two years ago, the Society of Automotive Engineers of Japan (JSAE), the main academic society for automobiles, established an investigatory committee on joint research into engines by academic institutions and industry members. AICE developed out of that.
Q: What will be important for your efforts going forward?
Otsu: One thing that is important for making AICE a success is how serious the manufacturers can get. The manufacturers will send researchers to the universities for the research. If they are going to be doing advanced research, then the manufacturers themselves will have to be ready to send the personnel they least want to give up.
"Holding back" won't get results
A list has already been made up of the personnel for each research theme. Even just for the diesel engine-related projects for which detailed themes have been decided on, there are a large number of research tasks and universities commissioned to do research, so it adds up to quite a large number of people. If you take into account gasoline engines and other subsequent themes, the manpower and funding burden will grow even larger, so the manufacturers must have determination.
Another factor is how open they will be with each other in cooperating. We have listened to the problems of each company and set tasks that must be approached jointly as the research themes. However, there is a substantial difference in the research level of each company for the themes, so some makers will end up covering for the shortfall. At such times, we can't expect good results as a whole if they hide their existing knowledge and hold back. Our activities have just gotten started, but our goal is to establish joint basic research between academia and industry within five years from now.