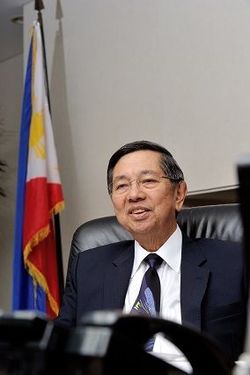 China's advancements in the seas have gained strength. In the East China Sea they have targeted possession of the Senkaku Islands, and were extracting oil from the Paracel Islands in the South China Sea. While in the Johnson South Reef of the Spratly Islands they have begun land reclamation for the purpose of constructing a port. As China gains power, it will surpass these countries as it targets advancement into the Pacific.
In response to these acts of seizure by China, on January of 2013, the Philippines filed arbitral proceedings under the United Nations Convention on the Law of the Sea.

Furthermore, in an interview with the New York Times, President Benigno S. Aquino III said, "to something we believe is wrong now, what guarantee is there that the wrong will not be further exacerbated down the line?" And also, "Remember that the Sudetenland was given in an attempt to appease Hitler to prevent World War 2 and that didn't happen." Thus, sounding an alarm to the world in regards to China. We asked the Philippine Ambassador to Japan Manuel M. Lopez for his thoughts on a strategy towards China.
Q. Why do you think China has ambitions towards the South China Sea?
Amb. Lopez:The South China Sea has an abundance of natural resources, such as oil. For China, as it rapidly expands its economy, acquiring massive resources is an urgent matter, and this becomes imperative in order to maintain its expansion. By controlling the South China Sea, it secures outlets to the Pacific Ocean and Indian Ocean as well. China, which has been fortifying its military power, wants to build a naval route, and create passages to freely navigate its warships.
Q. In Vietnam, which is similarly troubled by China's acts of aggression, General Secretary of the Communist Party Nguyễn Phú Trọng made reference on July 1 to the various possibilities in play.
Amb. Lopez: Vietnam, for a long time now, has had a history of battling against invading superpowers. From ancient times they have been subject to invasion by China, and more recently they were a colony of France. Each time they have fought against such incursions, they developed their movement for independence. And in the Vietnam War, they fought for a long period of time against America.
Consequently, although the lands in dispute may be small, and poor in resources, their fighting spirit is unwavering. Vietnam firmly refuses to allow invasion from foreign countries, and has time and again expelled these forces. And so, no matter how massive, how supreme a nation China may be, I believe they will stand their ground.
The Philippines will not take military action.
Q. Will the Philippines, who are being subject to usurpation by China just as Vietnam has, be prepared to take military action against China?
Amb. Lopez:Oh no, we do not favor the use of military force. In the first place, we do not possess the kind of powerful military strength adequate to face off against China. No matter how hard China may try to sweep over us, we want to settle this dispute through peaceful means. On March 30 of this year, we filed a Memorial before the 5-member Arbitral Tribunal in accordance with the United Nations Convention on the Law of the Sea. It is our unchanging position regarding this issue,that we resolve the dispute peacefully, based on international law.
Q. But China has refused to recognize the case for arbitration brought by the Philippines.
Amb. Lopez:So that is why we are appealing to the court of world opinion. By gaining the support of world opinion, that is the most influential method to peacefully settling of a dispute. Because no nation can survive by alienating itself from the world community.
So, to that end, we want to gain the cooperation of Japan, which has a powerful economy and large influence within the entire global community, and also to gain the cooperation of its most powerful ally, the United States. Getting the support of world opinion and criticizing the egregious behavior of China is the only measure that we can take.
Q. Two years ago, China tightened its strict quarantine standards on bananas from the Philippines, and for all intents and purposes temporarily instituted import restrictions. This was seen as "retaliation" for the dispute over the South China Sea, but what were the impacts?
Amb. Lopez:At that time, we endured a large economic impact, but we endeavored to opening up new markets, and increased our exports. In particular, we rapidly expanded our exports to the Middle East because we have the quality, safety and delicious flavor of Philippine bananas which are well known to other countries as well.
Please note, according to the JETRO information, Philippine banana exports to the UAE from 2008 to 2013 increased from US $11,160,000 to US $78,960,000, while Saudi Arabia increased from US $4,070,000 to US $26,400,000, and Kuwait increased from US $2,110,000 to US $23,760,000.
Q. At that time during the Chinese economic retaliation, there were movements to support the Philippines by eating delicious bananas from Philippines.
We are deeply grateful for friendly nations such as Japan. Thanks to that affair, the Philippine share of the banana market in Japan dramatically increased. Even now, Japan is our largest export market.
At the same time, the friendly relations between the Philippines and Japan have grown even stronger. In June, President Aquino visited Prime Minister Shinzo Abe for talks, and agreed to strengthen their "strategic partnership," on both security and economic fronts, as well as confirming the importance of the "rule of law" in settling the disputes over the South China Sea.
The Philippines supports the Proactive Pacifism by PM Abe
Q. The Philippines has expressed its early support for Prime Minister Abe's policy of a proactive contribution to peace.
Amb. Lopez:We support the Abe administration's policy of a proactive contribution to peace. In this context, the Filipinos are grateful for the assistance by Japan to provide 10 patrol boats for the Philippine Coast Guard to enhance our maritime domain awareness and capabilities.
Yes, starting with the Philippines, many Asian nations are in support of the policy of a proactive contribution to peace. By continuing to provide aid to the countries of Asia, Japan has contributed greatly to the development of peace in Asia, and is an indispensable partner in this region. As a good neighbor, Japan has engendered a firm relationship of mutual trust, and their offer of 10 patrol boats to the Philippines is one other sign of that. Since our country possesses a large sea area, we are very grateful for this contribution to maintaining the security of our seas.
Q. By inaugurating the ASEAN Economic Community, Asia may be in for dynamic changes.
Amb. Lopez:Currently, the countries of Asia are experiencing remarkable economic growth, and 2015 will see the birth of the ASEAN Economic Community. By creating a large economic community in Asia, it should diminish the relative power of China.
We wholeheartedly hope for peace and prosperity in Asia. In that sense, we should not enter into military conflict with China over the South China Sea dispute. Rather, we will wage our battle with love and friendship, and justice, and we will win. This is the Philippine way, because we are a peace-loving nation.