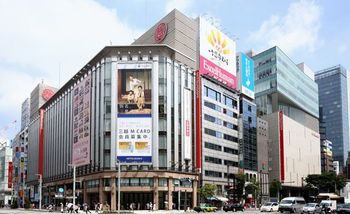 Aiming to further increase its status as a global tourist destination, Japan has set its 2020 target for travelers to the country at 20 million. This is a nearly twofold increase on the 2013 total of 10.36 million. Banking on this forecast, Japanese retailers are rushing to fill the gap. A testament to these efforts is the appearance of duty-free shops in the city.
Mitsukoshi Isetan Holdings, Japan Airport Terminal Company Limited, Narita Airport, and NAA Retailing (affiliated with Narita) have also established a joint merger. In fall of 2015, a duty-free shop is slated to open at Mitsukoshi's Ginza location in downtown Tokyo.
Duty and tax on tobacco to be waived

Until now, shops like department stores and electronics retailers operated as tax-free shops, waiving consumption tax on purchases. Duty-free shops, however, carry no customs duty or tax on tobacco or alcohol products. With the exclusion of Okinawa's special status, this is the first time such shops appear in Japan outside of airports.
Hiroshi Ohnishi, president of Mitsukoshi Isetan, proudly stated, "We want to create the top duty-free shop in the city. That means not only fashion, but the best Japanese items that we are proud of as a country and as retailers."
Why did duty-free shops not exist previously? Isao Takashiro, president of Japan Airport Terminal Co., Ltd., says that "There are no major issues with duty-free shops in terms of policy or procedures required to open them. However, in Japan, these shops tend to be maintained within airports by airport operators, so we had never actively considered the city as a destination. Nor, until now, had there been as many tourists from overseas. A department store spokesperson says that "We had never concretely considered the issue," going on to explain that the company had never received applications for such a store in the past.
However, the policy side does not appear quite so simple. The legal basis for tax-free shops is the Consumption Tax Act, meaning they come under the jurisdiction of the National Tax Agency. However, duty-free shops are subject to the Customs Act and therefore the jurisdiction of the customs office for the Ministry of Finance. Notably, duty-free shops must obtain authorization from the chief customs inspector for the area in which they operate to act as a "bonded warehouse" (Article 42 of the Customs Act) and to engage in "bonded transportation" of goods (Article 63), making securing the necessary clearance a challenge.
In addition, because products can only enter "bonded areas" as "foreign cargo" (Article 30), products can only be handed off after purchasing them after completing exit procedures at an international airport.
One member of the industry was frank, saying, "Securing a hand-off space in the airport is difficult, so this was a major obstacle." He added, "Customs is apprehensive because of the risk of items intended for duty-free shops winding up at stores in the city, so the authorization on bonded transport is strict."
With these hurdles in place, will travelers to Tokyo eventually see duty-free shops at their destination?