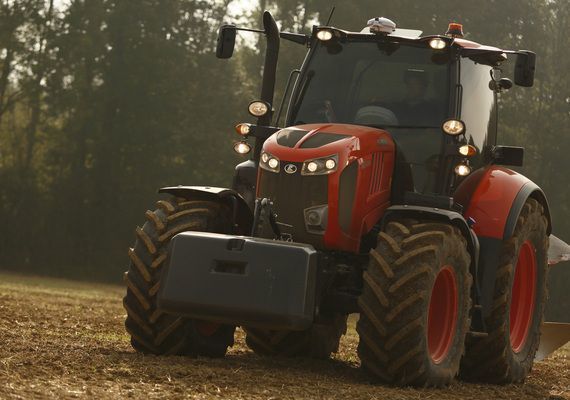 2015 has only just begun yet Kubota is already making a statement, rolling out a new 130-170bhp class tractor from their factory in France. The global market for large agricultural machinery is worth some 4 trillion yen with North America contributing around 40% of that figure. It's this market that Kubota has their sights set on with their new large tractors.
Following the untimely death of former managing director Yasuo Masumoto in June 2014, Masatoshi Kimata was promoted to president in order to take the reins.
During their younger days, both Kimata and Masumoto worked in the factory and shared the same vision of making large tractors to turn Kubota into a major global brand. They would often roll out a world map and pinpoint where they wanted to open new factories.
Today, Kubota has grown to stand side by side with other major Japanese machinery makers such as Komatsu and Mitsubishi Heavy Industries. But is their still room for the company to grow? We talked to Kimata to find out what he thinks.
Interview with Masatoshi Kimata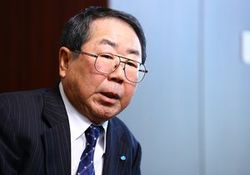 What was it like to finally roll out the large tractors that you and Masumoto always dreamed about?
When we approached dealers in Europe and North America about our new tractors, it was well received. So much so that the current orders in North America are far beyond what we were expecting.
Going head-to-head with Deere & Company
Previously, Kubota had only sold sub 130bhp class tractors in North America. How are things changing now?
Up until now, our main focus had been on compact tractors designed for mowing parks and gardens as well as small scale landscaping and minor construction. However, our most recent roll outs are aimed at farmers and are designed to handle agricultural tasks such as harvesting and grass trimming. It's a whole new market for us.
A lot of our dealers have longed for us to make large tractors. Before we made large scale tractors, they would source these from other manufacturers.
However, selling different brands means you often have to change your sales approach as the features and services differ. Many of our dealers prefer to streamline their suppliers/products and I feel our recent roll out of new tractors can finally address this problem.
Of course our product line is in no way complete. Having now made a 170bhp class tractor, our next goal is to make a 250bhp heavy weight.
Are you worried about competing with other major large tractor manufacturers like Deere?
We've always competed with other major manufactures with our line of compact tractors. Making large tractors is no different; it just means we're now have a new market to compete in.
Is the factory in France able to cope with the demand for your new large tractors?
At this moment in time, the factory is capable of producing 3000 units per year. Half of these are intended for the European markets with the rest destined for North America and Australia. However, we need to produce more than that in order to fulfil our current orders.
With this in mind, were considering opening another factory in either Europe or North America which accounts for nearly half of the total market. If demand increases equally in both areas it makes more sense for us to open a second factory in North America as farming methods and standards differ slightly between the two regions.
These days, your focus seems to be on developed countries in the west. But what about developing countries in Asia such as Thailand and China which were the target markets when the late Masumoto was in charge?
We delved into the Asian markets with agricultural machinery that we had developed based on rice farming and paddies here in Japan. After a while we felt that we had accomplished what we set out to achieve and so turned our attention to agriculture in the western world. But that doesn't mean we've forgotten about the Asian markets.
In China, for example, we now sell combine harvesters designed for not just rice but also corn and wheat. In Thailand, there are many sugar cane farms so we developed a special machine specifically for that crop. At the moment though, the western markets have a greater scalability in terms of growth.
When do you plan to launch a 250bhp tractor?
Our goal is to be able to showcase to dealers what the new tractor will look like by 2017. The actual production and distribution will likely commence some time in 2018 at which point we'll have a complete range of tractors on offer. If we choose to make a tractor even bigger than that, we'll probably need to revise our sales network as we'll be dealing with a completely different set of dealers.
Target revenue in 3 years from now: 2 trillion yen

Kubota are known for their agricultural and construction machinery as well as engines. But can you tell us a little bit about the company's environmental ventures such as water and sewage management?
Besides our heavy machinery, we're looking to further our environmental ventures especially in Asia where properly established infrastructures are in demand. Domestically, there is demand for dilapidated water and sewage works to be refreshed and made earthquake resistant but budget always seems hamper progress.
What are your revenue projections for the company?
Our current midterm projections are for years 3 and 5. Year 3 will take us to March 2018 at which point we hope to achieve 2 trillion yen (having achieved 1.5 trillion in March 2014). By year 5 (2020), our goal is to achieve a revenue of 2.5 trillion yen.
The late Masumoto adopted a pyramid hierarchy model for the company in terms of management. Will this change?
The model will fundamentally remain the same. Although I do intend to change the way we operate within that model. I want our executives and employees to communicate more; talking to one another and sharing ideas is the best way to boost morale and personally, the way I like to do business.