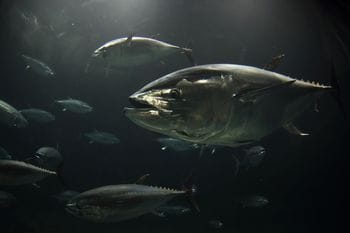 On November 17, the International Union for Conservation of Nature publicized its Red List of Threatened Species, adding Pacific bluefin tuna to the list of Vulnerable (VU) Group 2. Just what exactly does this mean?
The IUCN classifies endangered species in one of three categories: Vulnerable (VU), Endangered (EN), or Critically Endangered (CR). CR species are considered to face a very high risk of extinction in the wild. Inclusion in the VU category implies that Pacific bluefin tuna's risk of extinction is on the rise.
VU is the lowest distinction of the three, and its inclusion does not have any direct impact on the fisheries industry. However, Pacific bluefin tuna was until now classified as Least Concern (LC), so its sudden entry on the endangered species list is of significance.
Potential for inclusion on the Washington Convention

An ongoing concern is that the Washington Convention (the Convention on International Trade in Endangered Species of Wild Fauna and Flora, or CITES) will refer to IUCN's Red List when updating its content. It remains to be seen whether or not such a change would be reflected in legislation passed at the 17th Conference of the Parties to the United Nations Framework Convention on Climate Change (COP17) held in South Africa in 2016. Once a species is designated as endangered on the Washington Convention, strict controls are placed, including the banning of fishing for that species.
IUCN cites as its reason for this inclusion the fact that "demand for sushi and sashimi is rising in Asia, with most fish that are caught being juvenile; the population has contracted between 19 and 33 percent over the last 22 years." Japan is the world's largest consumer of Pacific bluefin tuna, so one cannot deny that it feels as if IUCN has targeted Japan in particular.
In addition, fishing for tuna in the Pacific Ocean around Japan is becoming increasingly more challenging with each passing year.
How is Japan's fishing restricted?
The world's oceans are divided into six managed fishing regions. The western Pacific Ocean, which is adjacent to Japan's coast, is regulated by the Western and Central Pacific Fisheries Commission's (WCPFC) Committee for Tuna and Tuna-Like Species. WCPFC held the 10th Regular Session of the Northern Committee in Fukuoka this September, lowering the allowable harvest of juvenile fish weighing under 30 kilograms from the 2002-2004 baselines and concluding not to increase allowable harvest of large fish weighing over 30 kilograms. In addition, it decided to revise the amount for parent fish, currently at its lowest on record (26,000 tons) to a record mid-point (43,000 tons) for a period of 10 years beginning 2015.
As a result, Japan will have to reduce its harvest of juvenile fish from 8,015 tons to 4,007, with the 2,007 tons accounted for by coastal fishing involving dragnets and fixed shore nets being divided into six blocs nationally and limits set per bloc. An oversight infrastructure is being put into place to handle monitoring and provide feedback on harvest data. In addition, harvest of large fish will be limited to 4,882 tons.
China fails to report fished quantities
Tuna grows to adulthood in just three years, so if Japan and other fishing-heavy countries were to cut back on fishing for a short time, the tuna population would likely be able to return to previous levels. However, things are not so simple -- some countries, like China, are members of the WCPFC yet fail to report totals on their fisheries industries. This means targets cannot properly be set for China, so it evades all restriction. Tuna consumption in China is growing along with its economy, so the situation feels undeniably unfair.
There is also the issue of cost. The Parties to the Nauru Agreement (PNA), which consists of Palau, Tuvalu, New Guinea, and five other countries, agreed to scale the daily fishing lot charge for the exclusive economic zone the countries operate from $6,000 to $8,000 in 2015. This fishing territory is rich in bonito and tuna. The group originally intended to raise the cost to $10,000 daily, but a sudden spike of 67% proved to be an impracticable approach. The cost in 2013 was $5,000 a day.
PNA explains that increasing the cost would channel funds to better management and therefore protection of resources. However, if the objective were to truly steward resources, a fee system based on amount fished would surely be more fair and effective.
With these rising costs, the fees paid to the eight PNA countries have risen fourfold from $60M in 2010 to $240M in 2013. This has also been spurred on by China, which has spared no amount of money for the privilege of overfishing, in turn contributing to the PNA countries' bottom lines.
Protecting the world's tuna resources will require not just placing restrictions on fishing quantity, but the creation of fair fishing rules and countries committed to following them.