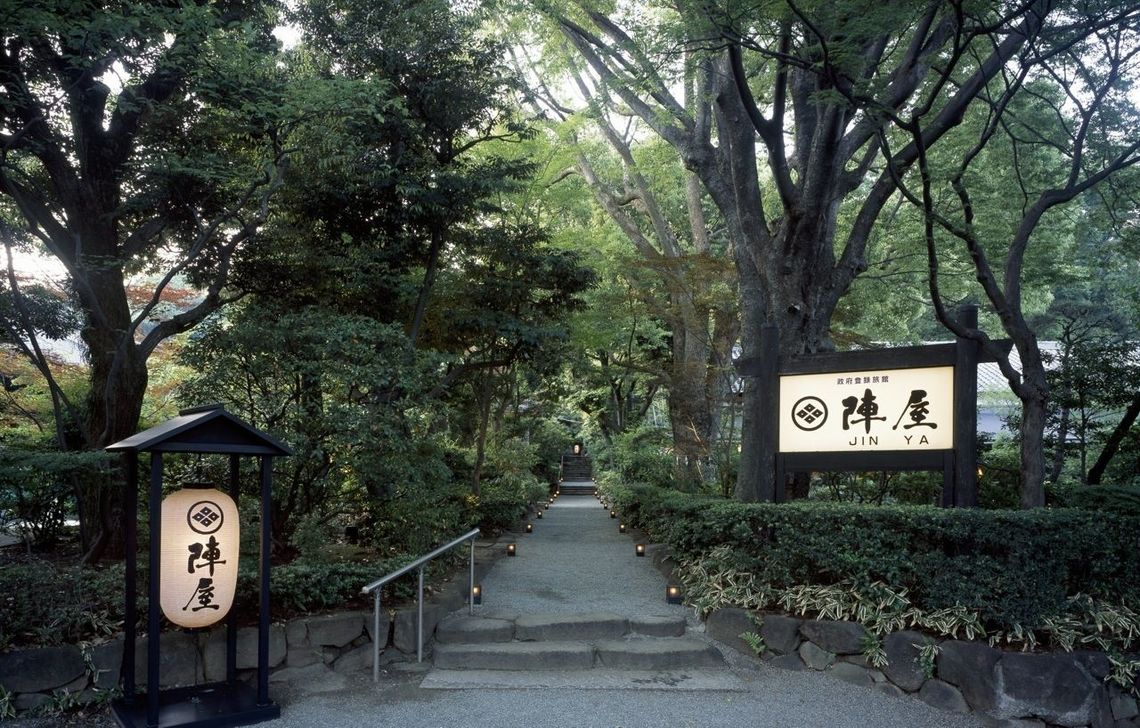 The world today is filled with products/services and as consumer's we really are spoilt for choice these days. Whilst we ultimately choose which ones to buy/use it's interesting to see how the various service providers and manufactures are changing their approach to sell these to us consumers.
"To be honest, I didn't have a choice" recalls Tomio Miyazaki, Managing Director of Motoyu Jinya Ryokan at Tsurumaki Onsen. "My wage working at Honda wasn't enough to repay the debts on my family's Ryokan. So even though I had no experience in Ryokans, I quit Honda to help out the family business."
The success story behind Miyazaki's reinvention of the family Ryokan quickly spread throughout the entire industry. The controversial approach of entrusting a Ryokan to a man with no previous experience in the industry is what makes this feat even more special.
This is a prime example of how an unorthodox approach to an age old business model can breathe new life into an industry.
Saved from the brink of foreclosure
In an ironic twist, the Ryokan that takes centre stage in this story was in fact the childhood playground of the award winning director Hayao Miyazaki, best known for his Studio Ghibli films. Being run by his relatives, the director's memories and experiences exploring the gardens in the Ryokan during his younger days naturally transpired into his films. In particular the garden is still home to the 'Totoro Tree' which formed the basis of the beloved Studio Ghibli character of the same name.
For those who follow Shogi and Igo (Japanese strategy games, similar to Chess and Othello) the Ryokan is easily recognisable for hosting some of the major title matches.
But in spite of this, poor business over the last few years has pushed the Ryokan to the brink of foreclosure.
"A month before I left Honda, I had no intention of leaving. But then my mom called, explaining that they were up to their necks in debt and that they would be forced to foreclose the family business" explained Miyazki, "I didn't know what to do. Was there even anything I could do? Or should I just outsource the running of the business to a third party? I thought about it for a while but being the place where I grew up, I wanted to do something about it myself. If the business were to foreclose, the business debts would eventually become the responsibility of my son and that's something I wanted to avoid.
Plus, selling the business was no longer a viable option as the best offer we had from interested parties was a meagre 10,000 yen. And staying at Honda wasn't an option either as it wasn't enough to repay the debts. So really I had no choice but to help the family business fulltime."
It was clear from the start that taking over the family business was not the main agenda. The key here was to reinvent the business to save it from the brink of foreclosure. Despite the odds being stacked against him, Miyazki managed to increase overall revenue from 2.9 billion yen to a profit-generating 4.3 billion yen in just 5 years.
It wasn't just the revenue that changed: Miyazki adopted an industry-standards-defying 5 days a week opening schedule much to the delight of the staff.
These achievements alone are an amazing feat but even more so when you consider that Miyazki is a Honda fuel cell engineer by trade and had no previous experience in running a business let alone a Ryokan.
But this is also the reason why he has managed to achieve what he has. Coming from a completely different background and having no previous experience allowed Miyazki to see the industry problems from an entirely different perspective.
Miyazaki recalled some of the problems he faced when he first started working at the Ryokan.
"I was surprised to find that only 1 person knew how to use a computer. The whole environment was very analogue. If staff needed to communicate or share information from one end of the Ryokan to the other, they would literally run across like messengers. In fact, the majority of customer complaints centred around this inefficiency in communication. This is one of the first things I wanted to change and decided to adopt a communication system to improve the exchange of information between staff."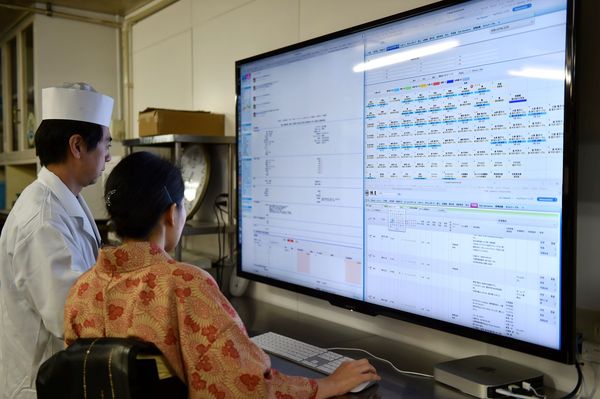 Using modern technology to improve efficiency was second nature to Miyazaki who came from an engineering background. However, for his family's Ryokan as well as other Ryokans, embracing modern technology didn't come naturally. In fact, when Miyazaki was searching for a readily available system designed for Ryokans he quickly realised just how lacking modern technology was in this sector. He couldn't find a single system orientated for the industry.
"Because there wasn't a readily available system or programme, we had to make one." recalls the newly appointed managing director, "We hired a system engineer to create a way for us to manage both the business and customer information together."
A system designed around their goals as well as content
Utilizing modern technology as a means of communication will inevitably lead to a degradation of face-to-face communication. Consequently, some will argue that this leads to a disbanding of staff to some degree, eventually leading to a decline in morale aswellas common goals and objectives.
Struggling businesses are particularly susceptible to these adverse effects as staff motivation and morale generally tend to be much lower than average. To ensure this didn't happen with his staff, Miyazaki took a number of counter measures when developing the new system.
"I began showing the profit reports to not just full-time but part-time staff as well", explained Miyazaki, "Of course there some staff who quit, fearing the Ryokan would foreclose. But I wanted them to have a sense of ownership and feel more a part of the business. I also made sure that I continued to communicate face-to-face with staff by discussing notions such as making more time for customers as well as the future of the business itself. The system we have in place is efficient, but sometimes it's better to talk face-to-face. These days we even have one-to-one meetings with each staff twice a year to ensure their voices are heard."
The main benefit of adopting modern technology is that it improves the efficiency and day to day running of the business. However, expressing ones goals and ambitions can never be conveyed by technology in the same way people could do face-to-face. Miyazaki's methods and implementation of modern technology has shown staff a glimpse of how the Ryokan should be run; the implementation of new technology coexisting with traditional principles.
From a business perspective, working towards the same goals and objectives should always be a top priority. Adapting the various systems and operations to achieve these goals and objectives is paramount in running a successful business.
Efficiency and communication is just one portion of Miyazaki's business model/plan. His other objective was to raise the added value of the Ryokan. To do this, he ventured into a new but not entirely detached industry.
"Weddings are now a major part of our overall business." he explained, "It's one of if not the most biggest occasion in anyone's lifetime. Being involved with such a special occasion the staff here have become increasingly aware of the need to improve the added value and quality of the services we offer. For example, we have the benefit of being close to the city but unlike our competitors there aren't many Onsens (Japanese hot springs) around the Ryokan. Coming up with solutions and workarounds for problems like these is all part of the process but one way or another the wedding business has been a major turning point for us."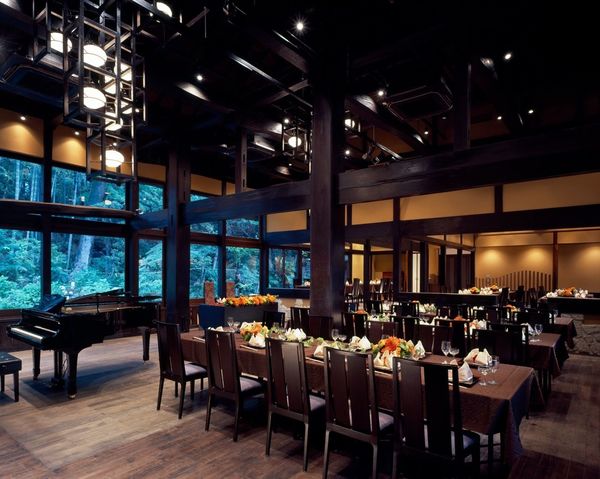 Successful businesses are founded upon a stable infrastructure of common goals and objectives, added value and business content as well as adopting a highly efficient system. In the case of Motoyu Jinya Ryokan, they were able to directly link these core principles to reinvent and revolutionize the business which in turn allowed them to significantly increase their revenues in just 5 years.
Commercial sales business model for the Ryokan industry
Having achieved all the above, next up on the agenda for the pseudo-entrepreneur cum managing director was to sell the system they had created as a product to other Ryokans. Miyazaki saw an opportunity when thinking back to the difficulties he faced when trying to find a pre-designed system. Set on the idea, he took the plunge and established a new company to back the venture, affectionately named Jinya Connect.
"There are a mountain of companies within the industry that want to achieve something similar to what we have. They're problem is much like the one I had at the beginning; there just isn't an appropriately designed system readily available. I setup Jinya Connect to try and solve this problem. I actually drive out to all the various Ryokans we deal with in an office turned camper-van/car as it can take a few days to setup the system. Staying in one of our client Ryokan's rooms is just not an option. Running a Ryokan myself, I know these are valuable sources of income. Plus, showing up in a camper-van/car has the benefit of showing them how serious and committed I am."
Miyazaki went on to explain that setting up the system at various Ryokans has also proved to be a valuable learning experience for him.
"As someone who didn't have any previous experience in the Ryokan industry, there was so much that I could learn from each place I visited. Being able to then take that knowledge and apply it to our own Motoyu Jinya Ryokan proved invaluable. It not only helped us improve the added value of our services but also helped in improving our systems as well.
I suppose that to some degree you could call our Ryokan a research and development facility. The fact that the systems we provide were developed here in-house means our fellow Ryokan business partners see a lot of added value in our product."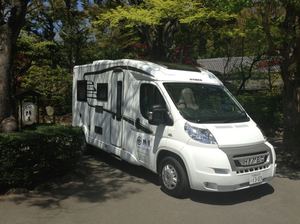 This added value is what paved the way for Jinya Connect to amass 110 clients (both hotels and Ryokans) in just 2 years.
Not only did Miyazaki succeed in reinventing the family business, he also created a revolutionary business model for selling the core product - the new system they designed from the ground up to save their own Ryokan– that targets the whole industry.
Something from nothing

The secret to this success story lies in Miyazaki's somewhat unique career change from engineer to Ryokan managing director. Whether it's creating the system that saved his Ryokan or making into a sellable product, all of this was made possible because he knew nothing about the industry.
Ryokans focus on delivering the best and most relaxing experience for its customers; an industry centred around added value that some would arguable call an 'analogue' notion in a digital age where efficiency is a higher priority. Trying to improve operational efficiency in a Ryokan whilst maintaining these 'analogue' values and principles is an extremely challenging task. To create this kind of environment that brings together two seemingly contrasting principles requires an individual from an equally contrasting background.
Throughout his entire time as a fuel cell engineer at Honda, Miyazaki was always adopting increasingly efficient methods and techniques to achieve his goals. When he transitioned to working at the Ryokan, he didn't know anything about the industry and so brought along and applied what he knew best; efficiency know how. This created the unique environment that now exists at his Ryokan and also created a whole new level of added value altogether.
In Japan, it seems as though most people only want to work in certain industries such as IT, finance, sales/retail and media to name a few. In the more conservative, long established industries like Ryokans, very few choose to transfer over from other sectors. But when they do, even one small change can breathe new life into the entire industry just like Miyazaki did.