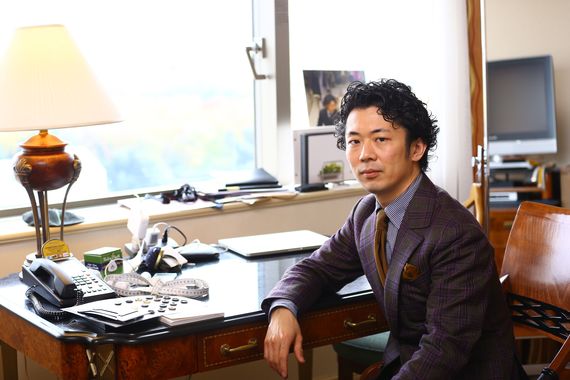 "Wow, it feels so different!" These were the words from one particular customer, a CEO in his fifties as he skipped around the room having just tried on the newly completed suit.
"I've always wanted one" explained another satisfied customer, "so I decided to order one as a retirement gift for myself". Despite the 900,000 yen price tag, the same customer returned just 2 days later to place another order.
"I want a suit that'll look cool when I'm at a trendy bar, contemplating over a drink" This unique request was from one refined gentlemen with a less-able left arm. As we sat in his favorite bar he added "I've been receiving treatment for my left arm for decades now but this right here, wearing this suit and sipping on this drink is the best treatment ever."
These 3 testimonials herald the work of Kenjiro Suzuki, a Japanese tailor based in Paris. The seasoned tailor's creations are all born from his haute couture maison (design house) ' Kenjiro Suzuki sur mesure Paris'. Suzuki was just 37 when he opened his maison in August 2013, an exceptionally young age within the industry.
Since opening, Suzuki has built up a reputable portfolio of clients spread across 9 nationalities despite having never openly advertised. We were curious to find out what attracts these customers to Suzuki's luxury 600,000+ yen tailor made suits. The answer? It's all in the details.
Expression – the last 10%
During his high school years, Suzuki was an avid fashionista with a dream of becoming a designer. After graduating from a Men's Fashion college he managed scored a job working as a pattern designer/maker for a popular brand. Despite landing a much sought after position in a highly competitive market, Suzuki parted ways with the brand just 4 months later. To him, there was something distinctly lacking in the brand.
"Even though the designs were different, it all just looked the same to me" recalls Suzuki, "You have to ask yourself why you want make clothes in the first place. There's so much to choose from already that it doesn't make sense to create something generic. I wanted to make something different and truly unique. Something that only I could create."
This was when the idea of moving to Paris started to brew inside Suzuki's head.
Shortly after leaving his position as a pattern maker/designer, the then 22 year old with a passion for fashion was approached by a female designer. Suzuki was immediately drawn to her designs and the pair began working together. As one half of the duo his responsibility was to interpret the designs and make patterns; a role known as a modeliste couturier.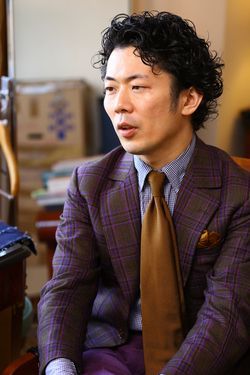 Suzuki is and has always been the type to give his all to everything he does. For once, he was amongst a team of passionate individuals who shared his ambition of making something beautiful. As a key member of the brand, Suzuki devoted himself to his work but eventually began sensing a level of dissatisfaction with his creations; the end designs weren't turning out as he had imagined."To make one T-shirt, I would sometimes revise the pattern/design some 24 times. Even then, there'd be times when I wasn't completely satisfied with the result" he explained, "I'll get about 80% or 90% of it exactly the way I had imagined, but the last 10% is always the difficult part. I Just couldn't get it right no matter how hard I tried. There were so many times when I just wanted to throw in the towel."
This relentless pursuit of trying to get the last 10% right added to his frustration day by day.
But before he could decide on how to move forward, the brand itself was forced to foreclose. With nothing to do, it gave Suzuki an opportunity to reflect on the conversations he had had with the designer about her experiences overseas. Although he had long contemplated moving to Paris, Suzuki was now set on the idea and began making plans.
The first think he needed was money. To do this, he took a job as a door-to-door salesman offering bathroom renovations. He simply chose the job since it was a no-brainer with high incentives. Suzuki didn't have any previous experience in sales but after just a few months, his efforts saw him rise to become the 42nd best salesman out of some 2400 other salesmen.
One months he even took home a million yen!
Having saved up 3 million yen, Suzuki (27 at the time) finally made the move to Paris together with his wife at the end of 2003. For him, the move was to be a permanent one. He had no intention of returning to Japan knowing that after learning the trade in Paris, his discontent of clothes back home would only grow stronger.
Sewing at a renowned tailors in Paris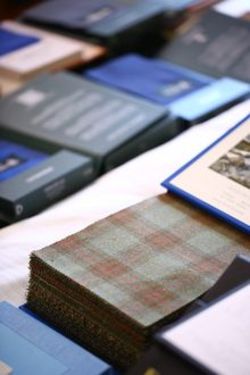 When Suzuki first moved to Paris with his wife, he had no contacts and no job. Their savings would only last for so long after which they would have no choice but to return to Japan. Suzuki needed to make every moment and opportunity count. The first step in establishing himself was being accepted into the AICP (Academie Internationale de Coupe de Paris) a nationally accredited pattern making school. Suzuki spent a few months learning the local language and studied hard at AICP to graduate with flying colors. His efforts quickly earned him a position at a renowned luxury tailor in Paris, Camps De Luca where he worked as an apieceur.
His appointment at the luxury tailor's allowed him to evaluate the reasons behind his failed pattern making attempts back in Japan. He became convinced that the fundamental reason lay in his poor cutting skills and so he would ask the owner almost everyday to appoint him a cutter's position; the highest position within any tailor.
A cutter is entrusted with material selection as well as pattern making based on the clients needs before delegating the pieces to be sewn. This is the front face of any tailor. However, things didn't go as he had planned and Suzuki spent the next 2 years in the same position. Frustrated, Suzuki asked the owner directly why he wasn't being made a cutter to which the owners response took him by complete shock.
"You see Ken, there's still a lot of discrimination in Paris. Appointing you as a cutter in a top maison would mean we'd lose all our local clients."
Powerless in Paris
Suzuki could not believe what he had just heard. He had spent 2 years working as an apieceur with the dream of one day being made cutter. And now, all his efforts and hard work washed away because of his heritage. With the untimely death of his father around the same time, Suzuki felt defeated and powerless. For the first time ever since moving to Paris he genuinely felt like going back to Japan.
In his moment of despair, it was the head of the AICP that reached out to offer a helping hand the the troubled apieceur. Drawn to his skill and passion, the two had kept in touch after Suzuki had graduated. Catching wind of his struggles, he wanted to do all that he could to help. For 8 months, he continuously contacted another graduate of the school who was a director of a well known maison, repeatedly touting "take Suzuki on as a cutter". Eventually he wore the graduate director down who agreed to meet with Suzuki. Luck was on his side for once as it just so happened that the cutter at the time was approaching retirement and needed a successor.
At a time when there were no Asian cutters in the long history of tailoring in Paris, whether to appoint Suzuki or not was met with some apprehension. Suzuki, on the other hand, wanted to showcase all that he could do at the interview, setting aside the stereotypical Japanese modesty.
Thankfully his perseverance and passion shone through the prejudice barrier that had previously hindered his progression. Officially appointed as the successor to the soon to be retired cutter, Suzuki began working at Francesco Smalto; tailors to the royals and upper class. As one of the longest established luxury maisons in Paris, Francesco Smalto produces some of the most exquisite order made haute couture suits in the world.
After a year, the time came for the veteran cutter to retire and hand the baton to Suzuki. In September 2008, aged just 31, he was officially ushered in as chief cutter, heading a team of 35. This marked not only a major milestone in his career but also in the history of Parisian tailors by becoming the first ever Asian cutter.
Suzuki's rise to a reputable position through hard work and with a little bit of help from of his previous mentor, would usually be cause for celebration. But for the newly appointed chief cutter it marked the start of much darker days to come filled with insults and resentment.
His so-called colleagues would frequently ignore him, trading conversation for a middle finger gesture instead. And when they did speak, "go back to where you came from" seemed to resonate amongst the unsettled crowd.
"Smalto is the top tailor in Paris. Everyone that works there has the same ambition as I do of becoming number 1" recalls Suzuki "The competitiveness inevitably gives birth to jealousy and even bullying so you have to become stronger in order to survive. It was a challenge to say the least and not the kind of life I wanted to live."
Much like his own experience, Suzuki knew that when it was time for him to leave, one of his other colleagues would become his successor. So he tried to be more friendly with them in an attempt to close the distance that had grown between them. However, this didn't have the desired effect and day by day Suzuki became emotionally detached from his work, eventually leading to depression.
Even during these challenging times, there was always someone that the troubled chief cutter could turn to; the maison founder, Smalto himself. Smalto is somewhat of a legendary figure, known for creating some of the most exquisite clothes. His appearances were rare and far between but when he did, he would always speak with Suzuki even doing some quick pattern sketches for him. These were the times that Suzuki lived for.
Suzuki's time at Francesco Smalto was a psychologically testing and unforgiving experience. However, this allowed him to really grow as a tailor and slowly but surely the name 'Kenjiro Suzuki' was becoming known both in Paris and in Japan. After four and a half years as chief cutter, Suzuki felt the time was right to finally realise his dream of opening his own maison.
The brand 'KENJIRO SUZUKI sur mesure PARIS' was launched in April 2011 despite not having the budget at the time to even lease a premises.
Hand-sewn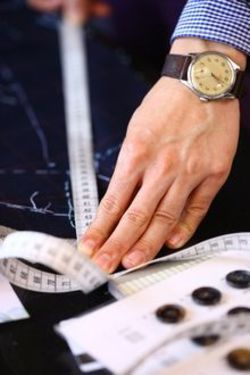 3 years and 8 months after establishing his own brand, Suzuki continues to push himself working from dawn to dusk almost every day; in fact it isn't unusual for him to have just 1 day off every few months. With his client portfolio steadily growing, he's noticed that an increasing number of them prefer their suits to be made in true 'traditional' style."I hand sew between 75%-80% of each piece. Its an uncommon practise these days with most maisons including Francesco Smalto delegating a higher percentage to sewing machines" explains Suzuki, "But sewing by hand allows for a greater scope of expression and inturn allows me to answer to my clients needs on a deeper level."
There' a logical and simple reason why most maisons opt to use sewing machines: efficiency. For Suzuki however, 'efficiency' has no place in his creations. His hand sewn suits create a unique platform for expression that simply cannot be replicated by sewing machines.
The 'expression' that Suzuki refers to here isn't about creating something novel or unique. Its far more refined than that. For example the shoulder area of a suit is sewn using a single piece of fabric, many varieties of which are mass produced. Most tailors use these readily available fabrics but Suzuki chooses to make his own, thus allowing for a greater scope of customization depending on the clients needs. This is what 'expression' means to Suzuki. Over the years, he's created around 6 different ways to 'express' the shoulder area alone.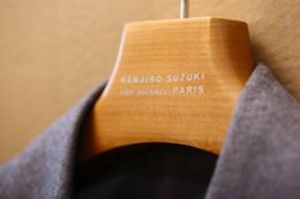 It's the culmination of attention to detail like this that creates beautifully made suits and slowly but surely its popularity seems to be on the increase. Each piece naturally commands a premium, somewhere between 600,000 to 1 million yen. Yet orders for these hand sewn suits are now 4 times that of last year!
It's clear that Suzuki has matured a lot as a tailor. He's no longer bound by the same frustration he faced during his younger days of not being able to complete a piece 100%. Suzuki added, "Now I can say with confidence that each piece I create is the best of its kind."
This by no means marks an end to his pursuit for creating some of the most beautiful suits in the world. In fact, when we asked him what's on the agenda at the moment, his response was a simple one, "I want to work on creating an even higher level of 'expression'," he explained.
"In French, our line of work is categorised as a savoir faire. Savoir refers to knowledge/skill and faire means to do/make. Together it means having the knowledge and or skills to make something, an expression that doesn't exist in Japanese. My skills, values and perception of beauty are all part of what makes my 'expression'. This is what my clients are drawn to and continuing to add to these skills/experiences is what makes me grow both personally as well as a tailor."
The Goal – To become one of the top 3 tailors in the western world

Suzuki is an ambitious and motivated individual. Set on creating the most exquisite suits the world has ever seen, he hopes to become one of the top 3 tailors in the western world by 2020.
Of course, the neigh sayers are in mass but none of that matters to Suzuki.
"I used to have a really aggressive mind set", he explains. "Anderson & Sheppard in London and Caraceni in Milan were amongst just a few I wanted to 'beat', so to speak. But after spending months working on client's suits and hearing them praise my work at the end of it all made me think differently. These days I don't want to become one of the top 3 by being better than the competition. Instead I want to become one of the top three because of client satisfaction."
Suzuki's story has been featured several times already in Japanese media from TV to web to print. However in France, despite his media exposure being minimal the Japanese tailor continues to rally an increasing number of clients year on year. A major driving force behind this are the countless comments on various forums from satisfied customers: "His suits are awesome!", "His suits are simply spectacular", "He has his own distinct elegant style". In particular, Suzuki has a large British clientele that also includes a former Savile Row tailor.
Suzuki's suits continue to captivate and amaze clients from around the world. His passion for tailoring, drive for honing his skills and ambition to be the best knows no bounds. Becoming one of the top tailors in the western world is certainly no easy feat but a realistic goal that's well within his grasp.