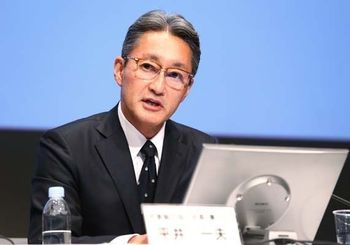 "What we obsessed about was that 0.7 mm of thickness. We were able to make the image sensor component a reality only because we're producing it in-house. We put people from our camera and device departments on one team, and that's driving our progress."

In early September, Sony showcased the new Xperia Z3 smartphone at the IFA electronics trade fair in Berlin, Germany, where the developers waxed rhapsodic about the charms of their new product. Along with video games and image sensors, smartphones are a core product for Sony. A huge portion of Sony's IFA presentation was dedicated to the latest model in the company's flagship Xperia line, and the phone received a massive promotional push. The Xperia Z3 could very well be called the face of the company.
President Kazuo Hirai himself declared at IFA: "It's said that smartphones are eating into the demand for digital cameras, and it's pointless to fight that trend. So Sony is putting all its technology into smartphones."
So it would be smartphones, of course, that would lead Sony to recovery—that was the message, it seemed, behind Sony's appeal. The events of two weeks later, however, told a different story.
The failure of Sony's "wholly-owned subsidiaries"
"It gives me extraordinary pause that I have come to this drastic decision." President Hirai appeared before reporters and securities analysts at the company's headquarters in Tokyo's Shinagawa district clad in formal suit and tie, his head deeply bowed—a complete reversal from the face he presented at IFA.
On September 17, Sony announced that, due to a slump in its mobile & smartphone sales, it was completely writing off the total value of the goodwill associated with Sony Mobile Communications, its subsidiary in the mobile industry. It also announced that its expected losses for the fiscal period ending in March 2015 would be adjusted downward from 50 billion yen to 230 billion yen. Sony made the former Sony Ericsson a wholly-owned subsidiary in February 2012, when projected profits in the smartphone industry were far different from the current reality.
"A downward adjustment of 180 billion yen is frankly astonishing," says (analyst). Behind the slump in sales of Sony smartphones, which exceeded even the market's expectations, is the emergence of new and highly competitive players in the field.
An inability to respond to a changing & competitive environment
"Chinese smartphone manufacturers are making great strides and advancing into markets outside China." So claimed President Hirai in an interview, where he also reflected that "we hadn't built an operation that could respond to changes in competitive environments."
The environments in question were left unspecified in the interview of the 17th, but by July, when the company announced its financial results for the first quarter (the period lasting from April to June), Sony was already making downward adjustments to its yearly plan for its mobile business, citing plummeting sales in the Chinese and South American markets. In other words, Sony claimed that its smartphone slump was due to its focus on markets in emerging nations and the inroads cheap smartphones had made into the market share previously held by mid-priced products—not due to high-end models like the Xperia Z series.
Sony had pinned the company's hopes on its smartphones, so their struggling performance came as an even greater shock. Company performance has been adjusted downward previously on multiple occasions, but that has been primarily due to delays in restructuring unprofitable units, such as televisions and PCs.
Sony has already transferred its PC business to an investment fund, and it spun off its TV business into a separate unit in July. Citing a plan which calls for personnel cuts in its sales division and company headquarters, Hirai emphasized that "we will conduct a full restructuring this very year."
However, pressure is mounting on Hirai, who took drastic measures regarding the aforementioned businesses and was supposed to lead the company back to profitability. "[Smartphones] will continue to occupy an important position at our company, alongside gaming and imaging," (Hirai) said. Even if Sony focuses on high-end product models targeting advanced countries, however, can that approach alone restore company performance? It seems that bold revisions to Sony's recovery scenario are unavoidable.
Job cuts in the four figures
Sony has also announced that it will be cutting 1,000 jobs in its mobile division. The company's recent profit warning, however, was issued solely in response to the write-off of goodwill. In other words, Sony is expected to add the restructuring costs associated with the personnel reduction to its October financials. If that proves to be the case, further downward revisions will be inevitable.
Furthermore, after its large-scale downward adjustment, yearly dividends for the period ending March 2015 were relabeled from an initial projection of "undetermined" to one of "unpaid." It will be the first time since Sony's stock was listed in 1958 that the company has not paid dividends.
"We offer moving experiences through a partnership of content and hardware. We remain committed to that goal," declared Hirai in an interview. How, though, will those experiences lead to a recovery of the bottom line? The time left to Sony's management is growing short.