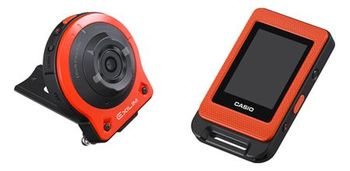 "It's been 20 years since Casio began selling digital cameras. Today, the capabilities of digital cameras have broadened, and one can take photos with a smartphone as well. However, 'point and shoot' remains a constant. Until now."

On August 26th, Casio Computer Senior General Manager Jin Nakayama exuded confidence with those words at a launch event for his company's new EX-FR10 compact digital camera.
The EX-FR10, which goes on sale on September 19th, has an effective pixel count of 140 megapixels, a F2.8 fixed focal length lens, and is expected to sell at retail for approximately ¥50,000. Based on those specifications alone, this seems like an ordinary digital camera, but in one respect it is fundamentally different. Whereas the camera body and its LCD display are typically joined together in one unit, this camera allows the user to separate them.
So, for example, in addition to taking "selfies" from angles that were impossible with traditional digital cameras and smartphones, one can attach this camera to a bicycle or bag and take stills or video while in motion.
The launch of this undeniably novel camera owes a debt to a previous Casio success story. In contrast to the high degree of engineering skill required to develop single-lens reflex (SLR) cameras, compact digital cameras have long been moving toward commoditization, and Casio's camera division, after posting a loss of ¥11 billion in 2009, had been chronically in the red. However, just when it seemed Casio had no choice but to withdraw from the market, the camera division was rescued by its 2011 release of the EX-TR100.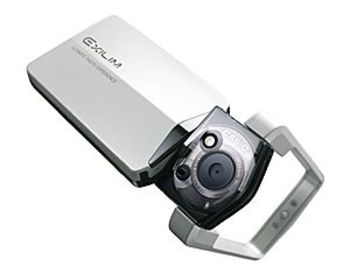 What made the EX-TR100 special was that its lens unit and LCD display could be rotated independently. That was perfect for selfies, and the camera became a hit, mainly in China. As a result, Casio's camera division erased its losses in the fiscal year ending March 2013. In a market segment where fierce competition is intensifying among digital camera manufacturers, the division has become profitable.
The lessons of that success are strongly reflected in the new EX-FR10. At the launch event, Casio emphasized that capturing one's entire body in a selfie, which is difficult with standard cameras, becomes possible with the EX-FR10. An attachment for affixing the camera to one's arm or other objects is also "designed to make taking selfies easy" (according to the division's product plan).
Small video cameras like GoPro, known as action cams, are conquering the market. But, says Casio's Nakayama, "Action cams are really for taking video, whereas this camera is mainly about stills. And while action cams primarily target athletes, we're aiming at the general consumer."