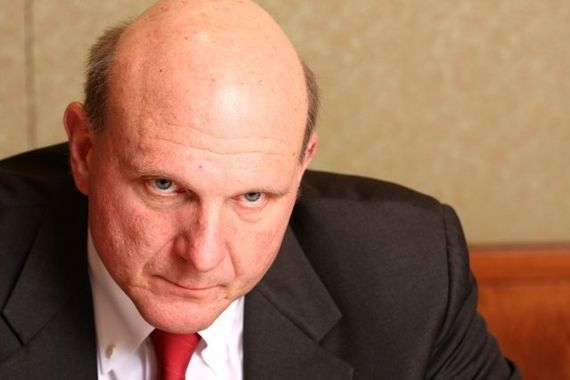 Large body, expansive gestures and an enormous laugh… Excitement fills the air the moment he steps into the room. A ball of energy, Steve Ballmer is one minute cool and collected as he explains about strategy, and the next minute he focuses hawk-like as the conversation turns to rivals. Throughout the interview, Ballmer busies himself writing down ideas and notes on a yellow notepad. He never loses focus for a second.
With the rise of Google, the company's response to cloud computing and the retirement of long-time ally Bill Gates, the time has now come for the company that Ballmer is passionate about, Microsoft, to undergo a history-making transformation. So what will this champion of the PC do to also succeed in the era of the cloud?
--You announced "Windows Azure" at the end of October. Does that represent a major turning point for Microsoft?
Well, sure. Externally yes but internally we have been working on it for so long. The turning point was really three years ago.
What we are saying is that the computing infrastructure now has four legs – cloud, data center, PC, mobile phone. And over time, TV. With the announcement of our cloud-oriented Azure, we now have a platform for all areas.
--You are quite strong in the data center and the PC areas but weaker in mobile phones.
We do have over 90% share of PCs. We have 65-70% share with data centers, which is less than PCs. Symbian is number one with mobile phone share, and Windows Mobile is number two. There are many more operating systems as well. This market is still pretty new.
Our biggest competitor in the cloud is Amazon. Google is not really a player. They do not have a product. Microsoft wants to be number one in all areas.
--Does Amazon represent competition to you in the era of the cloud?
Amazon is a very good company, but I think they are first, a retailer. The question is "are they going to make being an IT company a core mission". Azure is core mission for Microsoft, but it is very different than shipping books.
Some of Microsoft's core business will move to the cloud. So we have to concentrate on the cloud as well or we are going to lose important business.
--Several years from now, there will be a core shift to cloud services for Microsoft profitability?
Shouldn't be. If we do our job right we shouldn't see any cannibalization. Cloud services will maybe grow faster, but we have one of the most profitable businesses of any product in Windows and it will continue to be our biggest profit source. And Office. As long as we do not make any strategic mistakes, our two divisions – client OS and business software – will continue to be Microsoft's core profit generators.
--Is it possible that growth will stop in the client OS area in the near future?
It shouldn't stop. But it is already a large-sized business, and it is hard to grow a large number a high percentage. If we could eradicate pirated software from China, it will be high growth business.
--You should go to China every month then.
If it would help to get rid of pirated software, I would go all the time. In Japan and the US, the level of piracy on Windows is quite low. Office usually comes preinstalled with the computer here in Japan, so there are very few counterfeit copies. But the level of piracy on our Office product in the US is higher. Piracy is a real headache.
--Is Google one of your rivals to Office?
Very little success with Google Docs & Spreadsheets. IT is clear if you look at the data.
--In September, Google announced "Chrome", a browser it developed itself.
Google is a good competitor. But we are also a good competitor to Google. There is a sports expression; the best defense is a good offense. It is true in business too. We are coming from behind in search, and they are going to try and be effective with us where we are strong.
--Have you ever tried out Chrome?
My 13-year-old son used Chrome and said, "Dad, don't worry. I like [Microsoft's] IE much better." He also said, "[Mozilla] Firefox is better than Chrome."
--In last year's interview, you were very cautious of Google. This time, it is like you are saying, "Google is not an enemy that can shake the foundations of Microsoft business." It seems like you feel that sense of security.
I appreciate and respect that Google is a good competitor. (laughs) But we are confident in our capability also. I think that we are going to be a very formidable competitor. I think that Google is a very formidable competitor in search. But I also think that Microsoft is going to be a very formidable competitor to Google where we are strong – Office, SharePoint and the browser.
--Microsoft has made an earnings forecast downgrade for its fiscal year ending June 2009. I see you are taking the economic downturn seriously, so is Microsoft's strong business infrastructure helping reduce the impact of the slump?
To be honest, it is very hard for us to predict exactly how much the economy will really be down. But if consumer spending drops off, PC sales will be affected, and if capital spending drops off, PC and server sales will be affected. If you talk to the business leaders, they are already starting to reduce capital spending. Especially in Japan and the US, IT is 50 percent of capital spending. So we will be affected.
--So even after the downward revision, you will still strive for double-digit growth?
We will do our best. The low end of our new projections for sales is a 7% increase on last year, but we are still targeting double-digit growth at the high end of projections at 10%. We are targeting double-digit growth.
--Looking at sales in the July-September quarter of fiscal year 2008, OS growth in the client division was quite small. Is it because people are not turning to Vista and Windows XP sales are still quite high?
I think we have basically two factors. Number one – PC sales were the first thing impacted by the economic downturn. And number two – a lot of the growth that we did see in the PC market came in low-price computers with a lower profit to Microsoft. Or it came in countries like China with very high piracy, so no revenue to Microsoft. If you look at Japan, the PC market was flat or slightly declining except for the popularity of cheap netbooks, which have a lower royalty to Microsoft than other products.
--And netbooks use XP as their OS.
Right, because they do not have enough hardware capability to run the latest operating systems. But none of the client revenue reflects negatively on Vista – Vista's performing well in the market – but the market could have been healthier.
--I want to ask you about the stock price now. Microsoft's stocks are about $22 now and the price-earnings ratio (PER) is about 11 times. Your rivals Google and Apple have a multiple of about 20. What are your thoughts about this market evaluation?
Google does have a higher growth rate than Microsoft so it makes sense that Google has a higher PER.
Apple is different though. There is another way to analyze Apple. Apple is worth about $80 billion today but they have $20 billion of cash. So they are really only worth $60 billion. Their multiple is in the mid-teens if you compare their net earnings to $60 billion. Microsoft on the other hand has $25 billion in cash and our actual worth is $175 billion. If you compare multiples now, there is not such a big difference.
Excluding oil companies, there are three companies with the highest market capitalization in the world and these companies are like a ceiling on the stock market. They are Microsoft, GE and Wal-Mart and most days we are all approximately US $200 billion. If the market recovers then that increases further.
--Warren Buffett's Berkshire Hathaway decided to invest in GE.
Berkshire Hathaway is worth about $177 billion.
The highest market capitalization companies are Microsoft, GE and Wal-Mart, but the most profitable companies are Toyota, Microsoft and GE. I think Toyota pre-tax profit last year was about $22 billion. But because of less novelty in the auto industry, they have an even lower PER than Microsoft. But they are still a great company, Toyota.
--Google is doing well on the stock market and its profit model is on advertising. It could be affected more readily by economic changes I think.
It is true that the advertising market is vulnerable. However, we have never had a recession since we have had online search advertising, so we will have to see what happens in these economic times.
--Has Microsoft's advertising revenue been impacted?
With about $3 billion a year in advertising, we are still growing. But there is no question that we are feeling the pressure. Unlike Google, we sell mostly display advertising. Display advertising is brand-building advertising while online search advertising is more direct response advertising, leading the viewer straight to a store through a click. So it is more likely to be impacted by the economic downturn.
--Google currently has 70% of search share in the US. If you had acquired Yahoo!, do you think the advertising situation at Microsoft would have been different?
With Yahoo!'s 20% we would have had 30% of the users, and I think most of the advertisers would come into our keyword advertising auctions. That would result in more users and then more advertisers, so we would have this virtuous circle begin to spin like a snowball.
The way you make the search product better is to have more relevant results and part of the results is the ads. And if you have more advertisers, you actually have more relevant advertising. I did a search the other day, a movie title "The Bank Job". Google gave me a movie-related ad but Microsoft gave me an ad that said, "Do you want to open a bank account?" Because Google has more bidders for the same keyword, they have got more relevant advertising.
--Will you make another attempt to acquire Yahoo! ?
We have no plans to buy Yahoo!. They turned down $33 a share so I do not think they would take a smaller number today. But perhaps we will be able to figure out how to do a partnership around search. We are hoping for that.
--By the way, with things like the recent activities of the Bill and Melinda Gates Foundation charitable institution, Microsoft does not have an arrogant image any more, but rather an image of a company that is passionate about contributing to society. Is that being done strategically?
The Foundation is Bill's work and there is no coordination with Microsoft. But I think the fact that people see that Bill cares about society also happens to reflect well on Microsoft.
--Jeff Raikes was President of the Business Division but he is the CEO of the Foundation now.
We are still good friends and we talk to each other. Our wives are friends as well.
--Are you interested in charity work yourself?
I will find my own way, I am sure. But I have many more years at Microsoft so I do not have time to think about much other than Microsoft and my family. And occasionally a round of golf. (laughs)
--You said Google is a rival worthy of respect. What about IBM?
IBM is also worthy of respect. But IBM is very funny... They are not introducing any new products. And their old products are not getting updated. I am sure that have a service suitable for the cloud, but as far as a product does, there is no sign of anything.
IBM figures the processing power and stability of their System z mainframe is going to be re-recognized in this cloud computing era.
No chance. The mainframe will never have a role in the cloud. The mainframe is old fashioned. To anybody who really thinks about the cloud, IBM cannot say that.
Microsoft also sounds old fashioned sometimes when we talk about Software + Services, but we can definitely prove that it is a modern approach for the cloud era.