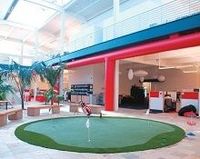 San Bruno, California. This is about a thirty-minute drive away from Mountain View, where the Google headquarters are located. The YouTube headquarters are located in this quiet hilly town with ocean views from high ground.
Having just moved in February this year from nearby, the exterior of the new headquarter building looks like a huge gymnasium. The bland facade is a striking contrast with the world of YouTube you encounter as you step in. A cafeteria with red parasols, a "music room" lined with guitars, a garden suddenly emerging between cubicles. More than a university campus, it looks rather like an amusement park. The employee who guides us explains, "Our style here is even more laid-back than Google."
Chad Hurley and Steve Chen, former colleagues at small-sum online payment service PayPal, founded YouTube in February 2005. What was first meant to be an Internet service for sharing videos among friends exploded among users when popular TV programs began being posted. The small company that started on the second floor above a pizza parlor in San Francisco was suddenly the hottest company in Silicon Valley. At the same time, it became an enemy of media companies who found their content being posted one after another.
That's around when Google arrived. In October 2007, Google made their largest acquisition ever (as of then), paying $1.65 billion for YouTube.
Recognized as a medium for the US presidential election
For Google, YouTube is a special presence. Among the many companies acquired by Google, this is the only one with a separate office and that is effectively run independently. "YouTube is already a globally-established brand," states Ricardo Reyes, YouTube GC&PA, from Google. "Where things are going well, Google wants to give us free rein. We're given access to use whatever resources we need from them, such as technology, storage capability, or human resources."
While providing special treatment, Google has been sending in its selected elite forces, applying full strength to push YouTube to profitability. For Google, which has been moving quickly to expand revenue resource beyond their standard search-driven advertising, it wouldn't be an exaggeration to say that making YouTube profitable would be the key to future growth. The Advertising Sales Strategy office in New York is also currently focusing on ad sales for YouTube. To succeed, their first and foremost priority is to clean up YouTube's shady image of allowing copyright-violating content to be posted. They must work to step up copyright protection and to partner with media corporations.
"YouChoose 2008." Last year in March, a special channel for the US Presidential race was launched. After covering the preliminaries, there's now a full lineup of news videos such as speeches by Barack Obama and John McCain as well as coverage by CBS. Both candidates have also set up their own channels, and Obama has even appeared in an interview exclusive to YouTube. YouTube has become a meaningful "battlefield" for the Presidential election.
It's no longer a site for copyright-violating videos. Google's rambunctious little brother is working hard to fast-forward to adulthood. But just how successful have they been? Let's take a look at the different aspects, one by one.
Verification 1: What progress has been made in protecting copyrights?
Although YouTube was invented with the objective of sharing amateur videos, the site was suddenly overflowing with copyright-violating content. "YouTube was not created with the intention of violating copyrights," explains Reyes. "With the drastic increase of users and uploads, we just didn't have the manpower to handle it."
Initially, copyright holders were monitoring the site themselves and sending requests through a dedicated site for deletion, but as soon as one video was deleted, another one would be uploaded in a game of cat and mouse. In response to this, the "Video Identification" system, which applies Google's technology capabilities, was implemented last fall.
The system works like this. When a copyright holder sends video or music data to YouTube, the system will automatically detect any video that matches that data. The owner can decide beforehand in detail how that detected video is to be handled. Variables can be selected in detail, such as according to video or video length. For example, for a certain video, if the uploaded version is one minute or less, an ad could be posted on that site, while if it's two minutes or longer, it could be automatically deleted.
True to the Google way, video ID will be implemented quickly with frequent improvements. When first implemented, it took as long as 36 hours from data input to generate the ID, causing the media side to get frantic, as content would rapidly be uploaded as they waited. The time lag gradually shortened, and during the recent Beijing Olympics, was finally condensed to 15 minutes. Today, data for certain content such as pre-recorded programs can be given an ID beforehand so they can be matched before users attempt to upload them.
One issue is to apply restrictions more rigidly according to country. For example, ownership of a certain drama may differ from in the US and abroad. In cases like this, it's not simple to accurately handle the demands of both sides.
Further, there's a wall that even Google's technology cannot break down. Without data, it's impossible to determine what content is unauthorized. "The only solution is to partner with as many media companies as possible," says David King, Product Manager in charge of Video Identification. However, only about 300 companies have signed up so far.
Verification 2: Will YouTube really become lucrative?
While ads had been posted from the past, YouTube has implemented Google's ad posting system since acquisition. A system friendly to both ad owner and ad medium is advancing at high speed.
There are currently three locations for placing ads: on the YouTube top page, search results, and on video pages of partners providing content to YouTube. "We're in the process of testing and verifying what kind of ad should be inserted into what kind of video and in what form in order to be effective," explains Shiva Rajaraman, Product Manager in charge of profitability. Just as he says, the variety of ads is increasing.
Besides the standard display ads such as banners, there is a semi-transparent ad overlay on the video. When clicked, the rest of the video ad can be watched. AdSense is also being tested, such as by inserting a text ad under a "how to" type of video like "skateboard tricks" for example. For ad owners who don't have ads, there are even "CM production contests."
Content partners and ad owners can use the ad effect analytics tool "YouTube Insight" to verify video view counts per geographic region, age, and gender. This can be studied to narrow down the target for rolling out the ad.
Lately in some cases, this tool has been applied to feel out the reactions of viewers for ads on YouTube before airing them on television.
At this point, ad posting is limited to videos that have clear copyright ownership. For this reason, sales only reach a few hundred million dollars a year. Not only that, this revenue seems to come mostly from display ads.
The next focus would be to increase the number of content partners that ad owners would want to place their ads on. However, because YouTube users are different from Google users, who come to search for certain information, it's yet to be known just how effective the Google-style "high-relevance" ad placement method will be.
Verification 3: Has the relationship with the media been restored?
A key to profitability is partnership with media companies, and with the implemented initiatives for copyright protection and an increase of advertisement choices, there has been a shift in the love-hate relationship.
Networks such as NBC and CNN have set up dedicated channels in the early stages (NBC has closed theirs since), and the number of content partners has continued to grow. King says that this number has reached thousands.
In Japan, SKY Perfect Communications has set up an exclusive channel, and NHK has also launched video delivery. Kadokawa Group Holdings has also started posting ads using Video Identification.
Initially, Video Identification was considered to be a tool for deleting unauthorized videos, but the reality has shifted. "More than 90% of the companies using this don't request the video to be deleted," says King. "In other words, companies are considering how to use system not to delete, but to generate profit."
Some media companies have started to measure the popularity of programs based on how many times they have been uploaded. "Since a fan took the time to upload it, they can promote the upload and create a community to expand viewship, rather than deleting it," explains King. "By posting programs that are aired only domestically onto YouTube, people around the world can find out about them."The "shadiness" was its attraction in the first place – concerns that users will leave.
However, the relationship with the media is not without complication. There is the ongoing lawsuit with Viacom, which owns MTV among other companies. A US media executive says, "With the increase of viewership through video delivery, there is a 'swingover phenomenon' where companies are considering that perhaps they should be showing the videos on their own websites."
There's also a fundamental problem. YouTube's popularity exploded in the first place precisely because users could post videos as they liked and watch them free of advertisement.
Also, to some degree, it was actually the "shadiness" of being able to easily watch copyright-violating videos that allured some users. Convenience for users, convenience for ad owners. Just how will this delicate balance be maintained? This is where grown-up YouTube gets tested.