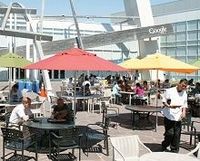 After ascending a narrow staircase, we pass along a narrow pathway lined by cactus plants. Suddenly, the area opens up in front of our eyes. The next thing that attracts our sight is a scale model of a dinosaur with a flat, wide tail sitting on a richly green lawn. A man sits relaxing under a four-colored parasol with a large dog, while the competition heats up on a nearby volleyball court. Men and women are sitting on benches positioned alongside this paradise looking at personal computers and conversing with one another.
The nickname of this place is "Googleplex", located in Mountain View, California. For Google's 19,000 employees working around the globe, this is their temple. There are more than 30 buildings, including the central Googleplex, at the Mountain View headquarters. Each of the buildings is large. And since they're so far apart from each other, a free shuttle bus runs "inside the company." Employees also use special turquoise bicycles, called "Googlers," to travel between offices.
This is an engineer's paradise. The "filial piety" that the company's employees have for its founders, Sergey Brin and Larry Page, who studied computer science at Stanford University, is famous. A first-class chef works his magic in the cafeteria, where all the food is free. Within the company, there are several spaces for rest and relaxation with such equipment as billiard tables. There's also a gym and laundry, which employees can use freely. Or they can even visit a shop that does oil changes for their cars or a mobile hairdresser.
But despite such perks, the top reason why the company is such a paradise is the freedom granted to its engineers by the company's founders, engineers themselves, and its environment that allows them to work on projects to their heart's delight.
At Google, there is virtually no boss-underling structure, so that work can be done after projects are each broken down into small parts. In addition, engineers are each allotted about 20% of their total work time for research that they themselves are interested in.
At companies, projects are usually tied to budgets, and revenues are strictly managed. However, Google is not driven by revenue. "We try things out. If it's no good, then we look for other methods and we make corrections." Bad sales are no reason for punishment. The main players here are the engineers.
Now, 10 years since the two founders set up their first office in a garage, the company is valued at 136 billion dollars, in the same league as Toyota Motor Corp. as one of the world's leading corporations. Having already surpassed its "Silicon Valley success story" cachet, the company creates new stories for itself on a daily basis. Even so, this is the kind of company where the engineers who are behind that success utterly lack a "fighting spirit."
Even so, Google is currently in an intense state of transformation. Its services, which began with searching, continue to broaden, into e-mail, SNS and maps. Last year it began an initiative for an OS for cell phones and is starting to venture into the platform area, including the announcement at the start of this year of Internet browsing software called Chrome. At the same time, overseas sales in the April-June quarter of 2008 accounted for 52% of total sales, exceeding sales in the United States. Google has advanced into about 30 countries, and its engineers are not just from America but also from throughout the world, from such countries as Japan, China and India.
Why is Google's business so diverse and global? The answer lies in its business model. Currently, 97% of its revenue (in its results for April-June 2008) comes from advertising revenue. The company has developed AdWords, which displays ads connected to search terms along the top and sides of its search results, and AdSense, which uses these AdWords to display ads on media and the sites of companies or individuals' blogs. The system is set up so that Google earns revenue when users click on the posted ads. (In the case of AdSense, the money is split with the site's owner.)
This "search-linked advertising" has stimulated and expanded the "long tail" supply and demand of small and midsize companies and individual businesses, which lack funds to post ads in the mass media, such as TV or magazines. However, search-linked advertising revenue in the U.S. was up 19% from the same period the previous year but experienced a lower rate of growth compared to the previous year. What's more, the revenue saw a 1% drop from the previous quarter. The media are all starting to ask whether Google's growth is lagging.
It's too early to talk about a downturn of growth in advertising revenue, which has continued to expand in the double digits. Still, the developed countries have reached a period of 'Net maturity, with the number of users and time spent online believed to have hit its limits. In addition, the company is being hit by the emergence of rivals set on pursuing Google, such as Microsoft, as well as by the overall economic downturn. So the situation is marked by worry over the direction of advertising revenue, mainly in the U.S. That's the reason that now the company is in a frenzied effort to make money through its core businesses.
Dare for young leaders for nothing less than excellent advertising
Naturally, the company devotes itself to improvements day to day in its money-earning advertising business. Heading up this advertising team is its young leader, Nicholas Fox, business product management director of AdWords.
These days, an "Ads Quality" team within AdWords is tackling improvements in posted ads. The principle behind search-linked advertising is to have algorithms to automatically display search terms and highly linked ads in a high-to-low ranking order. However, the team aims to go beyond that. In fact, they are studying complex conditions that explore whether sites of advertisers they've picked up have high levels of linkages between search terms. This is done by keeping watch on improvements to core algorithms to see whether they can display "high-quality" ads in "high-quality" order.
"For example, when you search for 'fresh flowers,' ads that say 'Fresh flowers. Free delivery' are displayed. However, the delivery may cost 100 dollars. We want to avoid these kinds of sites. Whether we can display ads exactly that correspond to information that users are really searching for is something that will raise the quality of the advertising," Fox says.
In fact, this concept originally received much criticism from advertisers, who complained that deciding displays and rankings according to Google's way of thinking would be strange. "But we found out from them that if we displayed ads from the users' side, then a click would easily lead to sales," Fox says.
Then there is Google Analytics, which analyzes in detail ads' results for advertisers. Company officials point to a trend wherein advertisers use more money as more finely detailed data are offered.
Google's star advertising team is engaged in a series of down-to-earth jobs like this. If something crops up, it is straightened out. If something is tried, its data are analyzed and it's tried again. This is indeed the Google method. "Lately, we improve something once a week here. Clearly, if these things aren't big and are small, then it doesn't take any time to get them approved and we can soon have them integrated. AdWords has progressed until now through this kind of layered process," Fox says.
The dream is for users to visit Google with the purpose of advertising. "Larry has given us this expectation, saying, 'Put up superior advertising rather than search results.'"
The next pillar of revenue? New business that will shock the world
"What's this? I can see my house perfectly!" A certain service, when it got under way in Japan last month, instantly became a top topic on the Internet. This was "Street View." When a conventional flat map is clicked, 3-D photos are displayed, as if the photos of the clicked spot and its surrounding area have popped up on the screen.
One person with a lot of clout is in a new building spaced between the roads running from the campus. He is John Hanke, the director in charge of Google Earth and Maps, which have now become one of the faces of Google. Hanky is the quintessential Googler, wearing a parka bearing the Google logo.
In 2001, he established Keyhole, a 3D map-software development company, which used satellites. Images from the company stunned the world during the start of the Iraq War in 2003, when they were used by CNN and other organizations. Google approached him in 2004. "If I had only this much infrastructure, then I thought that the Keyhole service could reach more people," Hanke says.
There were rumors of an acquisition of Keyhole. Around the same time, Google's board was discussing Picasa as an acquisition target. Suddenly, Brin pulled out a personal computer. He displayed Keyhole to the group, inputted a board member's home address and showed the result. That event was behind the acquisition. "It seems that Sergey and Larry were also thinking that map information could be a different form of search," he says.
Google absorbed Keyhole, and in 2005 the Google Earth service was launched. Meanwhile, Google Maps, whose service got an earlier start, added improvements such as Street View and carried photos and info provided by users.
"Originally, everyone would be happy when something that became part of Google obtained a million users. But now, over 400 million people are using this. But even more to the point, the amazing thing is how the information becomes more complete every time users add to it. This probably would not have been possible if the company weren't purchased by Google."
Deriving revenue from the Maps' services is assumed to be an easy process. There has long been a high degree of linkage between the maps themselves and searches. The likelihood is high that users will search for hotels or restaurants that are near to any addresses they input. Maps have the added strength of being in demand anywhere in the world. Already, advertising has partially started to be displayed. For example, if a user inputs "New York" and "hotels," a map and, at the same time, hotels in the area will be displayed, with the hotels' locations indicated. Sponsors' ads are displayed at the top of the page. (The system works by having the ads appear when the mouse points at them.)
"We are seriously pressing ahead with revenue no matter where it may be," Hanky says. "We can do that now more than at any other time if we think about making money. However, the big issue is whether we can be useful for users and offer high-quality advertising."
Amid this heap of services, Google's services catering to corporations sharply enhance the company's presence. The scale of this business may be small, but, "We are already in the black. As a mainstay of revenue that's separate from advertising, this business is forecast to have huge successes in the next 10 or 20 years for Google," boasts Dave Girouard, President, Enterprise.
Advancing on Microsoft's Stronghold with Salesforce.
Currently, Google Apps, which targets corporations with a software set for mail, a calendar, chat, spreadsheets and word processing, includes the Standard Edition (free), the Premier Edition with added functions such as security ($50 per user), and Google Education Edition (free). Even if you use Gmail, your domain can be your preferred address. In addition, it provides other stand-alone corporate-oriented software such as Google Earth and Google Search. Because corporations don't have to provide maintenance in the form of specialized staff and server management, this can reduce their costs of just e-mail to one one-hundred-and-tenth of what they are now, according to Girouard. As well as this, it also naturally excels in services targeting demanding consumers. Besides providing a connection with the Net environment, it allows users to access its services from anywhere, and can be installed in 15 minutes. Girouard explains that one of its strengths is the rapidly growing number of users recruited through word of mouth.
There are currently 500,000 companies using it. Every day, it gains 3000 new users. That number includes a lot of small and medium-sized corporations with small IT budgets, but there is also a trend toward large companies moving to introduce it. There are also a growing number of customers transferring from the free service to the paid service. Now the idea is to put effort into signing up large corporations.
What appears to have provided the tail wind for this phenomenon is the tie-up in April this year with salesforce.com. Salesforce is a leader in the field of providing Net-based SaaS services such as corporate-use software for CRM. By joining up to provide software with a company that has established a reputation for extra services tailored to customer demands as well as after-sales service, it has extended its reach to more companies and can hand over the maintenance of this system.
Software packages including word processing and spreadsheet applications are the domain of Microsoft, with Office having the dominant share. Will Google be able to succeed here? Girouard explains that they're not trying to steal Microsoft's business away. He says that the strength of Google Apps is that it provides many outstanding features such as real-time collaboration. Even though Google has been going for only 10 years, it is moving into areas that appeal to it. The winds of change blowing from Mountain View don't appear to be stopping.