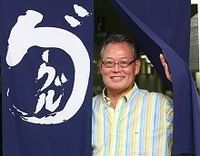 Google divides the world into four segments for global management. These four include the New York managed US, Mountain View managed APLA (Asia, APAC, Latin America), London-managed EMEA, and Japan.
Sometimes, Google has a video conference with representatives from all those four regions. If Japan has to adjust to the business hours for the other three regions, it will be 2 am or 3 am in Tokyo. In order to attend the conference, Mr. Norio Murakami, the head of Google Japan, rubs his eyes and has to stay awake.
Compared to the other three regions, in terms of the land mass, GDP, and population, Japan is small. Despite that challenge, why is it that Japan is placed as an independent and strategic location for Google? It is because Google's two founders think highly of Japanese technology, and this is not just flattery.
Japan is ahead of the US
In 2004, aside from the US, Google chose Bangalore in India, Zurich in Switzerland, and Tokyo as their R&D locations. "By putting R&D in Japan that is leading broadband and mobile technologies, we can develop technologies that are a few years ahead of the States." (according to Sergey Brin)
If Google develops the new business model that fits the Japanese market which is a few years ahead of the US, Google can use that business model as a reference and deploy that model horizontally all over the world. This is Google's strategy. It means that Google Japan has an influence over Google as a whole, in terms of its strategy a couple of years down the road.
It is true that Japan is a "wonder land" that achieved a peculiar development. In particular, Japan has a tremendous number of internet users via 3G mobile phones, and has high quality services. Even for engineers who are well versed with technologies at Google, Japan was an unknown world. When they come to Japan and see high quality terminals, 1-seg TV, QR code, and mobile Suica, they are very excited with various features these device offer.
Google decided to "learn diligently" (according to Murakami) in order to work on mobiles. Google is used to users accessing from PCs to the internet. But, the Japanese carriers enclose users, which is very different from the Google's way of doing its business. "Google thinks that the PC is going to evolve into mobile. But, in Japan, customers continue to migrate from mobile phone to another mobile phone. Japan is way ahead of the whole trend, and we want to learn a lot from the Japanese market. To do so, we value our partnership the most." (Murakami)
Google already realized a partnership with KDDI, followed by Docomo in Google's "main business," which is search. By leveraging that Yahoo's parent company is Softbank, Google was able to partner up with the industry's number one and two, and Google was able to cover more than 80% of the mobile carriers. Not only the search, but maps, email, YouTube, video sites, and many other functions were now implemented into mobile devices. As a result, Google is definitely increasing its presence among Japanese mobile services.
According to Mr. Murakami, Google learns not only from carriers, but from others as well. "We proposed that we should leverage Android, which is a horizontal divergence model based platform. I think Japanese carriers and terminal manufactures have a big business opportunity to expand their business in the world. We can learn from each other to develop a new way to access the internet." (Murakami)
In terms of deploying YouTube, Google Japan focuses on the importance of the partnership, just like they did with mobile. Google Japan was successful in having a partnership with Kadokawa Group, which is a contents holder, but also with hardware manufactures. As for input, Casio and Nihon Victor developed a camera that allows the users to upload their videos on the internet easily. As for output, Panasonic released the TV that allows the users to watch YouTube on TV. The big screen TV area is where Google hopes to expand more.
"The Japanese team succeeded in partnership strategy, and I hope other regions learn from them." At the August video conference with all the locations' representative attending, Eric Schmidt, Google's CEO, praised the Japanese partnership strategy. Murakami's strategy for focusing on partnerships is stimulating Google as a whole.
When you look at how much development and product division contribute to the new business in the area of mobile or movies, it is visible. But, Google's core competence is search technology, and that is what Google Japan pays attention to. There are many people working at the development team that are dedicated to improving the quality of the search. They are located in New York, Mountain View, Bangalore, Zurich, and Tokyo. Japanese teams developed the algorithm that detects spam blogs, and they also developed a function that suggests proper words if a user types in double byte characters, such as Japanese Roman numerals.
In order to be number one player among search engine field, Google is strengthening its marketing division.
In a competitive landscape
Google Japan made a significant contribution to Google Inc., on development. But, looking at the services that are provided over PC, yahoo has an overwhelming share in this important segment. It is only YouTube, acquired by Google, that is more widely used than yahoo.
Murakami says, "We are finally beginning to see the back of yahoo in the area of search, that is very basic. We want to take a step ahead somehow. We have to improve the quality of the search, but also we have to get people to use our service."
Google comes up with many services that are centered around search functions. Google has a philosophy, that is "If the service is user friendly, people will use it and it will become popular even if we leave it alone." In the past, Google's user friendliness and interesting concepts were spread by word of mouth, and this served as a driving force behind Google's rapid growth.
But, Google has to take some action in order to get out of the number two position. In Japan, users are not so aware of the quality of search. Since there are strong competitors out in the market, we have to have marketing activities that focus on the quality of the service." (Koichiro Tsujino)
Such marketing activities already were started. "I Google," which allows the users to customize their Google's homepage has components designed by famous artists, and Google Japan launched a campaign to increase the number of registered IDs.
"Google US knows that Japan should do more marketing activities. So, we decided to go ahead with the campaign." (according to Mr. Murakami) The campaign ended successfully, and the number of registered IDs increased rapidly. Google US is going to launch the same event in New York, using the Japanese campaign as a reference.
Furthermore, starting on September 1st, Google Japan launched the special site to explain "what Google can do" specifically by illustrating 20 examples. On the web, there are a lot of banner ads, in order to have the users visit this special site. The advertisement is not limited on the web. At Ikebukuro Station, many posters with the "what Google can do" theme are posted inside the station, and this campaign is aimed at increasing the number of accesses from mobile phones. Such a campaign is rather unusual for Google. By leveraging these marketing campaigns, how much can Google attack Yahoo's stronghold?