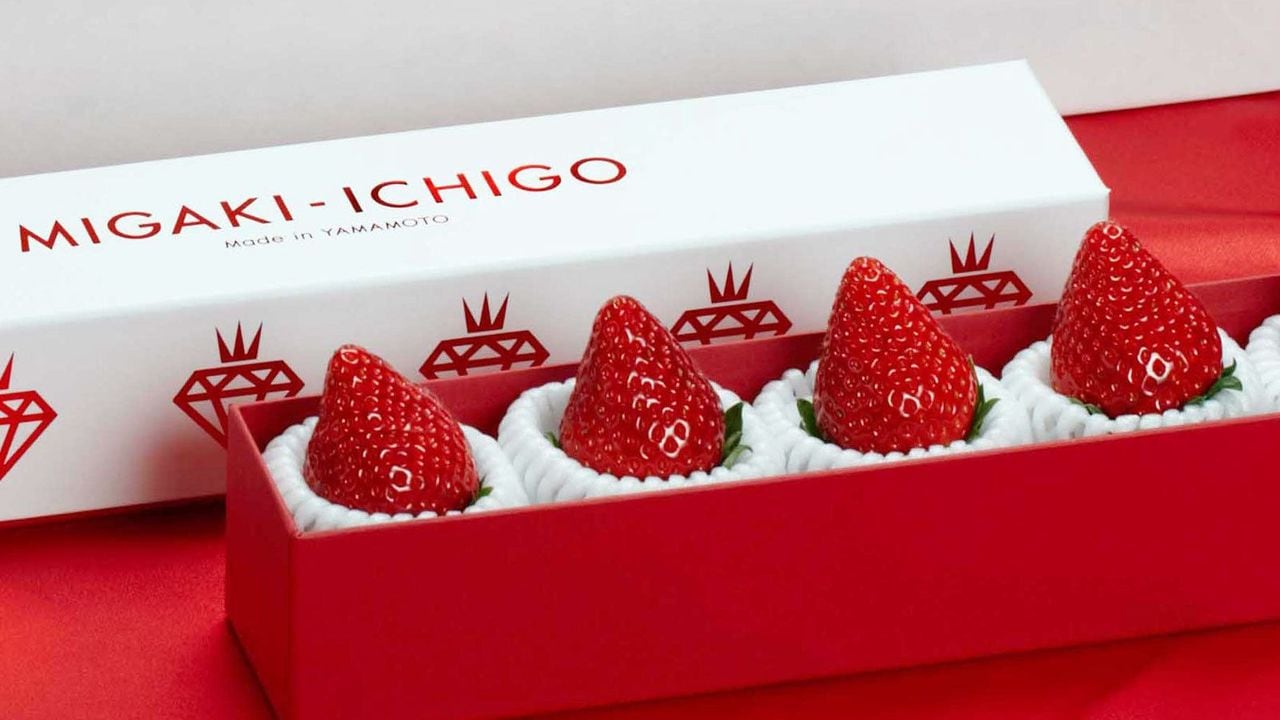 How much would you pay for the perfect strawberry, one that you could count on to be delicious whatever the time of year? In Japan, the going rate is 1,000 yen.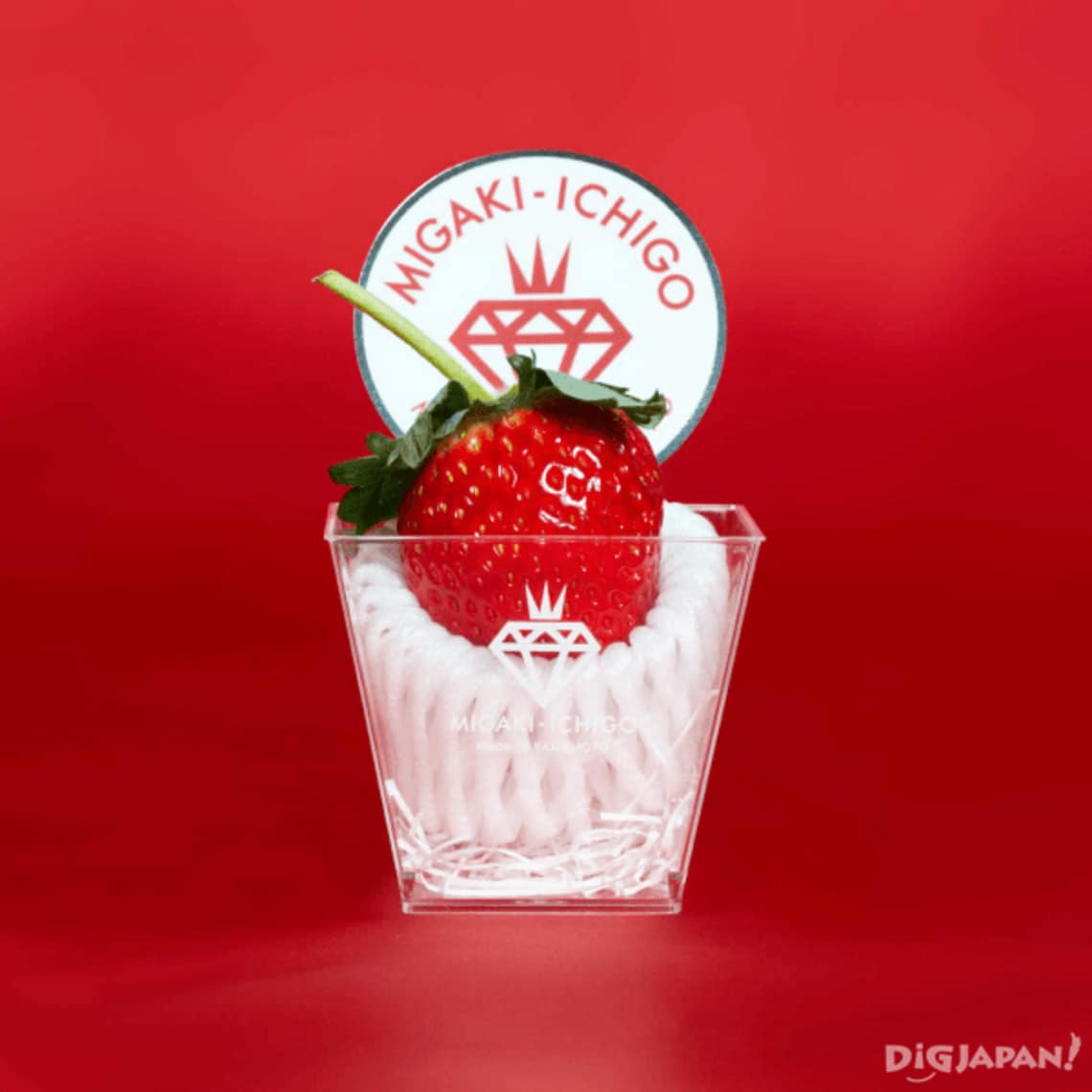 If you're thinking that no one in their right mind would drop anywhere near that much money on a single strawberry, well, you'd be wrong. Fruit is considered a luxury item in Japan. And in a country where the culture of gift giving extends beyond celebratory occasions into a customary way of maintaining smooth relationships, fruit makes for a great present.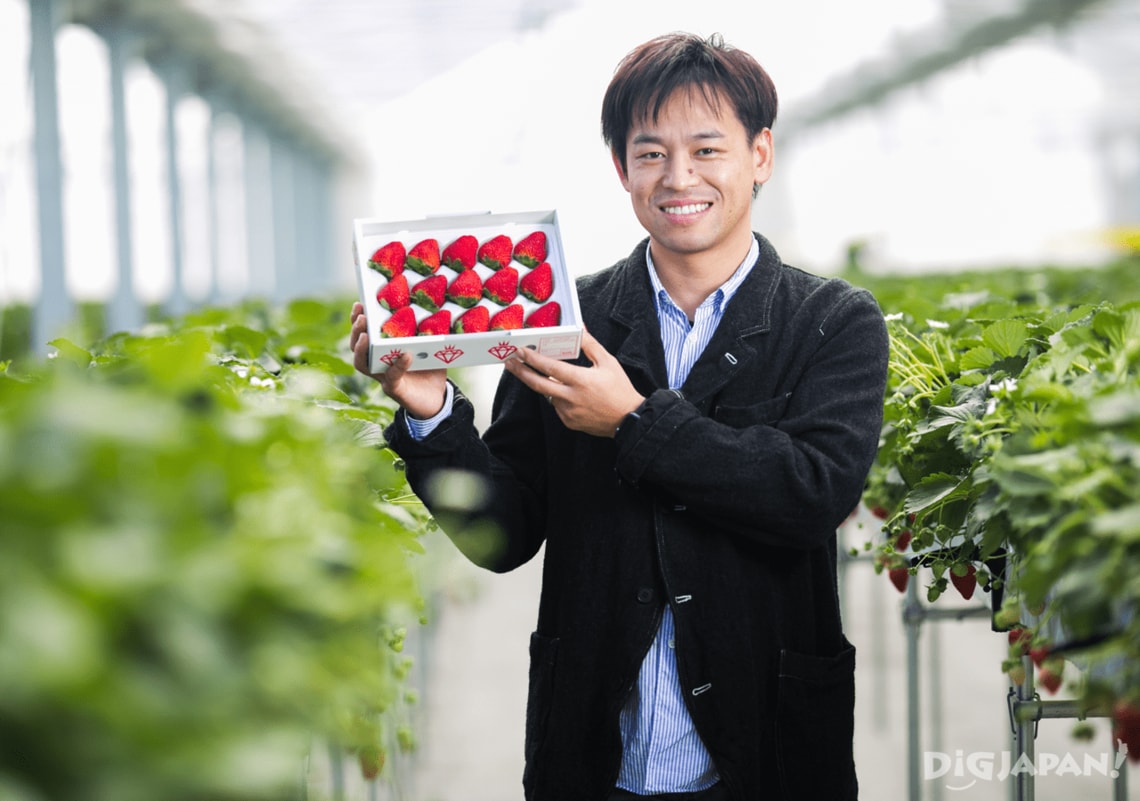 But there's a lot more to this beautiful berry than its price tag. Hiroki Iwasa, the CEO of GRA and the mastermind behind the MIGAKI-ICHIGO brand, is taking strawberry production into the future. He's combining the wisdom of farmers with the precision of technology to provide consumers with reliably delicious strawberries year round. By doing so, he hopes to make a name for Japanese strawberries globally.
First, some background on these berries. There are three grades of top class strawberries: silver, gold, and platinum. The class of the strawberry determines its price. To give you an idea of how strict these standards are, consider that often just one out of every fifty strawberries can be sold as a platinum.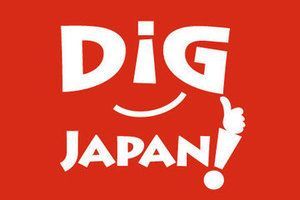 Despite how much we may love strawberries, they are a difficult crop to keep happy. They're easily affected by changes in the weather. And even if all conditions are favorable, the growing season is limited to only about seven months out of the year. So what you end up with are a bunch of strawberries that are inconsistent in shape and taste and a business model that makes it difficult for farmers to turn a profit on their investment, says Iwasa.
"A brand is like a promise to the customer," say the former IT administrator turned agriculturalist. "Customers should be able to enjoy the same quality product whatever the time of year. This is the premise on which we created the MIGAKI-ICHIGO brand of strawberries."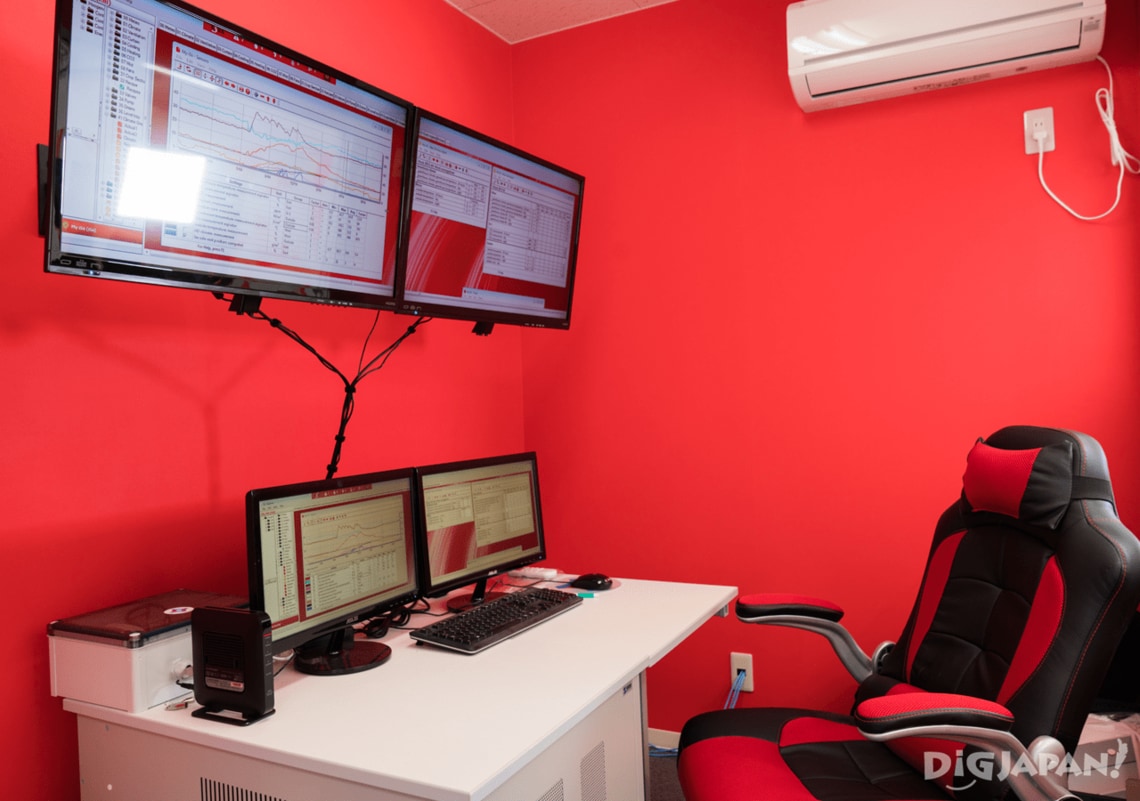 Iwasa values the insight of farmers. Several veteran farmers occupy roles as advisors as well as positions in the upper management. He uses their experience as the foundation for his IT innovations. Some examples of the technology GRA uses to produce their delicious strawberries are systems that allow them to monitor factors like humidity and carbon dioxide from a strawberry-red "control center" inside the plantation. By doing this, Iwasa and his company are polishing (migaku in Japanese) production methods to make strawberries that are like edible jewels. This is the concept behind the brand name MIGAKI-ICHIGO and the diamond logo.
What makes all this innovation even more impressive is that Iwasa started this farm in Miyagi Prefecture's Yamamoto-cho just months after the area was hit by the Tōhoku earthquake and tsunami. Originally an area famous in Japan for strawberries, as many as 4,000 greenhouses were fully or partially destroyed by the tsunami.
Many strawberry farmers suffered devastating losses. Things like running water, gas, and electricity were scarce or unavailable. Despite these challenges, Iwasa and his company began providing aid to revive strawberry farming in Yamamoto-cho in July, just four months after the disaster. By September, he was constructing his first strawberry greenhouse.
This has had a positive impact on the local area. Because the strawberries are from the Tōhoku region, it gets people talking about Yamamoto-cho. The IT-savvy strawberry farm itself has also become a popular tourist destination. It draws an amazing 10,000 visitors from all over the world to this rural area. That's the same number as the population of Yamamoto-cho. Tourists come not only to participate in strawberry picking programs, but also for tours of the cutting-edge facility. They've even had a visit from a film maker.
"No matter how far out in the boondocks a place is, if there's something fantastic, if there's great technology, then people are going to come. They'll come even more if they know that business is flourishing and there are talented people. We're anticipating that the number of visitors to the region will continue to increase in the future," says Iwasa.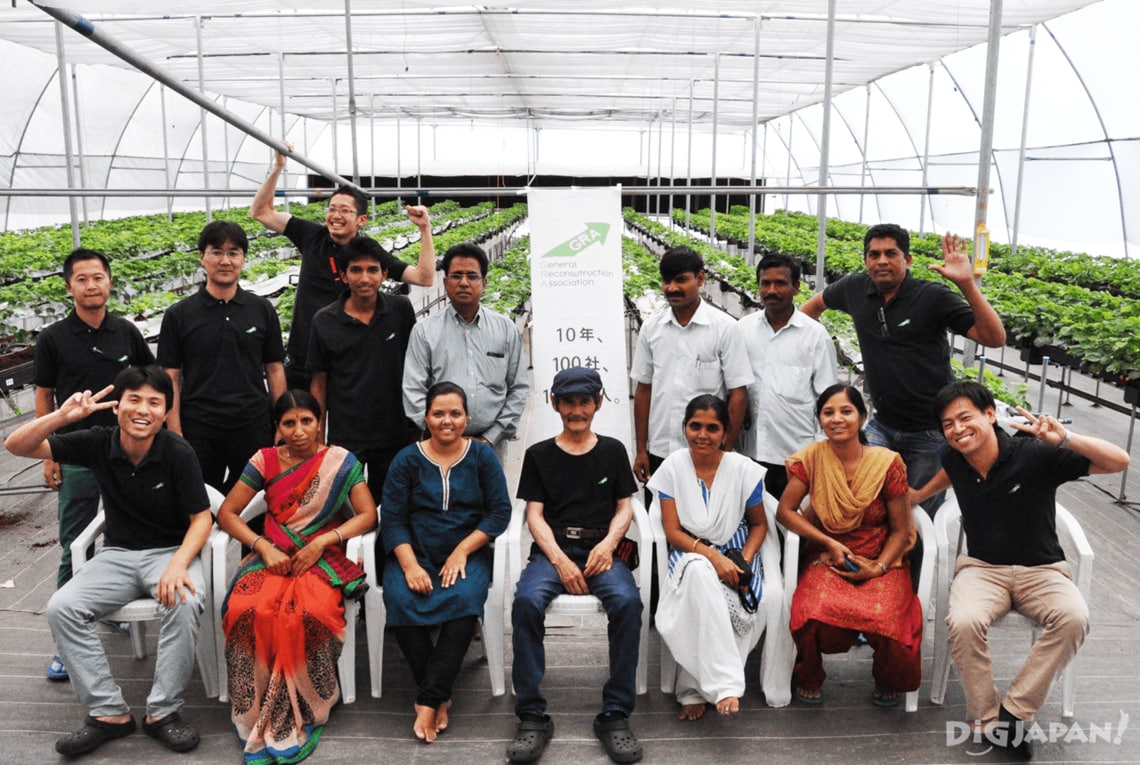 The success of MIGAKI-ICHIGO in Japan lead to Iwasa being invited to India to see if his methods and technology could help strawberry production there. From a macro perspective India's economic growth was remarkable, but domestic production of strawberries hadn't caught up with the demands. Strawberries of inferior quality were being imported, making it a golden opportunity for domestically produced ones. Iwasa opened his India base in April 2012.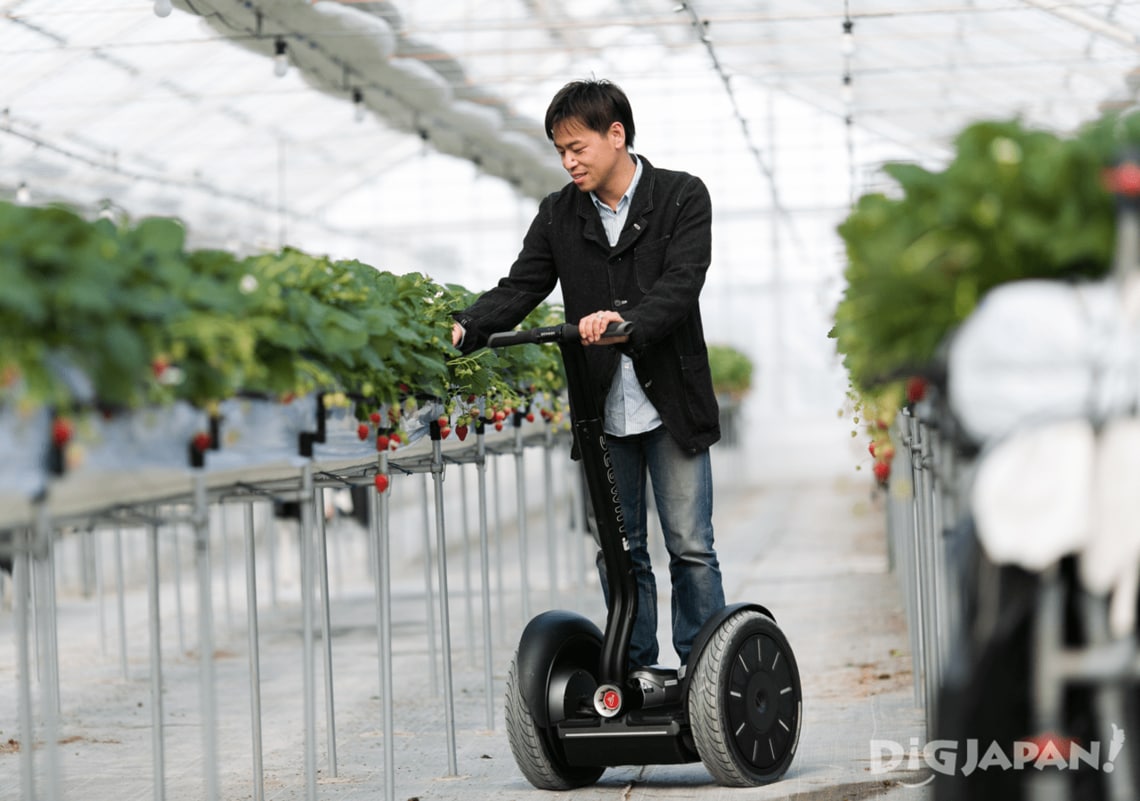 Although MIGAKI-ICHIGO is certainly making news domestically, Japanese strawberries are still just a blip on the global radar. Iwasa blames this on infighting in Japan's strawberry market. Japan's strawberries are broken up into several regional brands. While this might be a good strategy for the domestic market, when a regional brand tries to stand up against a foreign national one, they're going to lose. Iwasa hopes that the various brands can join forces to promote Japanese strawberries as a united front in the near future.

Until then, he's exploring different ways of getting his strawberries to wider markets. Strawberries are a highly perishable product, so he's also manufacturing other goods made from MIGAKI-ICHIGO that are easy to ship abroad. So far they have a sparkling wine called MIGAKI-ICHIGO Mousseux and an organic cosmetic brand called White Ichigo. Iwasa says he's currently developing new products for the MIGAKI-ICHIGO line.

So are IT strawberries the way of the future? With Iwasa at the helm of GRA, maybe so. Soon gifts of dozens of strawberries might be as common as red roses. And tastier, too.

MIGAKI-ICHIGO can be purchased from department stores in the Metropolitan area of Tokyo or Miyagi, catalogues from Japan Post, Yahoo! Shopping and Rakuten online store. *Sold in Japan only.

(Written by Rachael Ragalye)

Related articles from DiGJAPAN! The Early Blooming Sakura of Kawazu Ecihgo-Tsumari Winter 2016 Learn How to See More for Less!: Asakusa, Ueno, Tokyo Tower, Shiodome Edition