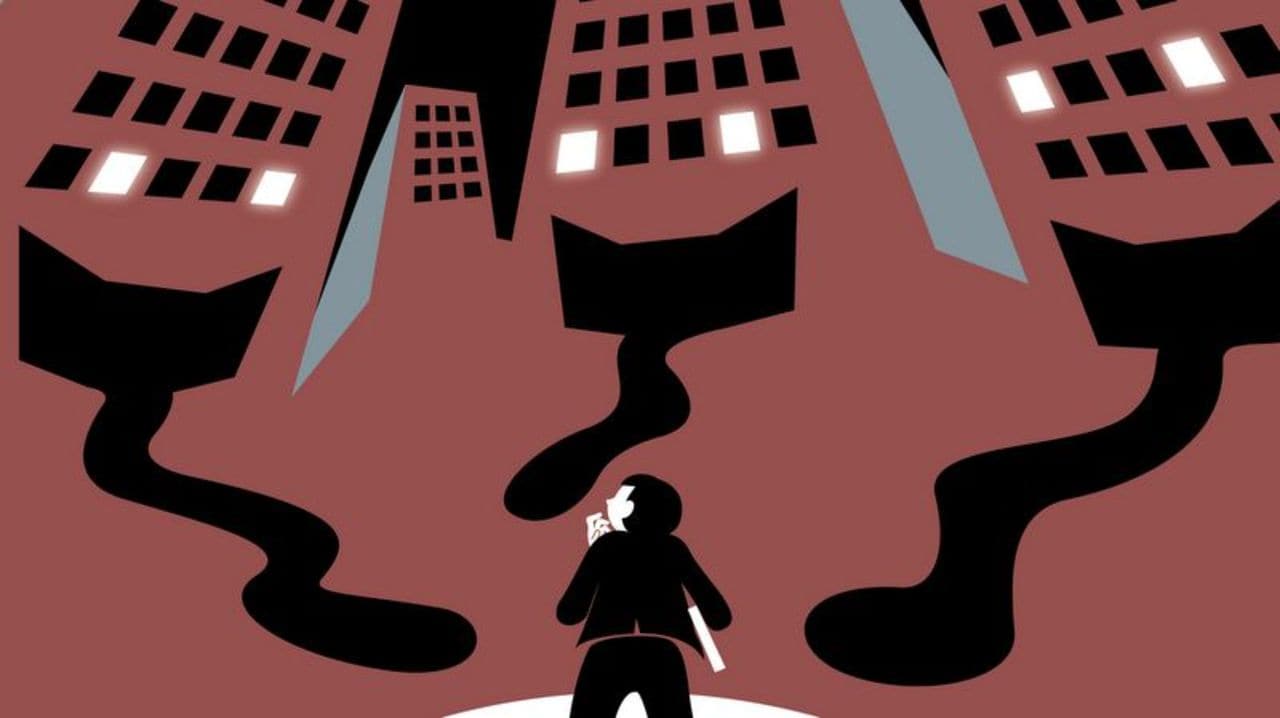 The time has come once again to select the top "black company" in Japan. This year, the awards ceremony for "Black Company Grand Prize 2015" was held in Tokyo, on November 29.
This is an event organized by the Black Company Grand Prize Executive Committee, which comprises lawyers, scholars, journalists, and many other professionals. This year marks the fourth round of this award.
The winners in the last three years include Tokyo Electric Power Company (TEPCO), the owner of the quake-stricken radioactively contaminated Fukushima Daichi Nuclear Power Station, and the consumer electronics giant Yamada Denki.
The term "black company" generally refers to any company that hires a lot of young employees and forces them to work under poor conditions, including excessive overwork and illegal labor. Many of these employees end up leaving the company largely because of such poor treatment, and so these companies have become a much-talked-about social issue in Japan.

There are different ways of defining "black companies." Even with such a lack of consensus, there is some agreement on how they are perceived. This includes the common view that they:
➢ Impose upon employees excessive mental and physical stress by forcing them to work in cruel labor conditions
➢ Engage in business operations that require the employees to take on labor that is highly likely to be illegal
➢ Tolerate power harassment as a part of everyday affairs in the workplace
Let's now see which companies have been selected this year to receive the well-deserved dishonor of being named the top "black companies"!
Black Company Grand Prize 2015 goes to… Seven Eleven Japan
In 2013, the franchisees of Seven Eleven Japan (SEJ) claimed for damages when SEJ hampered their autonomous business activities related to selling off lunch boxes that were approaching their "best before" date. In this lawsuit, various instances of the headquarters of this convenience store (CVS) chain business excessively exploiting its franchisees were exposed to the public—including the unfair treatment of part-time workers who were forced to work at pay rates far below the standard wage level.
As the undisputable leader of CVS companies in Japan, SEJ has been chosen as the winner of this award, to represent domestic employers in the CVS industry who tolerate such problematic practices.
Web Voters Prize goes to… Hikkoshisha Kanto
A former sales representative of this moving company was transferred to a back-office job in charge of shredding documents, on the grounds that his work behavior was poor and that he was responsible for the leakage of the company's confidential information. Then, suddenly, he was fired from the company, in what has been seen as punitive dismissal.
As if that were not enough, the company then created a poster of his face, along with a description of his punishment; it included messages that sounded threatening to all other employees. The company then proceeded to hang this poster in every affiliated company outlet nationwide.
What's more, when the labor union protested this excessive action by the management, one of the company executives reacted harshly with vulgar language. This executive's coercive behavior in front of the union members was recorded on video, and it received widespread media attention.
The media later revealed that the company's management had been deducting from the salaries of employees assigned to a moving job the same amount compensated to customers for damages incurred to personal items during that move. Additionally, this company had also been found of engaging in recruitment standards suspected of being racially discriminatory.
Black Employer of Part-timers Prize goes to… Meiko Network Japan
The part-time instructors of the "cram schools" run by this company were not paid for the time they spent beforehand in preparing for their classes, in sending students off the school grounds after class, or in writing up reports and tidying up the classrooms at the end of the day.
The local labor standards supervision offices in regions where this company was running its cram schools recommended that company management take corrective action to ensure that its employees were properly paid for all these job-related services.
Because of this incident, this company became a symbolic example of a "black" employer that treats its part-time employees poorly. The company was also publicly criticized for lacking a sense of morality—especially given that it was an academic institution and was therefore expected to have strict discipline regarding ethical conduct.
"Black companies": growing social awareness
The growing public interest in identifying "black companies" has driven many business entities to place more emphasis on compliance. However, there is an increasing social demand these days for corporations to do more than just meet the generally accepted definition of "compliance."
Those who support such a stricter view believe that conventional compliance can be basically met if companies were to observe the laws and abide by the rules and regulations set forth in their own by-laws. To be considered business entities that meet the "full compliance" that they advocate, corporations must not only comply with laws and internal regulations, but also be socially responsible and behave ethically, in line with their established code of practices.
I see these black companies as by-products of those free market principles that have allowed neoliberalism to proliferate. I believe that ethical deviations by companies can be precluded if employers and top corporate leaders were to become more disciplined and demonstrate a stronger sense of ethics.
These companies must realize that the general public is now expecting, more than ever, for them to manage their organizations so as to be fully compliant both legally and morally. They need also to understand that these expectations run in tandem with an awareness of the need to meet corporate social responsibilities—chiefly by more fairly redistributing profits to customers and employees and by actively contributing to enhancements of the social good.