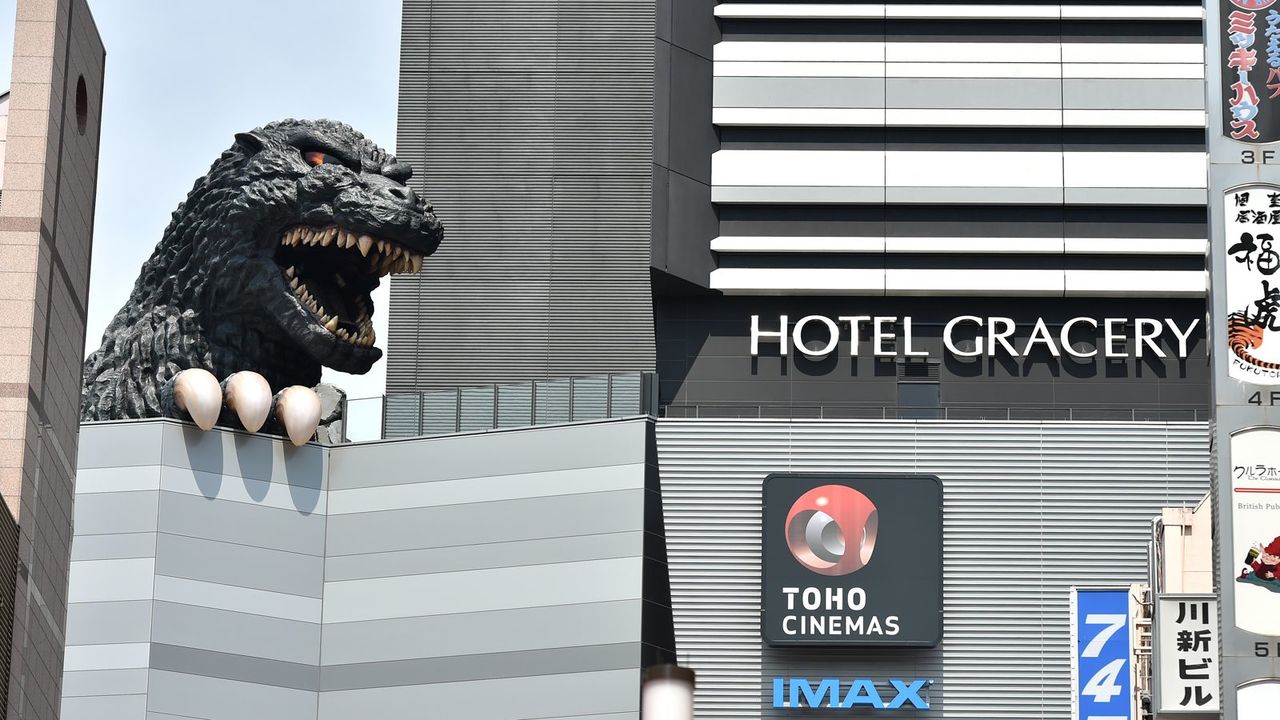 With so many travelers visiting from overseas, business hotels are seeing the highest profits they have ever seen before in many locations of Japan. Many of these hotels are being opened one after another in the Shinjuku Kabukicho area of Tokyo. Two large hotel groups, Fujita Kanko and Apa Group, are becoming especially competitive in the area.
 Fujita Kanko, famous for their Chinzanso Hotel, opened Hotel Gracery (with 970 rooms) on the site of the old Shinjuku Koma Theater in April. The hotel has a very unique exterior with a real-size Godzilla rising up from the hotel's 8th floor terrace. Not to be outdone, Apa Group opened a 28 story "Apa Hotel Kabukicho Tower" (with 620 rooms) at the end of September across the street from the Hotel Gracery.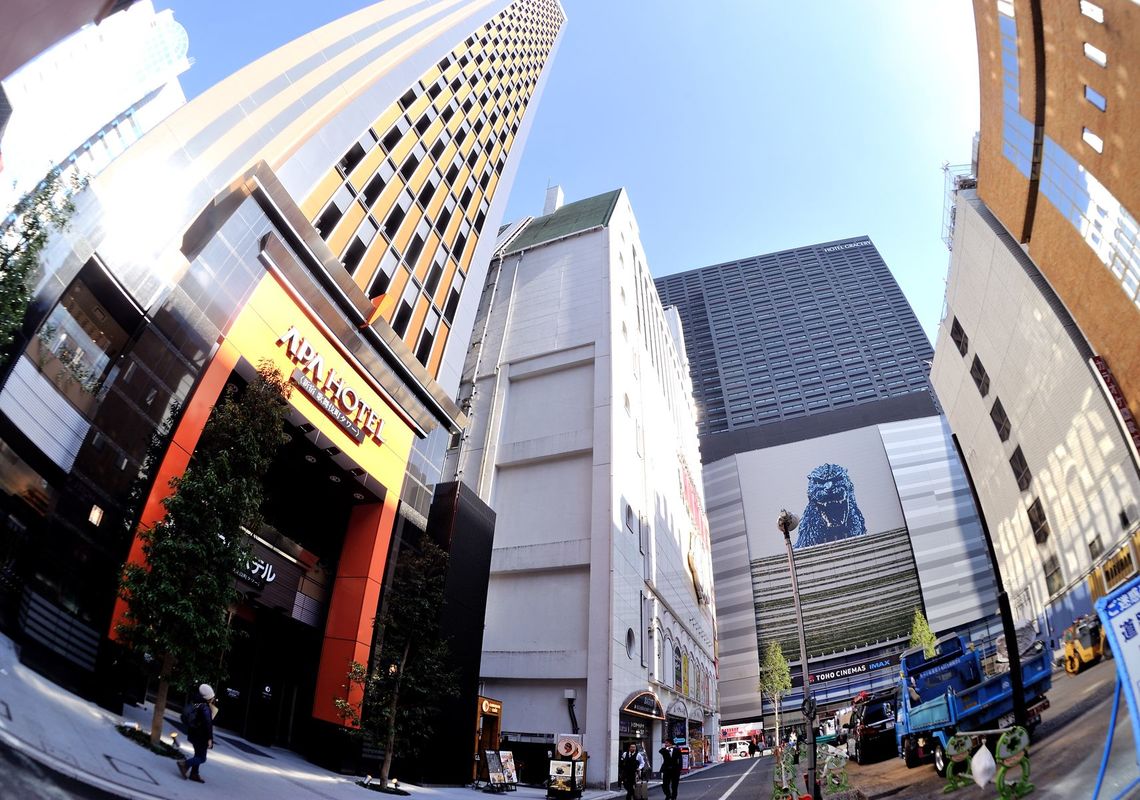 I visited Apa's Tower Hotel one day at the beginning of November. Surprisingly, more than 20 people were in the lobby even though it was already midnight. Judging from the languages they were speaking and what they were wearing, most of them seemed to be visitors from Asian countries. Some of them were being told that the hotel was fully booked, and no rooms were available without a reservation. They were advised to go to the chain's another hotel located in Nippori instead.
Influx of Chinese tourists
 The reason for this increase in hotel profits is the rapid increase of the number of foreign visitors, especially those from China. According to the Japan National Tourism Organization(JNTO), the number of foreign visitors between January and October 2015 was the largest in history. There were 16.31 million visitors, which is a 48% increase compared to the same period last year.
The number of Chinese visitors has increased twofold to 4.28 million. The Japanese government set a goal to accommodate 20 million foreign visitors by the end of 2020. If things progress like they are currently, the number may be reached in 2016.
 While many hotels all across Japan do not have enough rooms, this lack of rooms is becoming more prevalent with the business hotels. They are so popular due to their lower room rates. According to the largest hotel management consulting company, Horwath Asia Pacific Japan, the occupancy rate of business hotels in Tokyo and Osaka has almost reached 90% of what it was at its very highest.
 With the high occupancy rate ever increasing, the average unit price has grown exponentially. Horwath says that the gross operating profit (including the gross margin ratio and depreciation expenses) of the business hotels in Tokyo reached an average of 52% in 2014.
Fujita Kanko has begun renovation of its Washington Hotel near the west exit of Shinjuku Station. When it reopens in the spring of 2016, it will be the largest hotel in the area with 2,600 rooms. In comparison, Apa Group currently owns four hotels in the Shinjuku area and has begun construction of two more. Including the ones in the planning stages, the group owns 2,150 rooms in Shinjuku.
Toshio Motoya, the president of Apa Group, is obviously very pleased with these recent developments. He states, "The total number of hotel rooms in Japan has gone over 55,000. We aim to reach 100,000 by 2020."
 In addition to these two mammoth hotel groups, there are newcomers as well. TKP, a large rental conference room company, joined in as an Apa franchise. A medium sized property company named Sankei Building, is also planning to open business hotels in the major cities.
 In regard to this business hotel boom and cross-sectional competitiveness, president of Oraga HSC and hotel development guru Tomohiro Makino explains, "Business hotels are systemized, and therefore the entry barrier is low." Essentially these hotels are easier to build and run because they do not have the meeting rooms and restaurants like luxury hotels do.
 Luxury hotels are quite expensive to build. It also costs a lot to maintain them and make improvements even after they are built. As for business hotels, the labor and operational costs are quite low. And if the hotels use an online booking website, they can also cut their advertising costs significantly.
How long will this "Hotel Rhapsody" last?
 Toyoko Inn, which owns 50,000 rooms nationwide, is quietly watching the competition amongst the other hotel groups and seems to have a completely different business mindset. They have chosen to keep their rate for a single room at 7,800 yen. They place great importance on their VIPs and are not rushing to acquire a stream of new customers.
 In reality, no one is sure how long this growth will last. The construction of a hotel only takes about two years, but if you include obtaining the land and going through all the procedures, it takes at least three years before one can be opened. It is hard to determine whether or not the demand will continue after 2020, the year the Tokyo Olympic games are scheduled to be held. Risks of terrorism and infectious diseases, as well as long-term problems such as high labor and construction costs, may impede progress.
 Motoya of Apa remarks, "The primetime for large hotels is fading. After 2016, it will shift to medium and small-sized hotels with less investment costs." Motoya believes that the hotel groups should take heed and prepare for a reduction in demand. Perhaps this is why Fujita Kanko has opened a customer care training facility for its employees inside its Yokohama Washington Hotel in order to maintain its customer base -- to keep customers satisfied and to also create the image of a luxury business hotel.