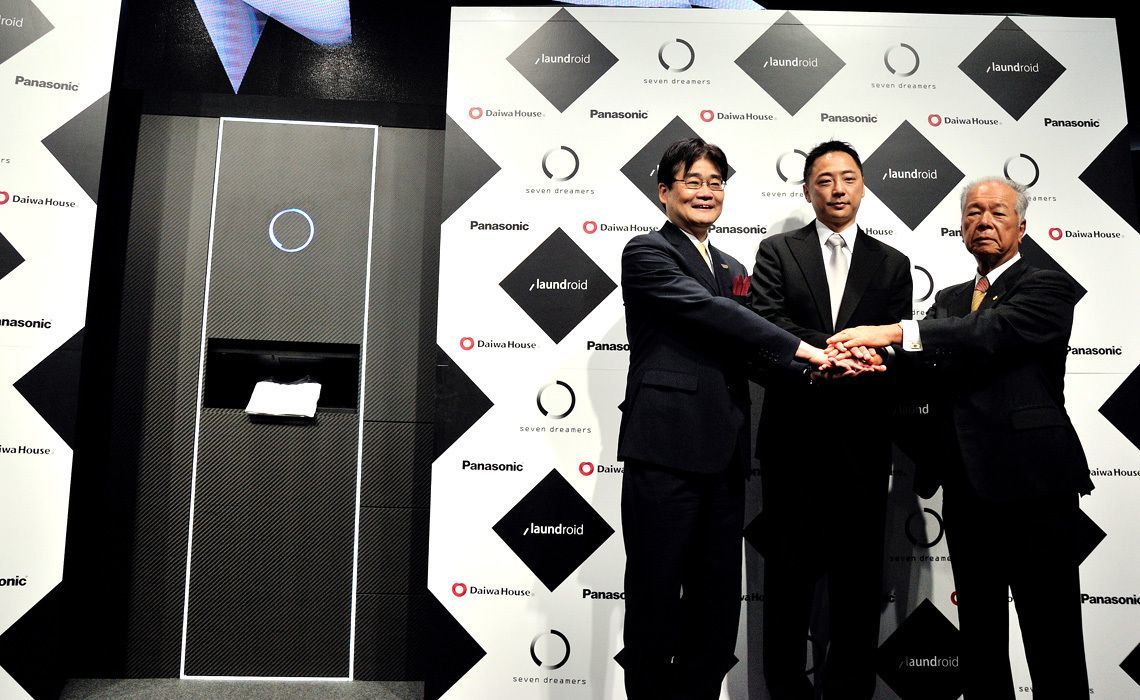 In a few years, the world may once again be flabbergasted by the arrival of yet another incredibly progressive home appliance made in Japan.
Seven Dreamers, a Tokyo-based high-tech start-up, announced that it has successfully developed the world's first automatic laundry-folding robot called "Laundroid."
Shinichi Sakane, the president of the company, states that this futuristic equipment "will allow you to create a substantial amount of free time to enjoy your life more."
According to the company, the total amount of time we spend on laundry in our lifetime is about 18,000 hours. Half of that time is said to be spent folding, sorting, and putting back clean laundry to where they belong. That means that in our life time we spend about 9,000 hours, or 375 days, for doing just that.
Takeo Higuchi, chairman of Daiwa House Industry, said, "375 days--that's quite a lot of time saving you can do." Daiwa, the leading home builder in Japan and Seven Dreamers' major investor, has invested 20 million yen to help fund the company's innovative development project.
Folds up to 40 T-shirts in 2.5 hours
Based on its current specifications, Laundroid can distinguish four types of laundry (shirts, pants, skirts, and towels) and fold them automatically in preset patterns, which differ for each laundry type. By using optional customization features, users can even make the robot learn and remember their preferred folding patterns.
It took the developers approximately 10 years to create Laundroid, and then later they established the venture company to complete the fabrication of a workable pilot unit. The unit can handle a maximum load of 4.5 kg, or about 10 lb, of laundry in one go, which means about 40 T-shirts.
Currently, it takes 3 minutes and 40 seconds for the prototype to fold one T-shirt--which means 40 T-shirts in about 2.5 hours.
Since this is still a trial manufacture, the developers are optimistic that the machine's overall performance can be enhanced through continued modifications to and refinements of the robotics functionality.
Based on the commercial production schedule of Seven Dreamers, the company is projecting a phased timeline for its product releases. The initial Laundroid model specifically designed for household use, which features only the folding and sorting functions, is slated for launch in 2017.
In 2018, Seven Dreamers plans to release an institutional model designed for use in nursing-care facilities and hospitals. By 2019, the company plans to commercialize an "all in one" version that can do everything, from washing to drying, folding, sorting, and putting away laundry.
Finally, by 2020 the company plans to introduce a "home built-in" Laundroid type as an optional furnishing in a smart house.
According to the usage scenario envisioned by the company, the most advanced 2020 version will only require users to throw their dirty laundry into a built-in Laundroid at home. All the rest of the laundry chores will be completely taken care of by the highly intelligent robotics system.
This means that the built-in Laundroid will not only fold the laundry after washing all the items but also sort them by each member of the family. What's more, it will put the clean clothes back into their designated closets or drawers in the different rooms of the family members.
Can be a big help for nursing-care facilities
Daiwa House is particularly interested in the institutional model designed for use in nursing-care facilities, as the firm is also expanding its home-building business to the health-care sector.
In Japan, there is still shortage of homes for the aged that provide nursing-care services. The demand for such facilities is expected to persist in the future.
Lack of home-care workers is also a serious issue in this country. Not many people are eager to pursue a career in home care because of the long work hours that they will most likely have to endure regularly.
Take, for example, their laundry work. It's not an easy job for home-care workers. After collecting, washing, and drying the clothes and towels of the elderly residents, these pieces of clothing must be returned individually to the users.
When fresh, clean clothes or towels are needed varies for each resident, depending on how frequently or urgently the clothes currently used need to be replaced. Due to this irregularity, outsourcing these tasks to external laundry service providers is not practical.
Truly, folding and sorting a huge pile of laundry and returning them to the elderly residents on an as-needed basis is quite a laborious process for home-care workers. Many of these workers find time for these tasks only after they have finished all their other routine jobs, if not during their lunch break or midday recess.
If these home-care workers can free themselves completely off the burden of laundry work, they will be able to devote more time on their core nursing-care tasks and regain that part of their private time that they have been deprived of due to their laundry chores.
"In the beginning, high price can be an obstacle to capturing a large number of household users as early adopters. Instead, this machine may create higher demand in nursing homes and care facilities," says Chairman Higuchi.
For Laundroid to become widely used, it should be affordable to many through mass production. The entry of this state-of-the-art laundry assistance machine into the market should also lead to increased visibility of the product and stimulate both domestic and industrial demand.
In addition, Laundroid's performance needs to be upgraded. Specifically, this robot should be energy-efficient so that it would be supported and sought by budget-conscious and environment-conscious users.
The electric clothes dryer for household use first appeared in the Japanese market in 1969. According to the Consumer Confidence Survey conducted by the Cabinet Office, as of March 2015, this product's penetration rate remains slightly below 60%, even after almost half a century since its launch.
Patience may therefore be necessary for an epoch-making machine like Laundroid--which offers a radical new way of living for humankind--to be universally acknowledged as a must-have system.