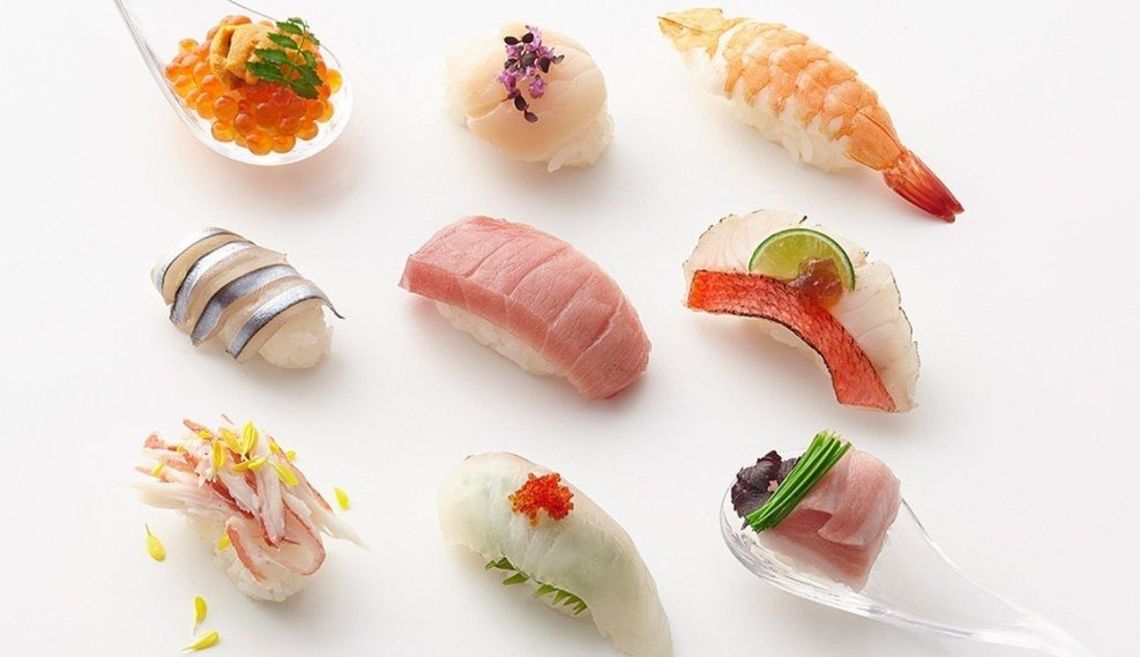 Conveyor-belt sushi chain, Akindo Sushiro, is trying something new. Founded in 1984, the sushi giant opened its first lite-sushi spot named Tsumamigui (snacking) in Nakameguro, Tokyo, on January 29, 2015.
Traditional sushi restaurant offerings were modified, resulting in innovations such as one-mouthful servings of rolled sushi as well as chic pottery for sake. This soon became the talk of the town: "Sushiro's branched off from the conveyor-belt style."
Sushiro opened its second store in Akasakamitsuke on June 19, followed by a third in Shinbashi on July 31. Both are in central Tokyo.
"Sushiro's target customers are suburban families, whereas Tsumamigui is for a new kind of urban customer," Yo Horie, the product development manager and leader of this new project said.
"Today's customers want more than just taste and affordability. They want absolute value for money. We're trying something new that would be impossible at Sushiro," he added.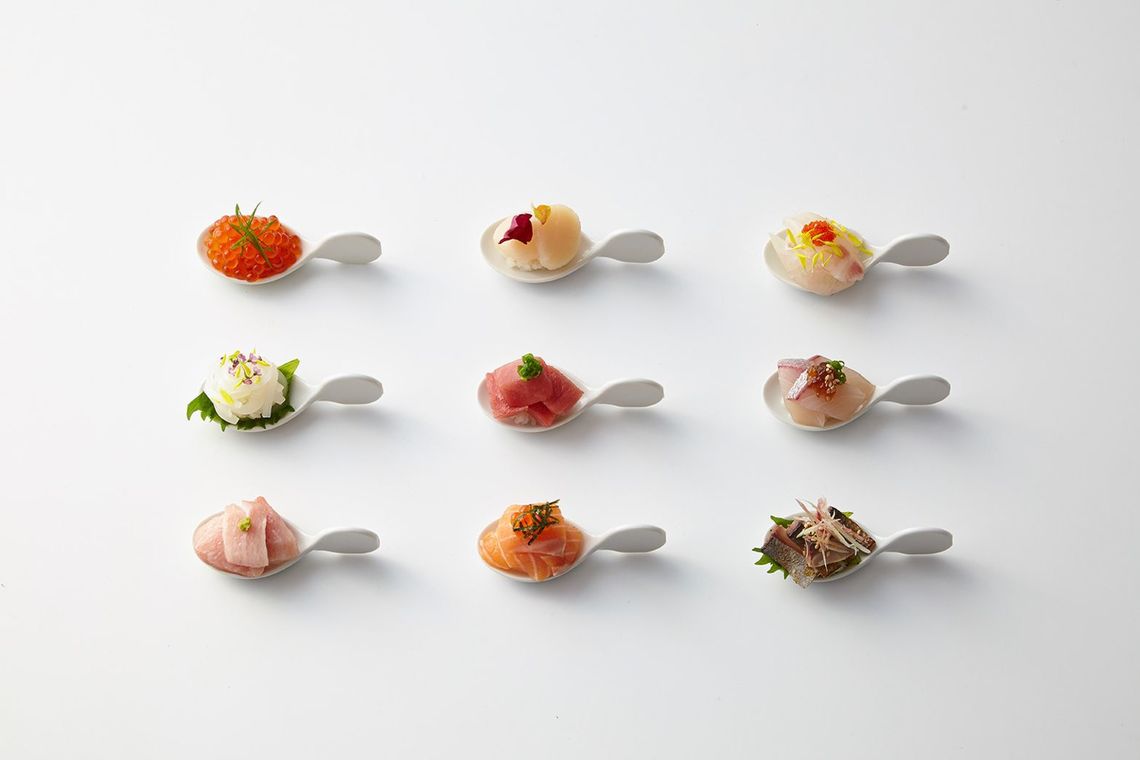 Tsumamigui's menu includes small, canape-sized mouthfuls of rolled sushi, sushi that can fit in a teaspoon and a smaller version of the ball-shaped temari-zushi. Sushi in a teaspoon is not only fun to look at but can also be eaten in one convenient mouthful. While traditional types of sushi, such as ikura (salmon roe), tuna and eel, remain dominant, some types of sushi combine a variety of ingredients.
An added feature is the choice of drinks, especially wine. Besides stocking the standard red, white and sparkling wines, the venue has highly visual menus that make selection easy by offering tips on bouquets and indicating which wine goes with which fish.
"Wine with sushi is a new concept in sushi bars. We think it will expand sushi's possibilities," Horie said.
Bon appetit with imaginative sushi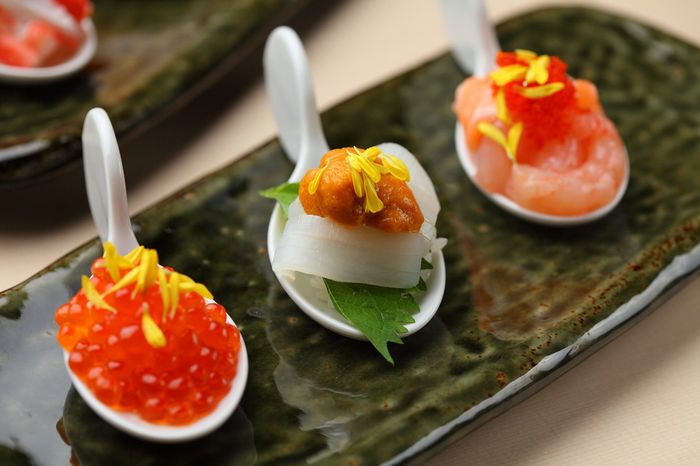 Tsumamigui is working hard to come up with creative strategies so that customers will accept this new way of enjoying sushi. For example, as well as producing unusual sushi and nibbles, it has kept the still-popular, traditional nigiri. However, instead of presenting the usual two pieces per serving, it lets customers order just one.
Tsumamigui has also injected a bit of fun into ordering. For example, it offers the "compare three kinds of tuna" meal.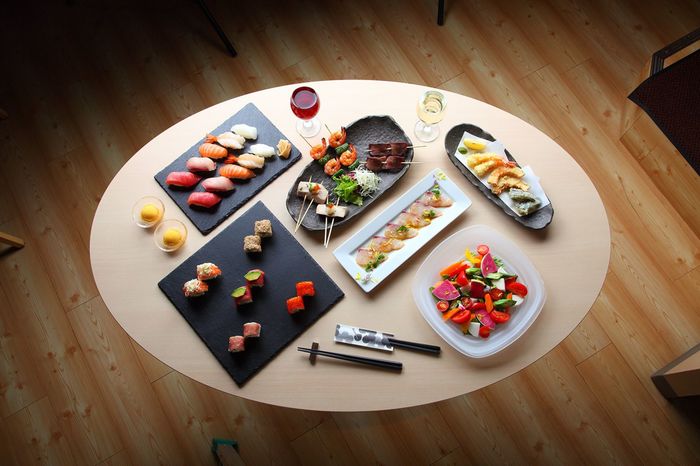 Furthermore, menus have been adapted to the individual restaurants' locations. At the Nagameguro restaurant, office workers are the main clientele on weekdays, with local residents and families dominating during weekends. Akasakamitsuke's customers tend to be those seeking leisurely, relaxed drinks. Meanwhile, Shinbashi attracts a wider client pool; many, including women, come alone.
Sophisticated interior design with dimmed lighting heightens the ambience in the evening. With a sofa to relax on and gleaming wine glasses on the counter, the Akasakamitsuke venue is far from your stereotype of an earthy sushi joint.
"This is our first foray out of the conveyor-belt sushi format. We're also exploring how to create a comfortable environment in this new sort of space," Horie said.
Great expectations rest on Tsumamigui. Akindo Sushiro's 31 years of know-how and 415 sushi bars, including those abroad, are cause for pride.
Making the most of this experience, Tsumamigui wants to try things that would have been impossible with the old business style. One area of focus is that of supplies. Using rarer ingredients at Akindo Sushiro as a whole would be hard because it would be necessary to supply all the stores in the chain. However, doing so is a distinct possibility at the smaller-scale Tsumamigui, and that translates into a greater variety of possible ingredients.
"If we establish a successful urban business model in Tokyo, we can move on to similar areas in Osaka, Kyushu etc. This, in turn, could lead to restaurants like this abroad," Horie said.
Global expansion might not be too far ahead.