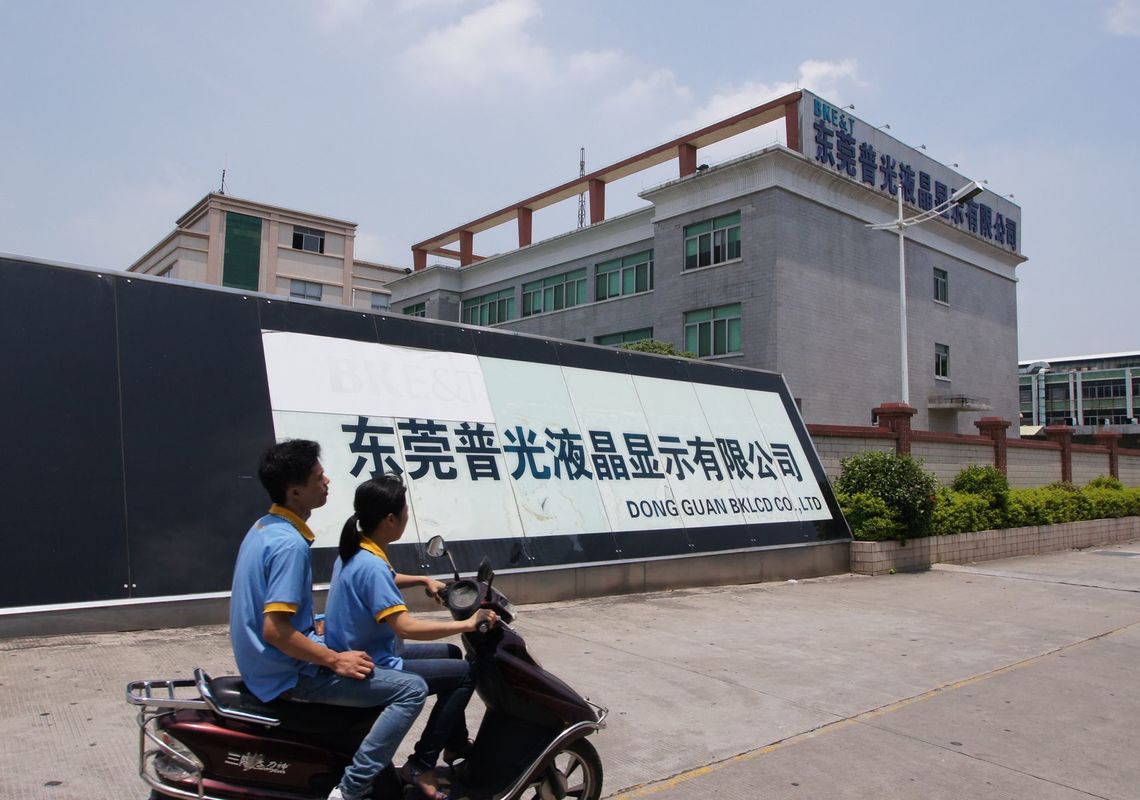 I am here at Dongguan Puguang Liquid Crystal Display, in Houjie, Dongguan City, Guangdong Province. Standing in the middle of a dusty Chinese industrial complex, the company's factory stands out as remarkably dull and lifeless.
Over the years, this South Korean-funded LCD backlight manufacturing company has produced and shipped products designed for use in smartphones sold by Samsung Electronics. The plant employed 3,000 workers in its heyday, but since mid-August 2015, it is rare to glimpse a single employee moving about the grounds. This is no surprise, as operations recently came to a grinding halt when the plant's top Korean executives packed up and disappeared without a trace.
After I waited around at the entrance of the company for about an hour, a solitary young man appeared at last. "In mid-June, we were told that everyone would have to take an unpaid holiday in July but come back in August because more work would be available," he explained. "In reality, there was no work when we came back. I heard that the plant was going to be shut down, but there wasn't any official explanation."
A man from a supplier of packing material, who was waiting at the security booth by the entrance, told me that "it appears that the top South Korean executives left China in July and haven't been in touch with anyone since. I heard a few months back that product orders from Samsung had ceased, but I didn't think that things would turn out this bad."
According to information from the local press, a similar situation occurred with the executives at the Puguang plant of the parent company in Suzhou, Jiangsu Province. Furthermore, according to latest reports, top execs in Dongguan were detained by plant employees and thus could not flee the country.
In light of this recent string of events, Samsung stated that "this is a problem for Puguang's management to deal with; it has nothing to do with us." However, according to a company active in the local electronics industry, the latest business slump could be traced back to Samsung's smartphone product line strategy.
Alarming situation in China
In spring 2014, Samsung initiated a phased introduction of organic light-emitting diode (OLED) displays, which were previously used only in high-end products, as well as in standard-price product lines. The goal of this move was to further differentiate Samsung from emerging competitors in the market and give a boost to their smartphone sales. However, because OLED screens don't require backlights, the strategic shift was a major blow to Puguang's business.
China accounts for approximately 30% of smartphone demand worldwide, making it an important market for Samsung. Entering the smartphone market in 2011--three years after Apple--Samsung rose quickly to become the market leader in 2012. About 70% of their total operating profits came from smartphone sales in the third quarter (July-September) of 2013. This rapid growth was fueled by none other than the Chinese market.
Today, China's market growth has slowed down dramatically: The first quarter (January-March) of 2015 saw the domestic smartphone market size drop to 98.8 million units shipped, representing a 4.3% decline from a year ago.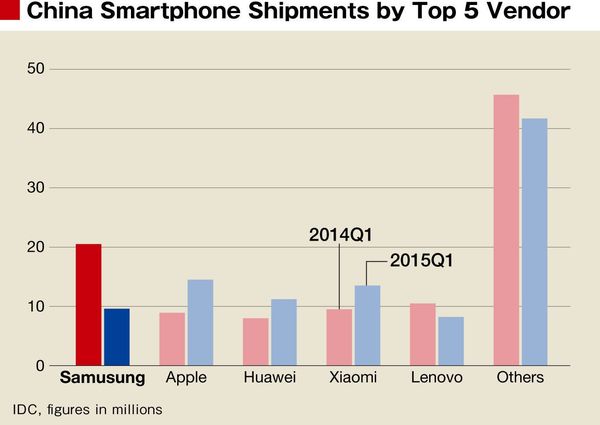 This was a cause for concern at Samsung, which saw total shipments of 9.6 million units for the same period--a little less than half compared with the performance in the previous fiscal year. The company's position in terms of smartphone market share has also plummeted from first to fourth.
The reason for this slowdown is pretty clear: the Galaxy S5 model released last spring failed to take off, and the Galaxy S6 released in April this year, which the company hoped would make up for the dismal S5 sales, was also a flop.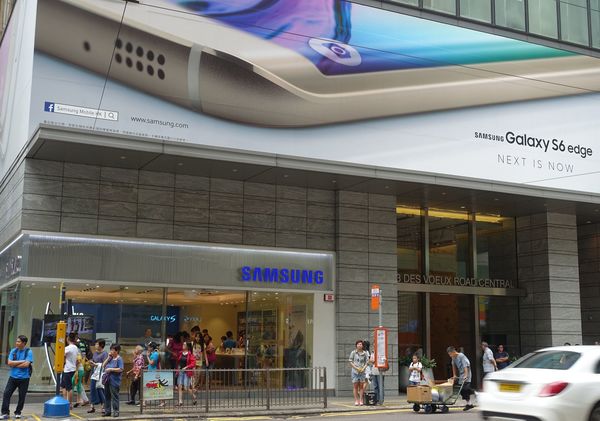 "When we shipped out the new models, we found out that actual demand was less than half of what was originally planned for," admits a Guangdong Province manufacturer who supplies smartphone parts to Samsung. "Normally, we expect to make a good profit for three months following the release of a new model, but in April, the production schedule for S6 parts was revised downward."
The Galaxy S6 series includes a standard model and an S6 Edge model, and Samsung's original plan predicted fourfold sales from the standard S6 compared with the S6 Edge. In reality, however, the standard S6 ended up selling roughly the same amount as the S6 Edge, meaning only about 40% of the originally planned sales were realized.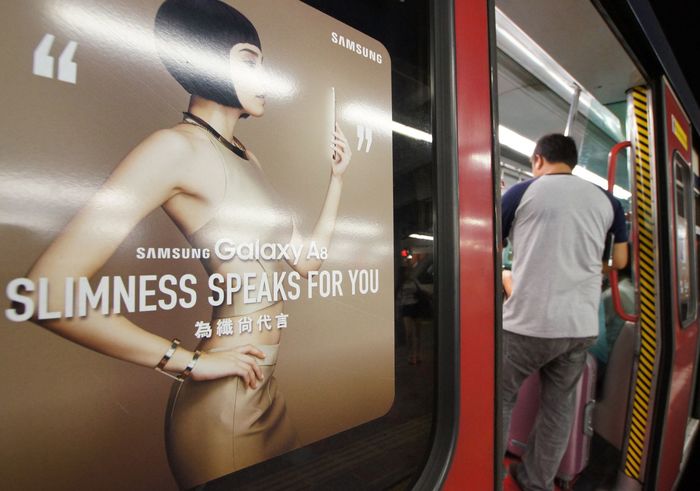 The company's shipment volumes only reached about 8 million units in China for the second quarter (April-June). Not only was this about half of the number of units shipped by Xiaomi and Huawei Technologies and a little under 70% of that shipped by Apple, it was less than the number shipped by vivo Electronics and other new contenders in the market.
Samsung's lackluster smartphone sales are also apparent in its overall business performance: the operating profits for the second quarter of 2015 in the IT and mobile divisions were 2.76 trillion won, a 40% decline from the second quarter of 2014.
"Even though our products are not yet on a par with those put out by Apple, we are no longer trailing behind Samsung," says Marketing and Communications Division Director Huang Di of Huawei Technologies, a company whose market share has surpassed that of Samsung in China. "We expect to start seeing a drop in the number of smartphone manufacturers in the coming years as weaker players get pushed out of the market, and there is no guarantee that Samsung won't be weeded out along with the others."
Amid such changes, some are also worried about the possible scaling down of smartphone production capacities. Vietnam currently accounts for just over 200 million units and China for just over 100 million as part of a combined five-country total of roughly 500 million units. But many expect this number to be cut back to approximately 300 million in the future.
However, companies involved in completed-product manufacturing processes are not the only ones facing an impending crisis: Samsung's rapid growth in recent years was possible thanks to in-house production of display units, semiconductors, and other key parts--in short, vertical integration--but even this system has shown signs of coming apart at the seams.
Unexpected boom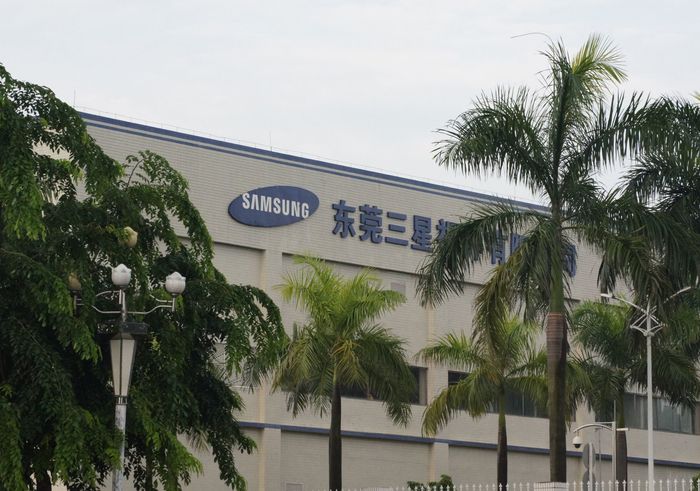 Meanwhile, Samsung's display unit plant in Houjie, Dongguan, Guangdong Province, is seeing an unexpected boom. Temporary work agency representatives have been recruiting outside the plant's front gates, their latest target being 500 new workers for a 10% personnel increase. The plant's production lines are currently operating at full capacity, churning out small and midsize OLED displays.
It appears that Samsung has successfully expanded the sales of OLED displays to competing manufacturers in China in order to compensate for the drastic decline in demand for their products--such sales to outside companies are not at all rare in the display industry.
However, upon examination of the company's overall strategy, which led to past successes through vertical integration, this approach represents a double-edged sword of sorts that may hinder future attempts by Samsung to differentiate their smartphones from those of their competitors.
The article originally appeared in the August 29th issue of The Weekly Toyo Keizai.