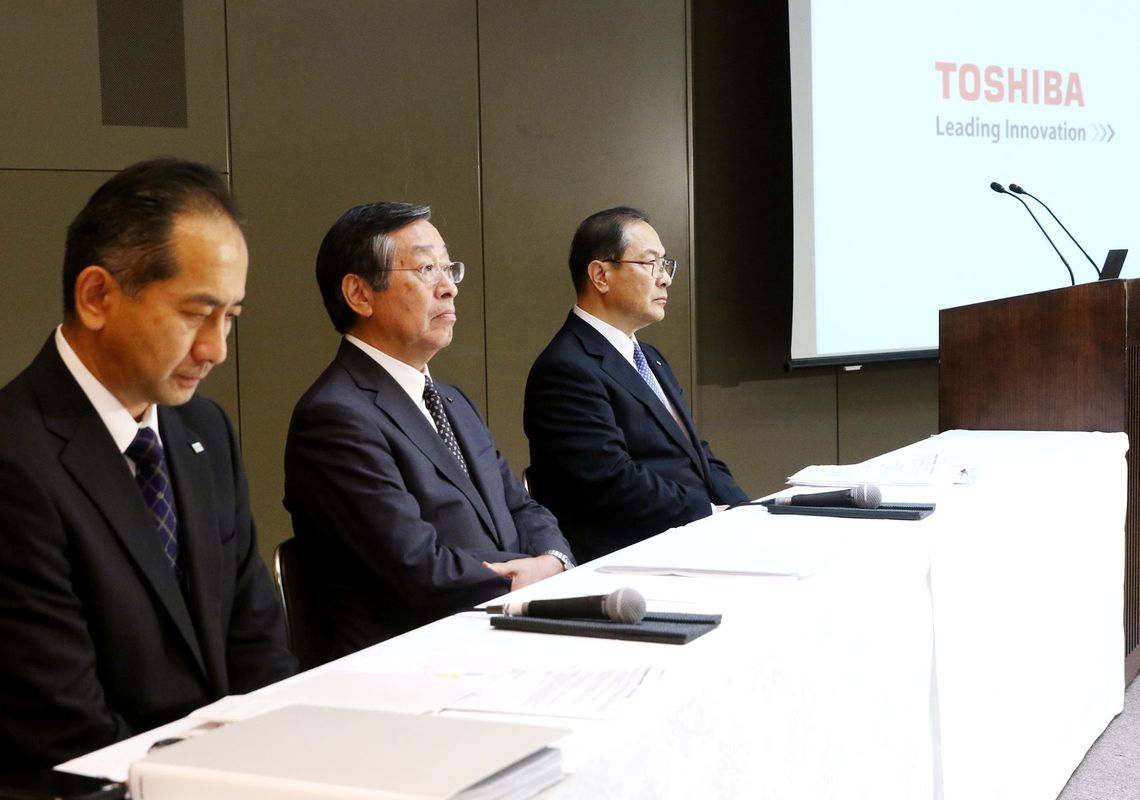 It was only about a month ago when Toshiba announced the resignation of the incumbent president, his two predecessors, and six other board members in response to the series of accounting irregularities that became public.
Any sensible person who heard this announcement would obviously think that these high-ranking officers have all stepped down to take responsibility for the financial wrongdoing they could not prevent while they were in office, and that they would naturally leave the organization as soon as they settle their remaining duties.
Such common sense, however, does not seem to apply to this leading consumer electronics and engineering firm in Japan. They are letting one of them to stay in office.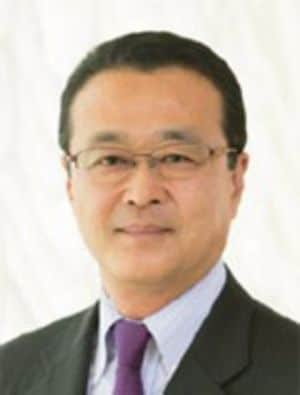 As of August 1, Kiyoshi Kobayashi who just resigned from the post as Senior Vice President and Representative Executive Officer assumed a new title "Adviser" in charge of semiconductor business.  He continues to work on the 31st floor of the head office building where Memory Division is located, using the same room he had been occupying during his days as the VP.
Who knows about it?
Not many people in the company are aware about this personnel transfer, let alone the majority of the shareholders and the general public.
The company's executives at least seem to have the nerve to keep it a hush-hush matter, fearing that their decision would be harshly criticized by the public and also have an adverse effect on the entire workforce of which many are already demotivated by the scandal that stained their corporate image immensely.
In an attempt to rationalize this internal decision, a spokesperson representing the public relations office of Toshiba explains that they have determined that "Mr. Kobayashi's profound technical knowledge and rich experience in sales operations are essential assets for our semiconductor business. Considering the high probability that he would be headhunted by our competitors, we decided that it was a wise move for us to keep him on our payroll."
As the Senior Vice President, Kobayashi was in charge of supervising the Electronics Devices and Components Segment. Now, his primary role as an advisor is to help draw up the future strategy for the group's semiconductor business that would include finding external partners to expand the business and restructuring the internal organization.
According to the public relations office, Kobayashi's term as the advisor to the semiconductor division has been set to one year.
But if major investments in plant and equipment and/or long-term technological development projects start rolling out within the next twelve months, it would not be easy to find an advisor as appropriate as him right away.
It is therefore highly foreseeable that the company may well extend Kobayashi's term until they feel certain that these projects can get on track and remain so without him.
Toshiba is expected to mark 6.66 trillion yen in sales and 17 billion yen in operating profit in the consolidated financial statements for its previous fiscal year ending March 2015.
Among the total sales, Electronics Devices and Components Segment has contributed to raising 214 billion yen through the sales of NAND flash memory and other storage devices handled by Semiconductor and Storage Products Company under this group, which has grown into one of the most prosperous business arms of this conglomerate under the leadership of the then-Vice President Kobayashi.
When Kobayashi stepped down from the position of VP, an analyst who highly evaluates his strong leadership sighed and left a comment saying "losing Kobayashi will put Toshiba's semiconductor business at stake."
As a matter of fact, there are many others who are knowledgeable about this industry that resonate with this comment, including a former Toshiba executive who admitted that "he had the power to convince (the then-) President Norio Sasaki known as a hard-liner in cost management to continue investing in Yokkaichi plant dedicated to manufacturing semiconductors and storage products."
Kobayashi actually was considered one of the strongest candidates to succeed Sasaki as the next head of Toshiba, together with former vice-president Hideo Kitamura who represented the power system camp. But both lost against Hisao Tanaka in this presidential race and took a backseat as VP. 
"Crazy Kiyoshi"
After joining Toshiba in 1980, Kobayashi devoted most of his career in the development and expansion of NAND flash memory business, and continued to strengthen this business to make it the most profitable division in the company after he became the president of Semiconductor and Storage Products Company in 2010.
Known as an outspoken leader who was sometimes referred to as "Crazy Kiyoshi" internally, he even has an anecdote of being a fierce boss who used to keep his teams alert by threatening that he would "dissolve" any departments if they continued to underperform.
There are many who acknowledge his superior ability to drive the business growth by far-seeing the accurate direction to which technology is progressing.
But perhaps his most understanding champion is Chairman Masashi Muromachi who concurrently serves now as the President and CEO of Toshiba.
Keeping Kobayashi as the advisor of this company has allegedly been a strong personal request from Muromachi, who also started out as a junior member of the memory business division just like Kobayashi.
Being an engineer-turned executive himself, Muromachi probably knows exactly what Kobayashi can do to save the mother ship from sinking.
Kobayashi's noteworthy achievement as the semiconductor business leader is best proven in the current global landscape of NAND market dominated by two giants, Toshiba and the Korean counterpart, Samsung Electronics.
His aggressive policy to constantly push the company's innovative research and development endeavors forward enabled Toshiba to advance its proprietary technology several years ahead of others and enjoy expanding its share continuously in the NAND market to where the corporation stands now.
It is true that Kobayashi's name did not appear in the report submitted from the third-party investigation panel that probed into the fraudulent accounting scandal. However, from a moral standpoint, Kobayashi rightfully cannot escape his supervisory responsibility as the VP too, since the figures on semiconductor business results were also found to have been overstated in the books.
In fact, wasn't that the very reason why he resigned as well, together with the other ex-executives?
Allowing Kobayashi to "secretly" work as an adviser is a clear indication that common sense of the general public is not common in Toshiba. It is also a premonition that the company will get nowhere near close to resurrection unless the new management shows the true courage to start fully anew by breaking away from the strange ethical norm that is only being accepted within its premises.