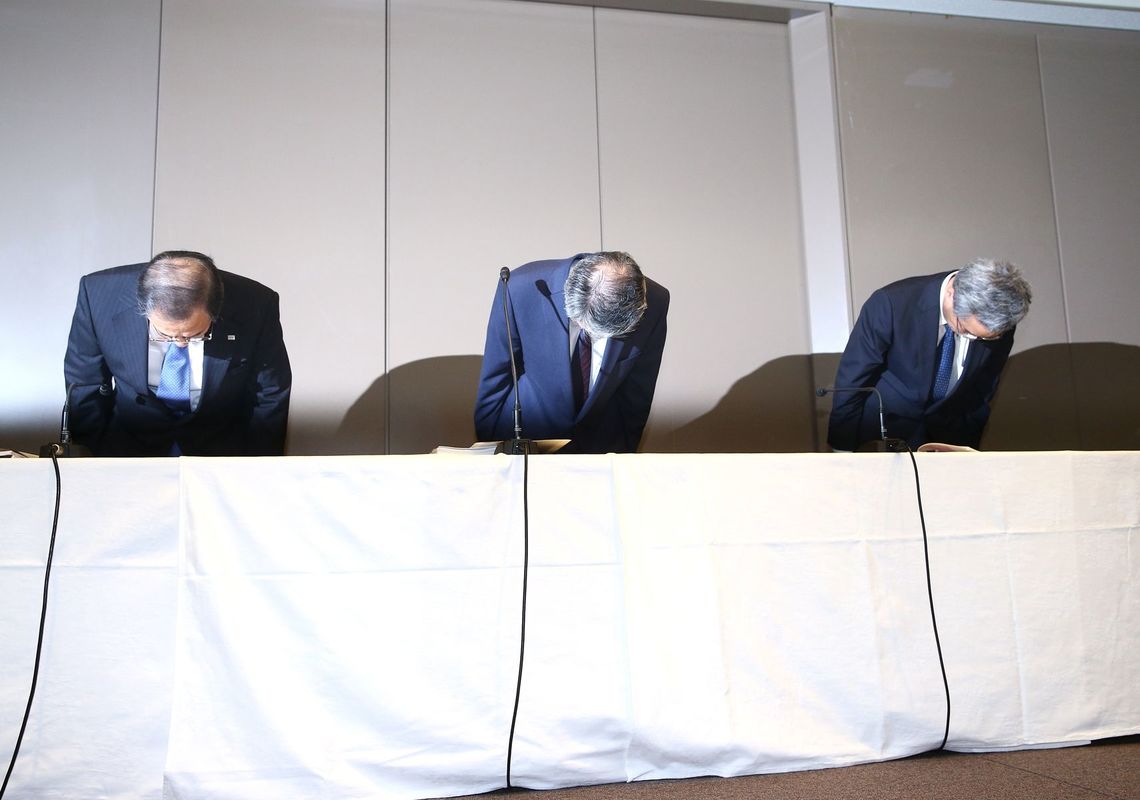 A throng of camera flashes light up in unison as former Toshiba president Hisao Tanaka, addressing the press, bows his head in apology. "It is with deep remorse that I accept responsibility for Toshiba's actions," states Tanaka solemnly, "and I offer my sincerest apologies to our shareholders and other affected parties."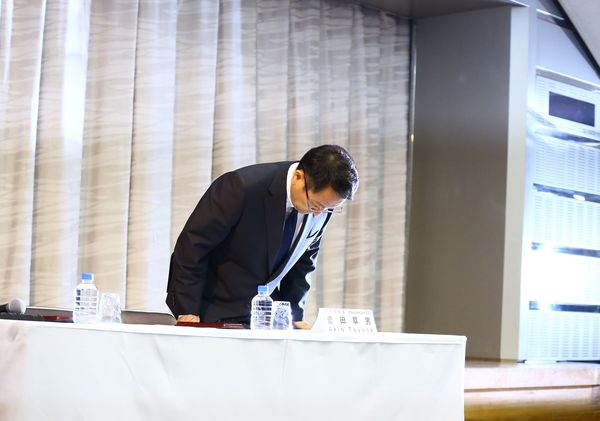 One might also recall that, about a month earlier, an American executive at Toyota Motor Corporation was arrested for bringing illegal drugs into Japan, after which Toyota President Akio Toyoda also appeared at a press conference to apologize to the public.
This scene--a top executive from a major Japanese corporation bowing his or her head in apology in front of the press--has become a familiar sight in Japan. Regardless of the circumstances leading up to and the particulars surrounding each incident, as well as the varying business-related and financial impacts, such press-conference apologies occur one after the next. They are inevitable.
Why Apologize?
According to a 2014 survey conducted by Deloitte Tohmatsu Financial Advisory LLC (DTFA), 55% of all corporations inform the public of inappropriate or illicit behavior, representing a 15 point increase compared with the same statistic three years earlier. The occurrence rate for such incidents remained steady at 25% in both surveys, suggesting a trend toward increasing disclosure of wrongdoings by the companies themselves in the event of a scandal.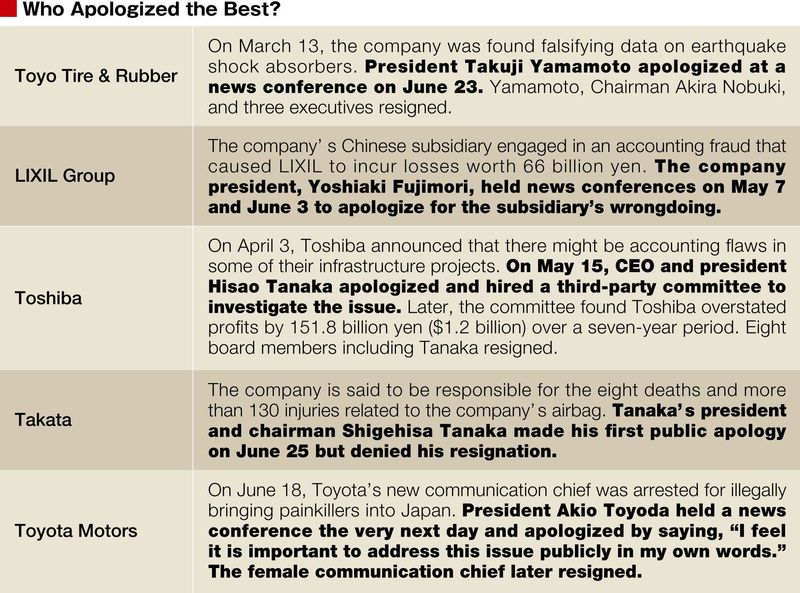 Management-related information has become increasingly digitized via e-mail and other such means, making it more likely that evidence will be reproduced or leaked if a scandal does exist. In today's world, people who have access to such information and also use social networking sites or similar services can disseminate said information throughout society with ease.
Therefore, a high cost must be paid in terms of a company's social reputation if a scandal comes to light or is reported by the media before the perpetrating organization admits to what they have done--for example, a company may be harshly criticized for trying to cover up their wrongdoings rather than informing the public, even if that was not their intent.
The obligation of top-level corporate executives to disclose such scandals to the public, explain how they came about and discuss countermeasures to be taken is equivalent to duty of care, a legal requirement of corporate directors.
A classic example of this responsibility being called into question is the "Meat Dumpling Incident" perpetrated by Duskin: Mister Donut was caught selling meat dumplings containing unauthorized additives, leading to a shareholder lawsuit (demand for reparations) against the then-active executive management team of the donut shop chain's parent company Duskin.
The Osaka High Court concluded that "regardless of awareness at Duskin regarding their violation of the Food Sanitation Law, the board of directors decided, without holding explicit discussions on the matter of disclosure, to avoid any active effort to report the incident to the public and instead leave events to take their own course.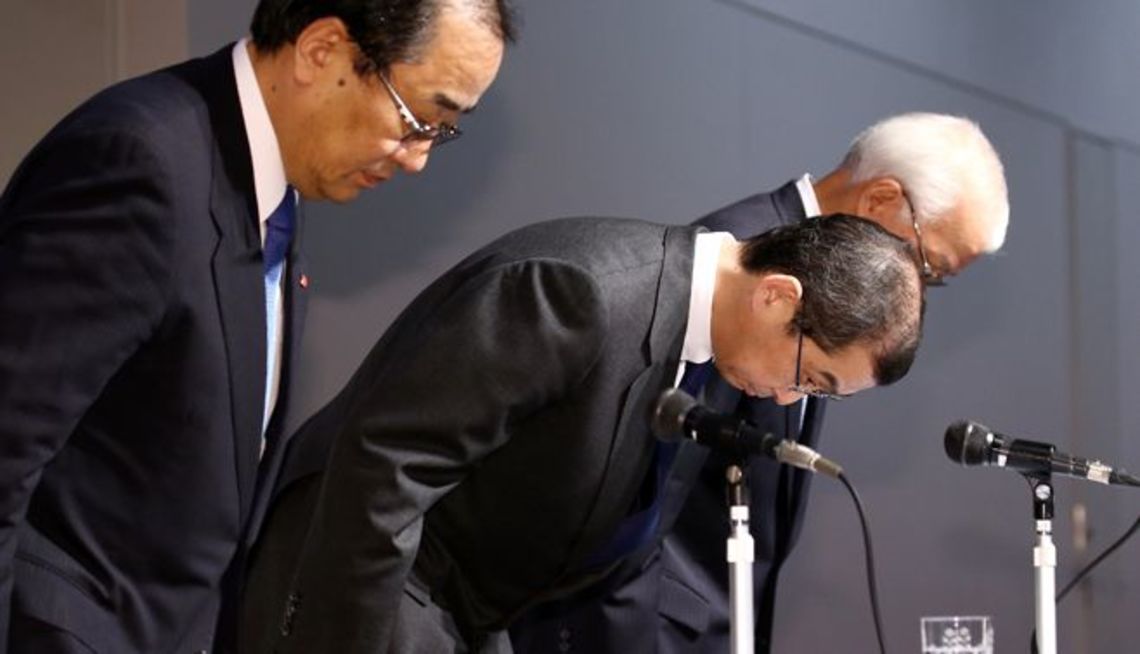 This vague and uncommitted handling of procedures and measures was, in actuality, a tacit approval of the illicit behavior." The actions of the former directors, who failed to properly exercise duty of care, were ruled as illegal, and in 2006 the court ordered multiple former directors together to pay 5.3 billion yen.
Bowing and apologizing oversimplifies the problem
In terms of corporate leaders' duty to report to the public, the press-conference apology is only the first step in the process.
Nobuo Gohara, a lawyer who is highly knowledgeable on the topic compliance issues, points out that "this type of press conference plays a major role in simplification of the underlying problems. The mere act of viewing video or photographic footage of the company president bowing in apology makes people feel like they understand who caused the problem."
It is necessary to examine problems closely in order to determine if they are serious enough to deserve an apology from top executives. Although it is a mistake to think that such executives should apologize every time a scandal occurs, if a problem is serious enough to have wide-reaching effects on consumers, this act of bowing and apologizing is, in reality, extremely effective.
A rare example from the past of a successful response to a scandal is that of Takeda Pharmaceutical Company. In February 2014, it was brought to Takeda's attention that the advertisements for their blood pressure drug Blopress featured a graph not present in the clinical research study for that drug. Yasuchika Hasegawa, CEO of Takeda at the time, reported this scandal to the public at a press conference held a relatively short five days after the initial discovery of the impropriety.
Hasegawa bowed his head and offered words of apology to the press together with the other top sales executives. Admitting that the advertisement was "inappropriate," he pointed out that the company had not adhered to the industry's self-imposed rule of citing reliable academic study results in advertisements, thus misleading the public through statistics telling them that Blopress offered a significant advantage in terms of effectiveness over competing pharmaceutical products.
Another important and effective move following the scandal was the hiring of a third-party committee to investigate the causes and clearly informing the public of this at the initial press conference. The mission of a third-party investigative committee is to pursue investigations in a neutral manner and offer a clear and trustworthy depiction of the facts; if a company selects impartial committee members with no links to the corporation or its interests, that committee can serve as an effective spokesperson to communicate what the corporation wants to say to the public.
Moreover, remedial measures proposed by this committee can serve as a significant jumping-off point for organizational reform.
The message behind an apology
Managing Director Hiroki Okimoto at DTFA, who provides corporate crisis management advice, explains that "[an apology's effectiveness] depends on who speaks at the press conference, and when and how they apologize and explain the situation. By incorporating a message into the apology while disclosing information to the public, it is possible to retain control over the crisis as a whole. This is an emergency response strategy." Such strategic awareness is growing steadily among Japanese companies.
Go Egami, currently an author and formerly an assistant manager of public relations at The Dai-Ichi Kangyo Bank (now Mizuho Bank), says that "Japanese organizations tend to be bad at learning from their mistakes. This is because when they fail, they promptly get rid of participants and related parties and try to forget their troubled past as quickly as possible. Such people not only expect those outside of the company to forget the scandal as quickly as possible, they also avoid investigating in-house factors that caused the problem in the first place. Even after the company responsible addresses and solves the relevant issues, they should have a third party continue with investigations, and the company should be monitored to ensure that proper measures to prevent reoccurrence are actually being pursued."
Every company experiences a scandal at some point in their history, but "companies that face their problems head-on will become stronger than before through the process of getting back on their feet," says Shuri Fukunaga, the market leader for a major PR firm Burson-Marsteller Japan. In order to overcome the inevitable emergency situations that every company eventually encounters, a strategic approach is vital, even when it concerns a single apology.