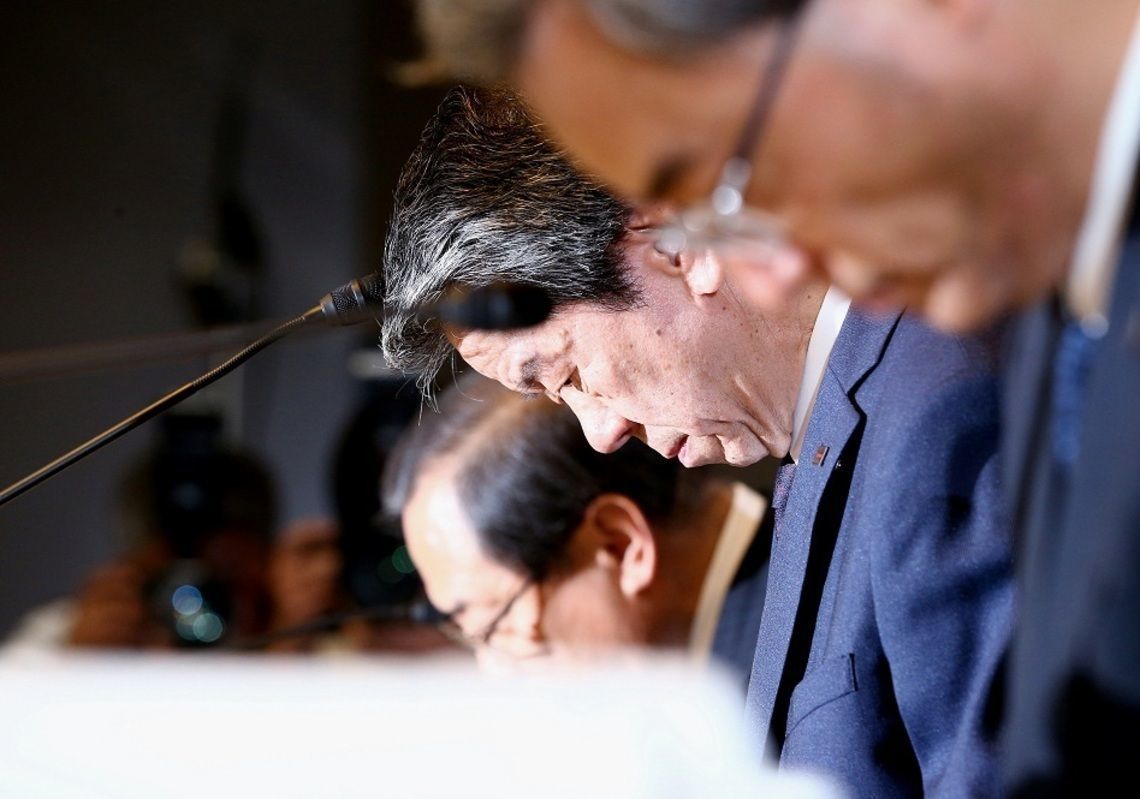 Hostility among Toshiba's top executives was one cause of the recent corporate scandal revolving around inappropriate accounting practices--a scandal that led to the resignation of three successive generations of company presidents and six additional board members.
These included former presidents Atsutoshi Nishida and Norio Sasaki, a pair whose feud came to surface at the press conference in 2013 to announce Nishida's replacement as president by Sasaki.
Nishida (chairman at the time) criticized Sasaki's reign at Toshiba, claiming that the former's "cutting of fixed costs was causing the continual plummeting of sales," in response to which Sasaki shot back "we're meeting our target figures, so you have no reason to complain."
However, it was Nishida himself who recommended Sasaki as his successor. Before the 2009 presidential change, Nishida was confident enough in his choice to tell others around him that "Sasaki's the only one for the jo--with him in charge, everything will be fine." But a mere year after Sasaki became president, Nishida stated regretfully before his adviser Taizo Nishimuro that "my judgment was completely off."
Sasaki is a seasoned expert in the nuclear power field. When Toshiba invested approximately 630 billion yen in 2006 for the large-scale buyout of American nuclear power juggernaut Westinghouse Electric Company, Sasaki gave then-president Nishida his full support in all practical areas of business operations, and it was likely these devoted efforts that won Nishida over.
Sasaki's change
After Sasaki took charge of the company, however, he turned out to be a bitterly strict and demanding leader. "I was called into his office constantly throughout the day," recalls one Toshiba director who worked under Sasaki, "which made it impossible to get any work done."
If it appeared that a budget was not going to be met, Sasaki would demand explanations again and again. Directors, who at times seemed on the verge of mental breakdown, started running to Nishida for help when they couldn't take it anymore.
Sasaki became president in June 2009. Due in large part to the economic downturn brought about by the Lehman Brothers bankruptcy, Toshiba sustained a painful 343.5 billion yen net loss compared with the preceding fiscal year, and Sasaki was surely under great pressure as the company descended into a state of fiscal emergency.
According to a Toshiba executive, "Sasaki was unmarried and owned a cat, and his need to care for this cat was the reason he gave for refusing to go on overseas business trips," painting a picture of a company president whose performance was almost certainly dissatisfactory in Nishida's eyes.
Nishida's career history was, in fact, quite different from that of Sasaki's. The former transferred to Toshiba from an Iranian corporation and went on to distinguish himself in the overseas computer business: harnessing his natural talent for language as well as his internationally oriented mindset, Nishida helped expand the market for the company's first laptop computer, the dynabook.
With the utmost care and consideration, "he sent bouquets to the wives of European store managers on their birthdays as well as wine to Nishimuro and his other superiors at Toshiba," recounts a former Toshiba director.
After becoming president in 2005, Nishida focused his efforts on the two fields of nuclear power and semiconductors. He enacted bold management reforms one after the next, making so many sweeping changes that people began to whisper among themselves that "it doesn't pay to make an enemy of Nishida."
Nishida, a man praised highly by managerial staff throughout the company, chose to install Sasaki, whose personally differed greatly from his own, as his presidential successor; however, Sasaki's performance did not live up to other Toshiba executives' expectations. In addition, Sasaki's pride regarding his successful v-shaped turnaround following the crippling losses brought about by the Lehman collapse likely strengthened opposition against Nishida further.
Demanding leaders
The latest report put out by the independent investigation committee points out that the uncompromising demand to meet high profitability improvement targets under both presidents pushed Toshiba employees toward inappropriate accounting practices in the form of overstated profits.
Despite the differing management styles of Nishida and Sasaki, both leaders placed great pressure on their employees, which pushed them toward irresponsible and reckless action.
Sasaki recommended one director as his successor for the presidential changeover in 2013. Regardless, the nominating committee comprising Nishida and two outside directors selected someone else entirely: Hisao Tanaka, who was experienced with procurement operations in computers and other fields.
Nishida remained chairman, explaining that "I told by those around me that they wanted me to stay on in my current position," while Sasaki became Toshiba's first vice chairman since the company's initial listing on the stock exchange. The result: an unprecedented corporate hierarchy featuring three former presidents at the top--four when the advisory seat is included--in a position above that of the active president.
Tanaka emphasized that "I am managing the company in a free and unrestrained manner" and "nothing is impeding me from doing my job," but before the accounting scandal came to light, Nishimuro stated that "although people consult with me, the actual numbers are discussed with Nishida." In reality, it's hard to know just what those discussions with Nishida entailed.
Toshiba's accounting improprieties have resulted in the simultaneous resignation of three successive generations of company presidents. Tanaka faced the public with sunken cheeks and an exhausted demeanor at his press conference, whereas both Sasaki and Nishida stayed behind the scenes, ultimately leaving Toshiba without showing their faces following the scandal.