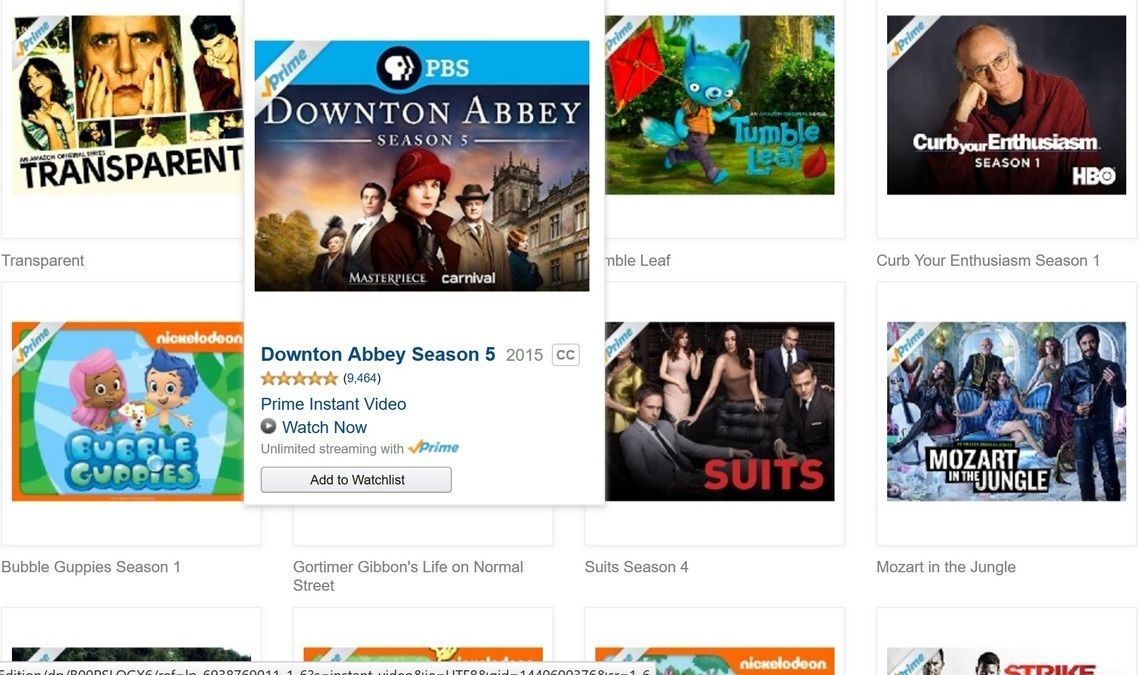 September sees Amazon adding a snappy new service for subscribers to its 3,900-yen-per-year Prime plan. Prime Video, available in the United States since February 2011(in the U.S. the service is called Prime Instant Video) and subsequently expanded to European countries such as the United Kingdom, will count Japan as its fifth market.
The number of available titles remains undisclosed, yet it's estimated in the several thousands, with 18,408 (16,598 films and 1,809 TV titles) in the United States. Original content courtesy of Amazon will be available as well as that from external sources.
This new feature is free for Prime customers, who can access it from a variety of devices including laptops, iPhones and Android devices.
More for the prime service customers
Amazon Japan president Jasper Cheung said that besides giving existing Prime subscribers the pleasure of enjoying streaming films and TV programs, Amazon seeks to attract the sort of person who "isn't into shopping but likes videos."
"Savings on delivery already makes Amazon a great deal. We want to up that sense of good value even more. Prime Day (a sale restricted to Prime members) was part of that, and Prime Video will be too. We'll keep adding new services."
In June 2014, Amazon launched Prime Music. Subscribers can listen to as much music as they like from a catalog of over a million tunes. As potential services go, this is surely a strong candidate.
"Many people can enjoy a wide range of content on Prime Video," explained Tim Leslie, vice president of Amazon Digital Video International at its U.S. headquarters. He declined to give figures but pointed out that this range is what Amazon most values and that they won't compromise on that.
However, "wide-ranging" does not include adult content. Its target is a family audience.
But wouldn't unlimited viewing on Prime Video adversely affect the sales of their rental and BD (Blu-ray Disc)/DVD line?
Leslie said the benefits outweigh the disadvantages. "This is especially true of Prime Video which makes it easy for customers to stream content." He added that the more people know about this service, the better it is for the content provider.
Major clash with Netflix
Meanwhile, with such an affordable streaming service from Amazon, providers charging monthly rates for subscribers on contract will most likely receive a huge dent, specifically NTV's Hulu and Netflix, which are slated for arrival in Japan on September 2.
Netflix is a dominant player in the video streaming industry. Recent Nielsen ratings showed that Netflix takes up to 36 percent of household subscriptions, Amazon 13 percent and Hulu Plus only 6.5 percent. It would seem that in Japan, Netflix would be in a pole position too.
Yet conditions differ between the United States and Japan. American subscribers to Amazon Prime pay $99 annually (about thrice that of Japan), so it comes to about $8.25 a month. The cheapest plan on Netflix is $8.99 per month--roughly the same as Amazon.
By contrast, the monthly fee for a Japanese subscriber to Amazon Prime comes to 325 yen. The cheapest Netflix subscription in Japan at 650 yen per month is far more expensive. Hulu is even harder on the wallet at 933 yen per month.
Although we can't generalize without comparing their content. Still, you can't escape the fact that Amazon's prices are conspicuously low. Amazon now has a powerful new weapon in Japan.