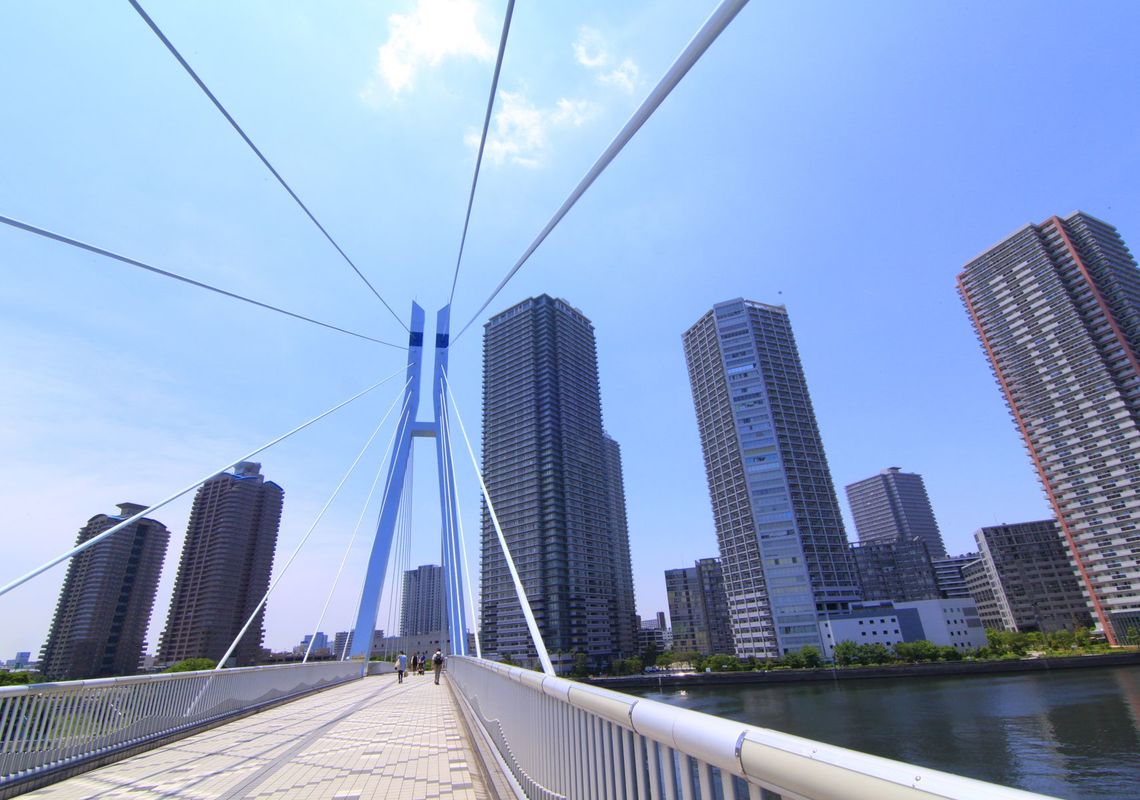 With the 2020 Tokyo Olympics close at hand, the prices of high-rise condominiums in the Tokyo Bay Area are seeing a steady increase.
"We estimate that, due to demand, the price of one unit will rise 2 to 3 million yen by Golden Week (April 29 toMay 7 this year)," an agent selling units in the high-rise condominium tower Deux Tours (1,450 units) in Harumi said in mid-April. The unit shown to the media is a 70.70-square-meter southwest unit that is selling for 81.8 million yen, but according to the agent, this figure could go up.
There is also a rush to construct new condominiums. In the area from Kachidoki to Harumi and Hoshu, there are about 10 buildings, each having over 500 units, to be built in the next five years.
More condos for sale

In addition to Deux Tours from Sumitomo Realty and Development, other main properties currently for sale include units in the Parkhouse Harumi Towers Tiaro Residence from Mitsubishi Real Estate (861 units) and the Tower from Mitsui Real Estate, Nomura Real Estate, and Mitsubishi Real Estate (1,420 units).
In June, units in Park Homes Hoshu the Residence (693 units) from Mitsui will go on sale, followed by units in Park Tower Harumi (1,084 units), also from Mitsui, in October. After 2020, three buildings, with a total of 3,000 units, will be built in Tochi-ku, Kachidoki, and the site of the Olympic Village is expected to be turned into high-rise condominiums after the Olympics.
The popularity of the bay area condominiums fell sharply after the great east Japan earthquake in 2001. However, the sale of a number units of Nomura's Proud Tower Shinonome Canal Court, which is equipped with liquefaction measures and disaster prevention facilities, was quite favorable because Nomura took some time to explain to customers the safety measures.
After a recipe for giving buyers peace of mind was found, other major developers announced their plans to build condominiums. After Tokyo's successful bid for the Olympics in the fall of 2013, developers started to show a bullish stance, even on prices.
The past several months, Deux Tours has become the leader in the price drive for high-rise condominiums in the bay area. The site is around nine minutes away by foot from the Kachidoki Station on the Toei Oedo Line. From a Japanese point of view, this is not near enough, so Sumitomo Realty offers to residents an exclusive shuttle bus service running to and from the JR Shimbashi Station. Also, the condominium is equipped with a sauna-equipped spa, a bar, and a ten-meter-high ceiling in the entrance hall.
The popularity of Deux Tours is causing the prices of the nearby high-rise condominiums to go up. Units in the second building of the Park House Harumi Towers, Tiero Residence, are currently on sale at an average price just short of 3 million yen per 3.31 square meters, which is almost 10% higher than the price of units in the first building, Chrono Residence, whose construction was finished in 2013.
Foreign investors are rushing in
Despite the fact that the area is twelve minutes away on foot, a sales agent who is selling units for the neighboring Park Tower Harumi is confident that they can sell these properties at 3 million yen per 3.31 square meters.
The main buyers of these bay area condominiums are families with annual salaries exceeding 10 million yen per year. Thanks to the price hike, the core price range has increased to 65 to 70 million yen per unit. Compared with the most luxurious family-type condominiums in the heart of the city, such as those in Minato-ku, whose prices easily exceed 100 million yen, the bay area condominiums are still very affordable.
In addition to such high demand for condominiums, investments from wealthy foreigners are also rising. Asian investors from Taiwan, Hong Kong, and Singapore especially are actively buying properties in the area. Many of them pay in cash, while some others buy two or three units all at once.
Major developers, however, are currently limiting foreign investors' purchase to just 20% to 30% of the total number of units. Conversely, there are sporadic cases of high-price positioning for foreign investors for upper-level units, according to a real estate expert. This price positioning might be too expensive for Japanese buyers, but there are many foreign investors who still buy at higher prices because they are able to take advantage of the cheap yen.