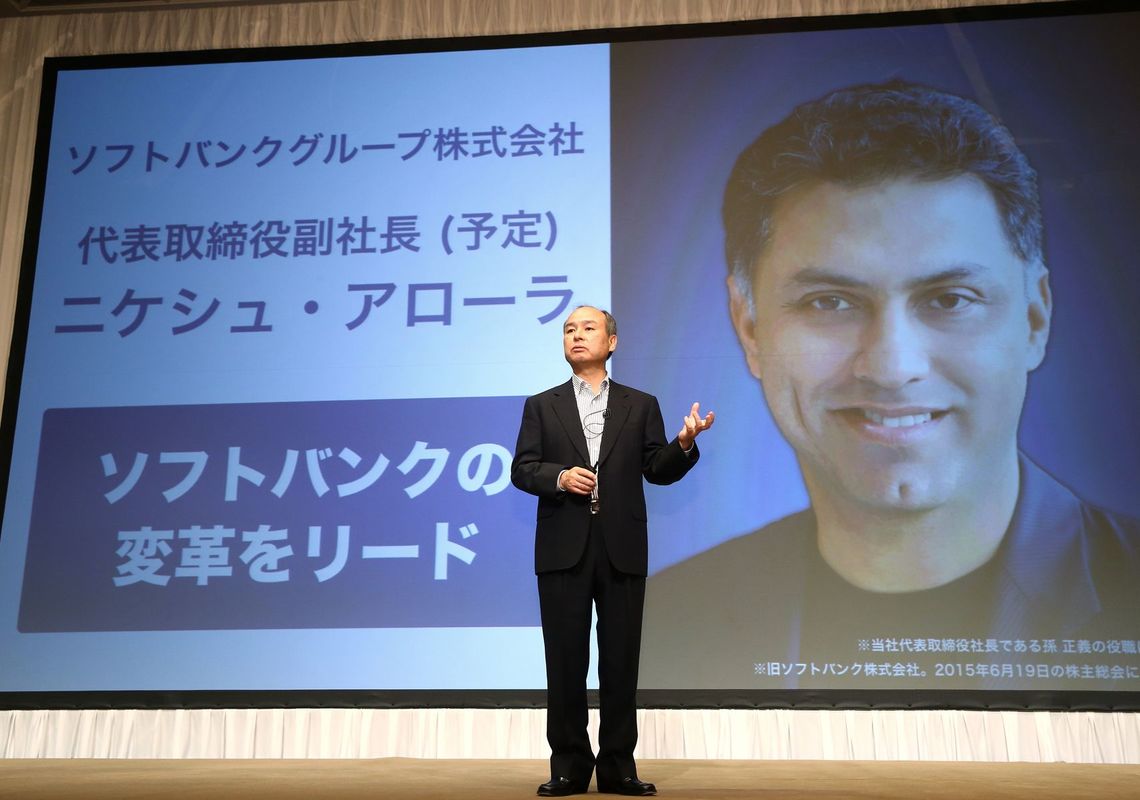 "If you're asking if I'm actually naming my successor, the answer is 'yes'"
On May 11, SoftBank announced its fisacl 2015 results. There, Mr. Masayoshi Son, president of SoftBank, gave a clear answer when asked about the status of Nikesh Arora, who plans to become president and representative director at the June stockholders' meeting.
Mr. Arora, 47 years old, hails from India. As the No. 2 man at Google, he was responsible for a substantial part of Google's business management, but he joined SoftBank in July 2014. He has been at the firm for less than a year.
Becoming 200-trillion-yen company
Son's choice of successor comes as a surprise to some. His selection, however, is the result of a reverse-engineered plan to achieve Mr. Son's stated goal for SoftBank of "becoming one of the world's top 10 firms in 30 years, with a market value off 200 trillion yen."

Caesar may have built the Pax Romana, but when it was revealed that his will had named the 18-year-old Octavianus to succeed him, many greeted the revelation with shock. Antonius, who had believed himself to be Caesar's successor, was lost for words and could only ask, "Why?".
Octavianus used his prodigious genius to bring Caesar's dream (the Pax Romana) to completion and proved Caesar's assessment of the 18-year-old's qualifications correct. In my own book about my experience as the executive secretary of SoftBank, I wrote, "Just like the Roman Empire, SoftBank is facing challenges in its global expansion—namely, who will succeed Mr. Son as president." Now, Mr. Arora, SoftBank's own Octavianus, has been declared Mr. Son's successor.
In 2010, SoftBank Academia, established to cultivate a successor for Mr. Son, set down the defining qualification for Mr. Son's heir: "the ability to quintuple the company's market value in 10 years."
At the time, SoftBank's was worth about 3 trillion yen. In order to quintuple that to 15 trillion yen, it would be necessary to surpass the net worth of Toyota, then Japan's top corporation at 13 trillion yen net worth.
No Japanese can take over Son's role
Afterward, however, SoftBank's market value grew to 9 trillion yen, and so the bar was raised to 45 trillion yen. That would mean surpassing the market value of Google, the world's third-largest firm at 44 trillion yen—SoftBank's goal, I wrote in the book, had already evolved.
Mr. Arora has direct experience in managing a 44-trillion-yen enterprise from his days at Google. Unfortunately, there is no one from Japan who has experience managing a company of this scope.
Many people say "I am going to be working hard, so I want you to keep an eye on what the future holds." However, from a logical standpoint, we can only take a look at one's past experience—the path he or she has taken to this point.
Mr. Son once told me "During the IT bubble, I surpassed Bill Gates to become the number one in the world. It was just for three days, but still. Once you've accomplished that, though, you get the feeling that it can happen again!"
Coming from Mr. Arora and his experience in running a 44-trillion-yen company, the bluster about becoming a "45-trillion-yen company in 10 years" seems within the company's grasp.
To be contined to Part 2