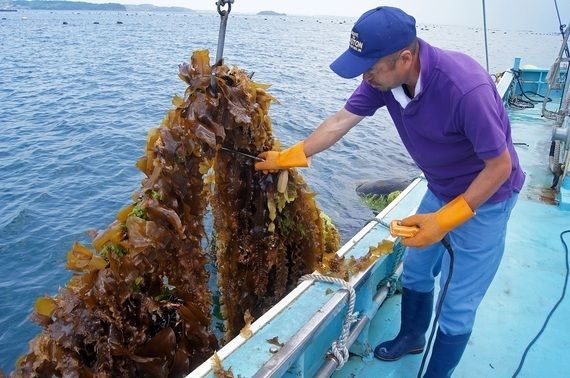 The 2011 Tohoku Earthquake and Tsunami left marine culture farmers with unprecedented damage. Yukimasa Saijo is one of them. He tends wakame seaweed at a scenic bay in Ishinomaki City, Miyagi Prefecture.
Though his home on a hill escaped the tsunami, much of his fishing supplies and machines for curing wakame were lost. With his clientele gone, the sales have plummeted to just 20 percent of what they were before the catastrophe.
"Still, I had no intention to quit marine culture," says Saijo. However, his biggest concern was lack of labor. Prior to the earthquake, he had full-time employees plus part-time helpers during the harvest season. But many of them moved away to the inland after the tsunami.
"Just me, my son and my mother stayed behind. We were barely surviving by hiring high school students in spring break," recalls Saijo. Then, Takao Yamamoto of Peace Boat Disaster Relief Volunteer Center, a volunteer organization operating in Ishinomaki, offered help.
Matching Fishermen and Volunteers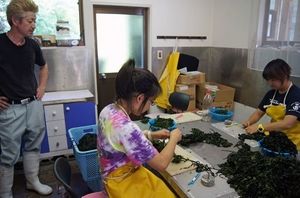 "I started `Ima Koko (Now Here) Project' to help fishermen rebuild their lives," said Yamamoto. "I ask fishermen if they would be interested in joining us." Yamamoto's group matches fishermen in need of helping hands and volunteers as their aides to promote the recovery of fishing industry and rebuilding of lives. Saijo heard Yamamoto's explanation, and thought the idea was worth trying. He decided to accept volunteers himself.
Upon agreement, Peace Boat collects 3,000 yen ($25) from a volunteer as a participation fee and asks a fisherman to pay 5,000 yen ($42) as well. Some at the Center argued that a fee, even a small one, should not be charged to fishermen affected by the tragedy. Still, in order to keep the project's discipline "that's the line I can't give up," Yamamoto says.
"Ima Koko Project" basically accepts requests from fishermen for a 6-day work period. Volunteers are 18 to 45 years old, and they stay at fishermen's homes or area meeting halls and work hard 7-hours-a-day. On this day, two female volunteers were helping remove the tough stalks from the seaweed at Saijo's workplace.
Before the earthquake, the elderly and students from foreign countries were taking care of that task. Opinions were divided within the volunteer organizations about volunteers becoming their substitute. However, Peace Boat determined volunteer power was needed to help the industry recover. They embarked on the long-term support activity spanning over several years.
"I would like people to join us who are interested in the life in a fishing village and in the fishing industry. I hope to not only offer aid to fishermen, but also to trigger changes in the area by bringing human resource from outside," Yamamoto explains.
Being Open as Possible to local fishermen
Satowa Kinoshita attends a university in the UK. She took advantage of her vacation and joined the Center. "I learned how labor-intensive the fishing industry through my experience here," she said.
Yuka Shimabayashi, was on her tenth day in Ima Koko Project.
Since September 3, she has also started to help run Mr. Seiko's restaurant, "Seiko Shocked," which is located in the tourist area in Onagawa. She cooks the restaurant's specialty: fresh seafood ramen.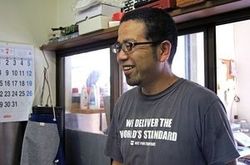 Yamamoto said, "In supporting local marine culture, I often need to be aware of how people in the area are eyeing our activities."Since there is a limit to the number of volunteers, they cannot respond to all the fishermen's needs. Yamamoto makes creative efforts to cut down misunderstanding of favoring only few fishermen.
"We have our meeting in villages to explain our purpose and ask for fishermen to join our project as openly as possible." Presently, Peace Boat sends volunteers to thirty-eight locations in ten districts in Ishinomaki City.
Kei Watanabe in Minamisanriku supports marine culture workers to start up their own business. Utilizing the skills he acquired as an office worker, he teaches them how to use PC, write a project plan, and to develop merchandise.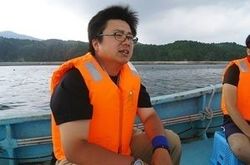 Watanabe, who had been designing and selling log houses in a company near Tokyo, was drawn into supporting Minamisanriku with an SOS from the people in the town. Watanabe had many relatives living in Minamisanriku and could not confirm their safety for a week after the earthquake. This experience triggered him to go to the affected area as a volunteer. But because of the difficulty in obtaining a month of vacation leave; he had to resign from the company.
After April 2011, he became involved in running emergency shelters. Through his activities, he met a local woman and married her. Living in a prefabricated home, he directs a voluntary organization named Lambs, which helps local residents start up their own business.
Local Women Embark on Entrepreneurship

"Cocoon Studio, Irodori" which sells hand-made crafts using local silk cocoons, and "Hottate-goya" restaurant are a few examples of many businesses that Watanabe helped local women to build. In the marine culture arena, Tamiko Abe in Minamisanriku has started "Tamiko's Ocean Pack" which has been sold online since October 2012.
Tamiko had grown wakame seaweed and other seafood with her husband, Tokuji. Prior to the quake, they only sold it during the year-end gift season on telephone orders. Now she has built her homepage, expanding her business through Facebook.
"Palsystem Ibaraki Coop's Kanazawa branch in Hitachi City has set up my life-size photo! They have agreed to carry my products there. When you are in the neighborhood, please stop by. Thanks a million, Palsystem Ibaraki."
On her Facebook post on September 20, 136 fans clicked Like.
"I had never even imagined doing such a thing before the earthquake," says Tamiko. "Through the advice I was receiving from Lambs, I learned that there was a grant for supporting people affected by the tsunami to start up a business," says Tamiko. "The tsunami took everything from me except for my husband's boat. So, I responded to the grant right away."
She learned how to use PC and hired an employee that was a requirement in the grant. In the beginning, she stocked seaweed, salmon, and sliced fish for sales.
As the local marine culture got restored, she gathered momentum with fresh seafood such as oyster, wakame, and scallop. What she recommends the most out of her product is her nutritious sun-dried wakame. Tamiko's great success is a ray of hope for her family.
Fishermen Closing Business at the Conclusion of Support
Tamiko's husband, Tokuji has been attending the marine culture revival project supported by the Fisheries Agency with 95 other fishermen. This project has provided the fund to cover most of their red ink for three years and supplied their monthly income. But that will end in December, leaving the fishermen as sole proprietors from the next year.
What they have to face then is the drastic reduction of their income. In order to avoid excess farming seen before the quake, the fisheries cooperative is scheduled to cut a large number of culturing rafts. In Tokuji's case - - he grows wakame and oysters - - the number of rafts will be reduced to mere one-third. Although the harvest per raft will likely be bigger than before the quake, Tokuji fears he may not be able to make a living.
Starting next January, no income will come in until in April and oysters will not bring in money until next October. "If I submit everything to the cooperative without processing it, I won't get much income at all. The end of the support may corner many of the fishermen to the end of fishing," Tokuji predicts.
In this circumstance, though, Abe family may be able to back up their life if "Tamiko's Ocean pack" takes off. The family also talks about a new source of income through involvement in the tourism of local marine culture, which Watanabe has planned.
The earthquake took a lot away from the affected area, but many new shoots of hope are sprouting. Until they blossom into graceful flowers, volunteers will be there assisting local people by their side.