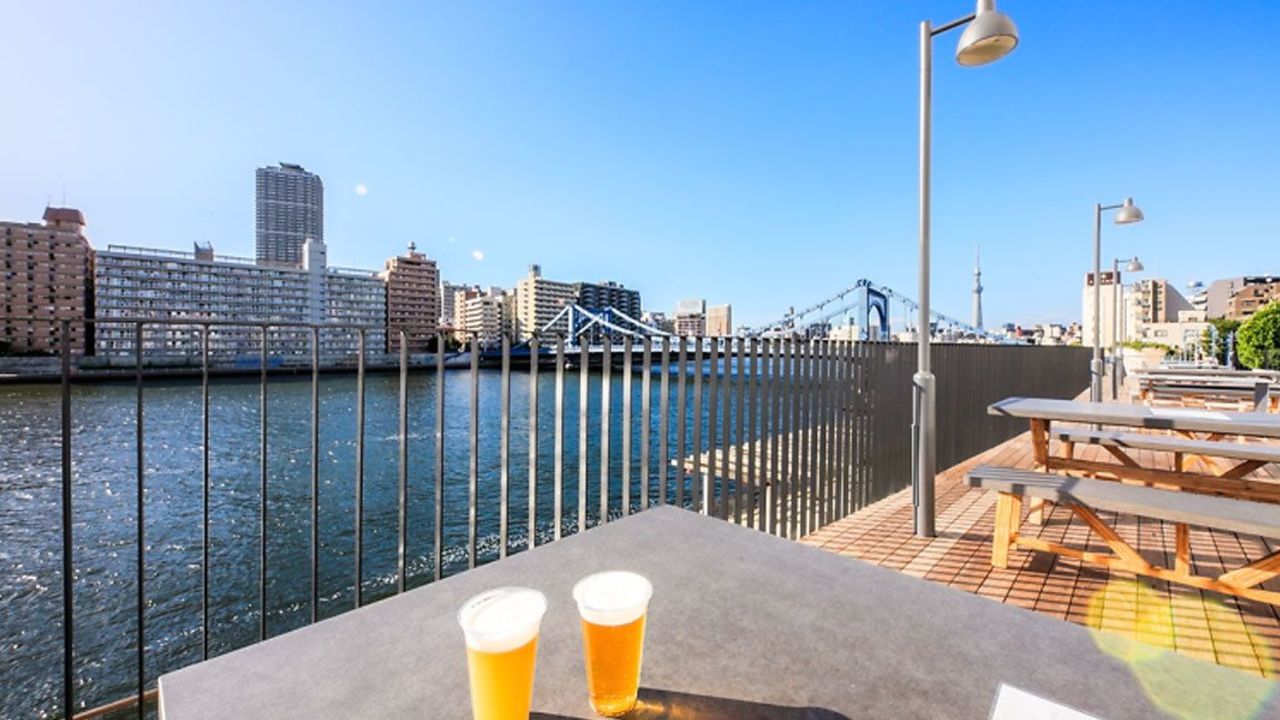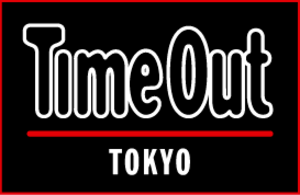 With craft beer culture flourishing throughout the country and Japanese brewers taking home prize after prize at international beer contests, there's never been a better time to acquaint yourself with domestic brews. Although excellent bottles from a wide range of breweries are readily available at specialist shops and even well-stocked supermarkets across town, artisanal beer is still best enjoyed straight from the keg. And with the summer heat already descending on Tokyo, we'd recommend heading for one of the city's now countless craft beer bars, many of which also boast excellent terraces. From the heart of Tokyo all the way out to the western wilds, these are our favourite spots for alfresco sipping this summer.
Seven great beer terraces
1.Craft & Romance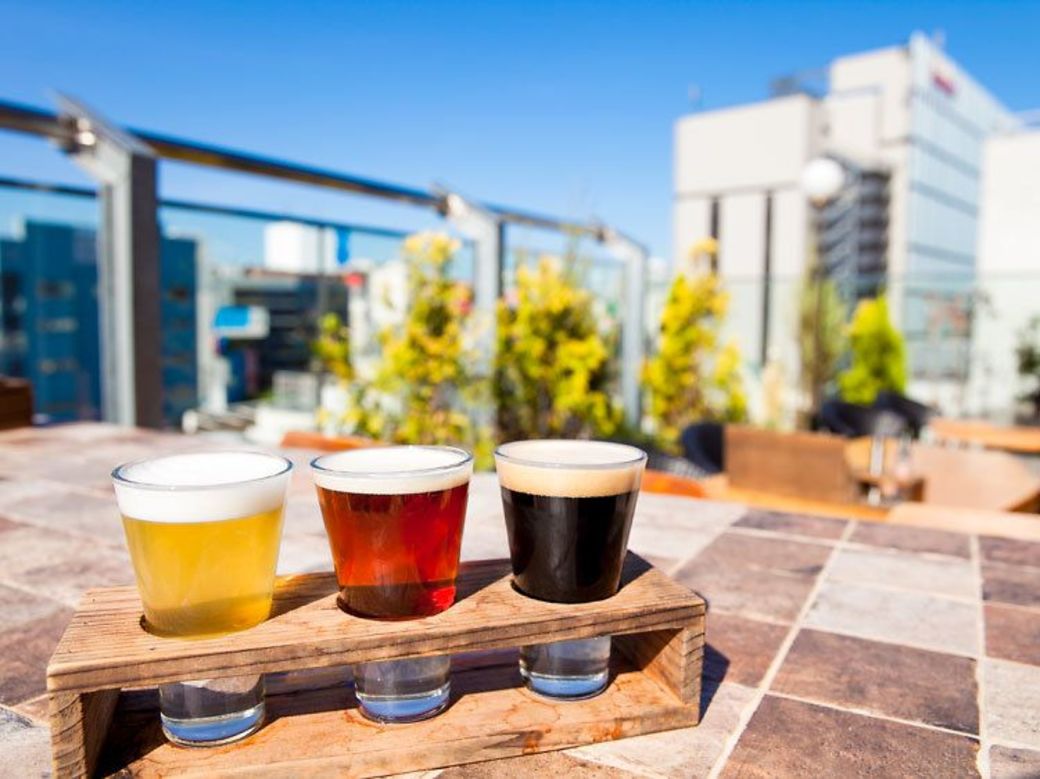 How the fortunes have changed for Kichijoji's beer-guzzlers: last year in spring, the area had no casually accessible craft brew bars, and by the end of this March, you'll be able to choose from at least four specialist watering holes offering competent selections of suds.
The biggest names among said boozers are the local branch of Craft Beer Market, opened late last summer, and Yona Yona Beer Works, but we're willing to bet that fellow newbie Craft & Romance will be giving those two more than a run for their money. Sitting pretty on the top floor of a recently completed building on the south side of the station, this handsome spot charms with an almost laughably polished interior – marble counters, really? – but gets right down to business with the brew offerings.
The whopping 30 beers (and one cider) on tap range from domestic favourites (Minoh, Aqula, Swan Lake, Shiga Kogen) to imports from California and Oregon, while our visit also saw a couple of Belgian beers and a house original brewed by Shizuoka's Baird. All beers are ¥500 for a 250ml glass and ¥800 for a US pint – almost identical to Craft Beer Market's pricing. The food menu makes for another strong showing, with the thin but amply topped pizzas particularly well worth consideration. Carnivores, meanwhile, will want to go for some horse steak tartare or the charcuterie platter.
Our first stop here saw unpolished service – misplaced orders, register trouble – but most of those wrinkles had already been ironed out the next week. If it keeps upping its game at this pace, Craft & Romance is set to challenge for Kichijoji's beer bar championship come summer. And it won't be doing battle just on the strength of its menu: chilly and dark on our March visit, the rooftop terrace out in front should see some serious use once temperatures go up.
Address: 7F, 1-5-3 Kichijoji-Minamicho, Musashino-shi
2.Craft Beer Market Jimbocho Terrace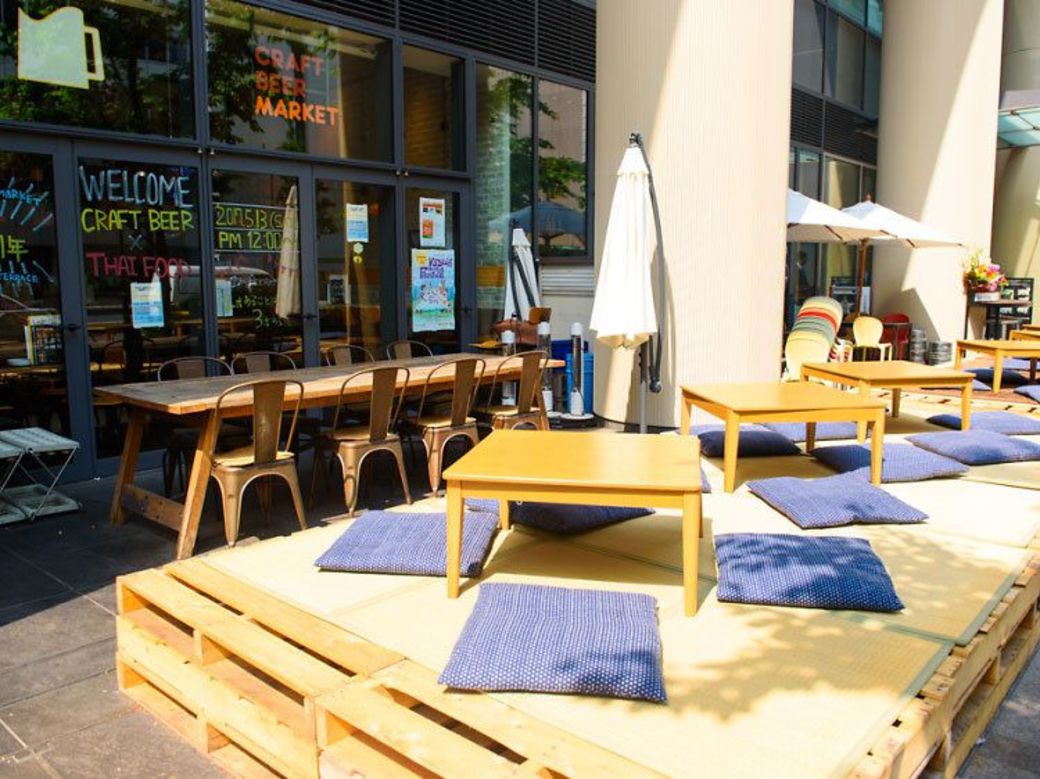 One of the many Craft Beer Markets in the city, this is the only link in the chain that boasts Japanese-style tatami seating – on a terrace, no less. The kotatsu heaters in the low tables are turned on in winter, so you can sip quality brews under the open sky year-round.
As is customary at CBT outposts, Jimbocho Terrace carries 30 kinds of beers, most of them domestic and all available for ¥480 per glass (¥780 for a US pint), while the Thai food menu is unique to this branch. If you're going with a larger group, consider opting for one of the two all-you-can-drink party menus, one with four courses and the other with ten, including pad ka-prao (Thai chicken and basil stir-fry) and shrimp toast.
Address: Terrace Square 1F, 3-22 Kanda-Nishikicho, Chiyoda-ku

3.Tokyo Beer Hall and Beer Terrace 14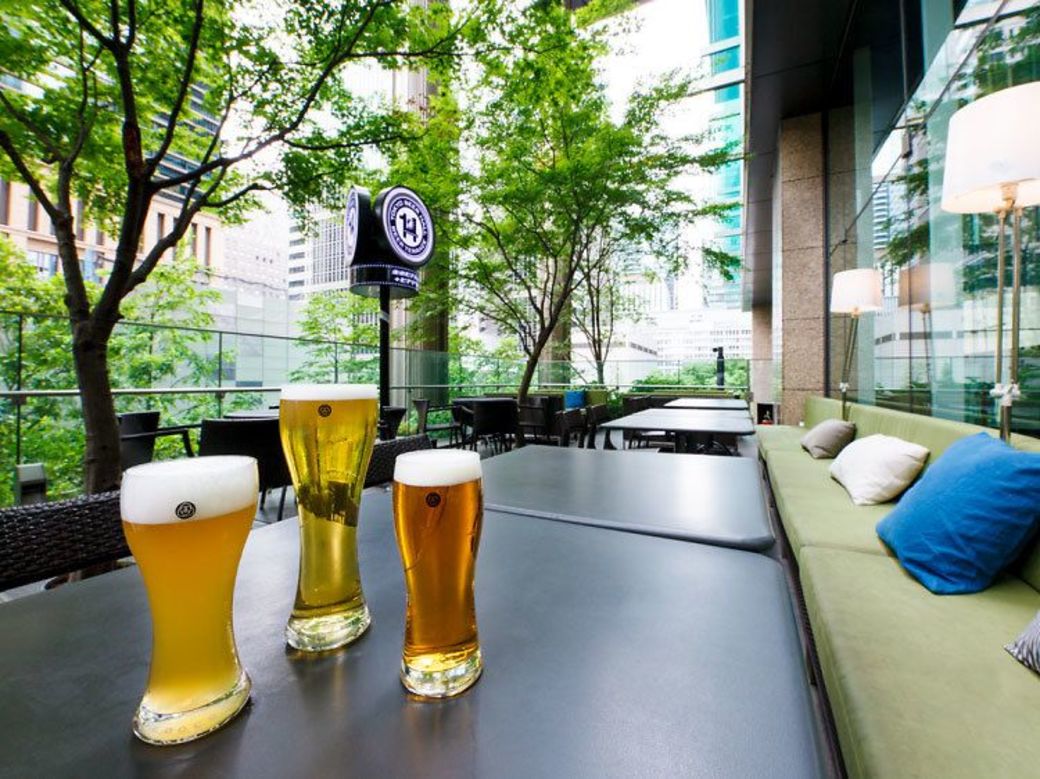 An oasis in the office tower jungle of Otemachi, this rather descriptively named eatery bathes in natural light thanks to wall-size windows and a partially glass-encased terrace. At lunchtime, all food orders include access to the salad buffet and drink bar, but it's in the evenings that 14 really shines.
Pub grub including fish and chips, pizza and lamb chops is combined with a competent lineup of beers, including every variety turned out by the Kawagoe-based Coedo brewery. Make the most of the experience on the terrace taking in the evening breeze, but note that the open-air part of the restaurant closes on rainy days. If you're unsure about its availability, best call ahead on the day.
Address: Marunouchi Eiraku Bldg 2F, 1-4-1 Marunouchi, Chiyoda-ku
4.TY Harbor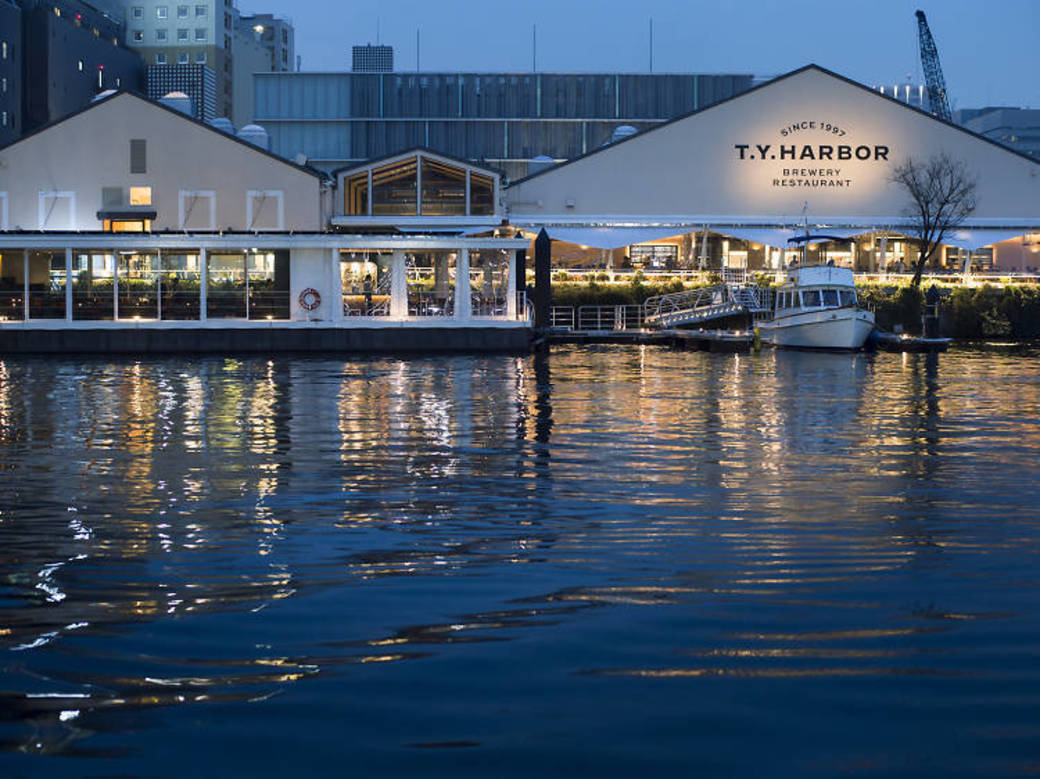 Tokyo's best brewpub produces a range of Californian-style ales and porters, and the attached restaurant serves up straightforward, very decent diner fare. The canalside location is one of the few places where you can sit outside and drink on the waterfront. TY Harbor underwent a significant facelift in March 2015, adding a bunch of seats in the upstairs area and spicing up the food menu: in addition to the familiar chilli dogs and NY-style salads, you can now snack on wagyu burgers, gourmet fried chicken and T-bone steaks.
Address: 2-1-3 Higashi-Shinagawa, Shinagawa-ku
5.Pitmans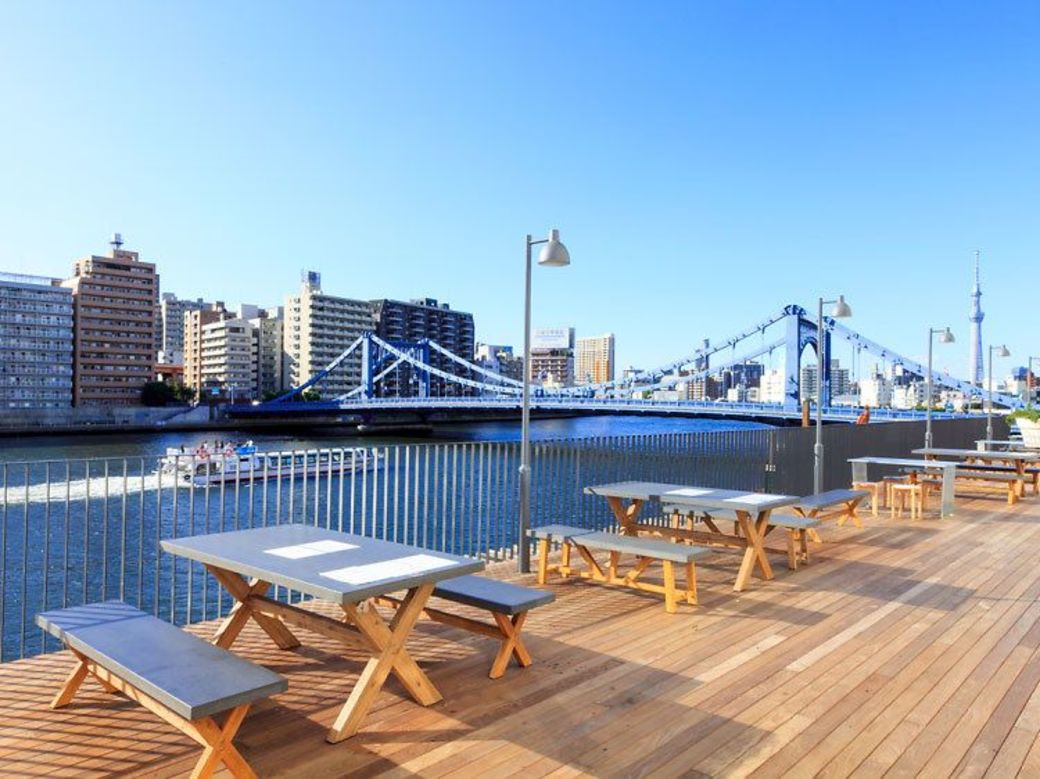 Open-air dining, riverside views and barbecue come together on the second-floor terrace of the Lyuro hotel, opened along the Sumida River in spring 2017. All employees here are self-proclaimed pitmasters (barbecue experts) – hence the name of the restaurant – who'll eagerly serve you grilled treats including pulled pork and spare ribs to go with some craft beer. The suds come in around half a dozen varieties, including a few brewed on site. There's also a laidback space next to Pitmans where you can bring your takeout eats or just sit down for a while even if you're not spending any money.
Address: 2F, 1-1-7 Kiyosumi, Koto-ku
6.Spring Valley Brewery Tokyo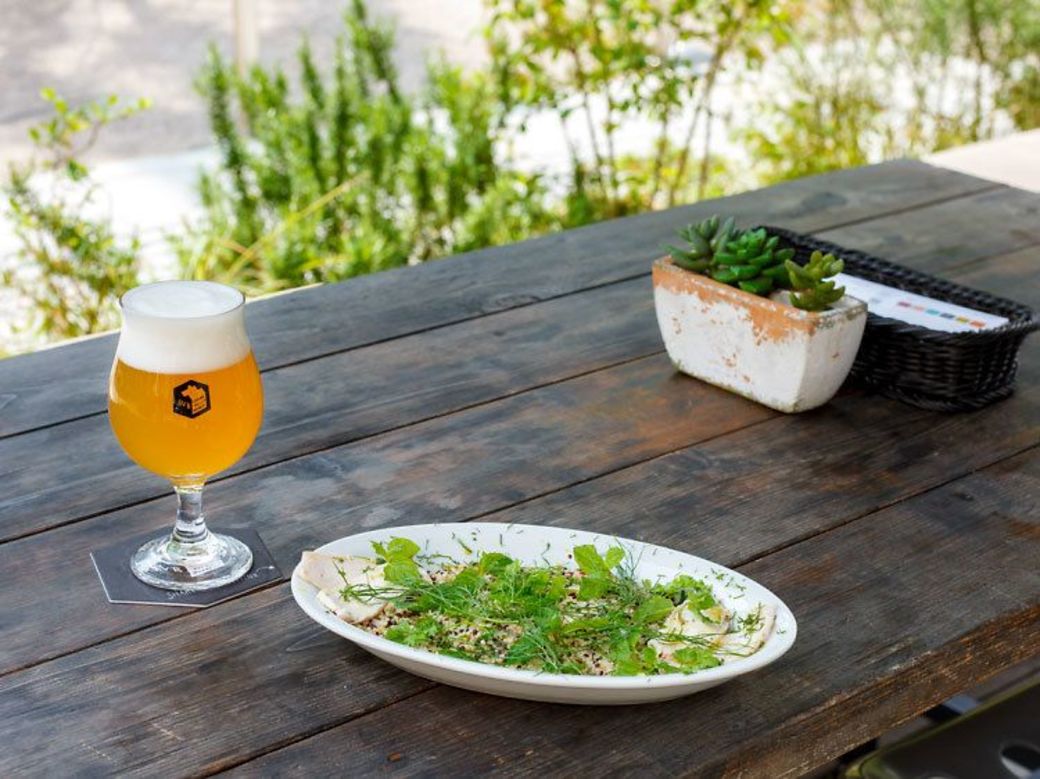 Owned by beer behemoth Kirin, this brewpub has a couple of things going for it. They strategically opened up in April 2015 as part of the much-hyped new complex Log Road Daikanyama (which turned out to be better than we expected), and the brews are – obviously – far better than the parent company's standard fare.
The six-variety lineup includes the crisp, bitter 496; the rich, fragrant After Dark; and the raspberry juice-infused Jazzberry. We recommend trying out the Beer Flight option (¥1,000), which lets you sample the entire lineup in 120ml taster portions. Future plans include brewery tours and tasting seminars with discussions by brew masters.
Address: 13 Daikanyama, Shibuya-ku
7.Beer Cafe Vertere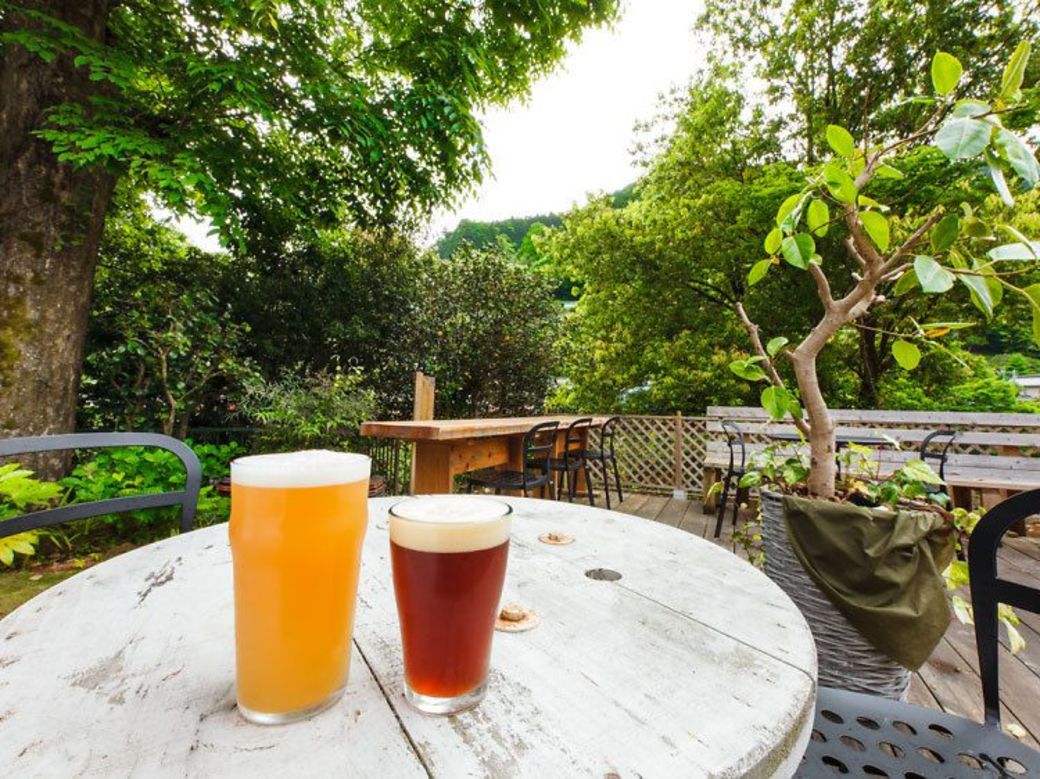 Step out of Okutama Station and you'll soon come across this traditional Japanese house with a pretty garden. There's a river running down in the valley just in front of the building, completing the beatific scene. It's home to a beer hall that serves five kinds of homebrewed beers, including a fruity session IPA and a light golden ale.
They've got their own hop field a 20-minute drive away too, so it's all very local. Having a glass in the garden while listening to the sound of the river and admiring the trees around you will make your clock tick slower. Those visiting Okutama for rafting or hiking will want to keep Vertere in mind – even if it's only for a quick break while waiting for the train home.
Address: 212 Hikawa, Okutama-cho, Nishitama-gun
(Written by Hiroyuki Tomie/Time Out Tokyo)
Related articles from Time Out Tokyo