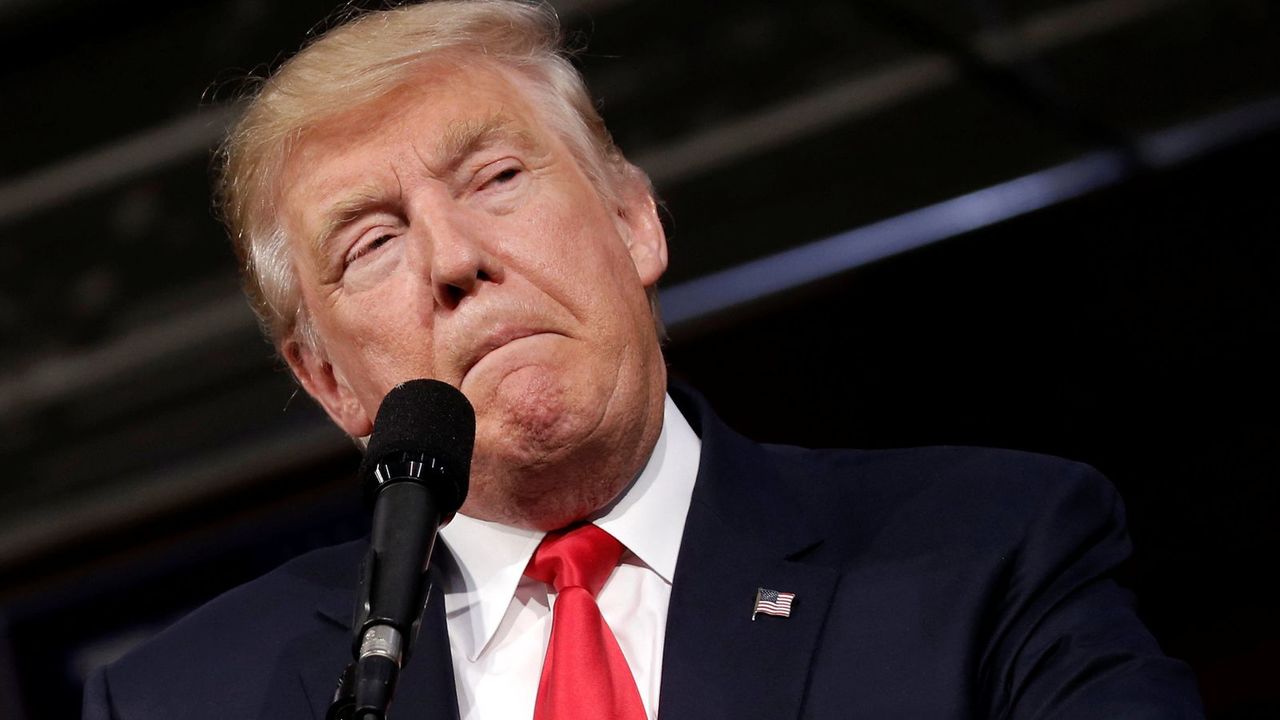 The Republican Party (GOP), the third-oldest political party in the world, found itself veering toward collapse on Monday, as new polls show support for its presidential candidate Donald Trump entering a free-fall, and the party's elected officials facing the disastrous prospect of not only losing the race for the White House on November 8, but also losing control of both the House and Senate.
A new poll by NBC News and the Wall Street Journal released Monday morning showed Democrat Hillary Clinton beating Trump by 52% to 38%, with likely voters also favoring Democratic control of the Congress by 49% to 42%.
The poll was taken before Clinton and Trump squared off in a tense, nationally-televised debate on Sunday night, which polls showed voters saying that Clinton handily won.
"Trump entered the debate as a dead political figure," says Mike Murphy, a veteran Republican political strategist who guided Jeb Bush's presidential campaign earlier this year. "And he left the debate still dead. Once you are dead, you don't come back."
The debate produced the most widely-feared outcome for the Republican Party. Trump, who launched unprecedented personal attacks on Clinton, managed to energize his populist voter base, effectively ending skittish, timid steps Republican officials had begun to take to remove Trump as the GOP candidate. And Trump's continued presence on the national political stage is drowning Republican "down ballot" candidates in tough election races for the House and Senate.
"Trump helped himself in the short-term, but he cannot win the race, and he remains an albatross around the neck of the GOP, " says Eugene Robinson, a Pulitzer Prize-winning columnist who is now a popular television commentator.
A hint of things to come for the GOP came on Saturday, when House Speaker Paul Ryan, the highest-ranking elected Republican official, was booed by Trump supporters at a rally in his home district in Wisconsin. Just hours before, Ryan had withdrawn an invitation to Trump to appear at the rally, in reaction to the release by the Washington Post of a tape recording that captured Trump boldly bragging about his aggressive, lewd sexual approaches to women.
Today, Trump supporters threatened to begin holding demonstrations in front of the GOP national headquarters in Washington, after Ryan released a statement that he would no longer "defend or support" Trump's presidential ambitions. Earlier in the morning, Ryan held a "conference call" by telephone with GOP members of the House, telling them that they are free to follow their own political instincts, and feel no party loyalty toward Trump.
But far from being deterred, Trump is doubling-down on his personal attacks on Clinton, reviving memories of two decades ago of former President Bill Clinton's marital infidelities. Polls overwhelmingly show that voters oppose Trump's tactics, but Trump is buoyed by the enthusiastic support he garners from his adoring backers.
In a campaign appearance today in Pennsylvania, Trump denounced Ryan, saying the House Speaker should "spend more time working to balance the budget and ending illegal immigration" than attacking his own party's presidential candidate.
The upper echelons of Trump's campaign staff are filled with veterans of a "cottage industry" of political activists and arch-conservative publishers dedicated to ending the political careers of Bill and Hillary Clinton.
Just minutes before Sunday's debate, Trump staged a political stunt, parading before reporters four women who, 20 years ago, had gained national attention with accusations against Bill Clinton of sexual indiscretions. The national electorate, which includes millions of younger voters born after the Clinton presidency, long ago left the former president's infidelities to the past. Trump then arranged for the four women to sit with some of his family members during the debate.
Perhaps the most shocking moment in the debate came when Trump declared his intention to appoint a special prosecutor to investigate and then jail Hillary Clinton on what he claims is a long track-record of corruption.
"That is the politics of dictators," said columnist Robinson. "I have covered too many dictators who routinely jail their political opponents."
Even before the debate, the NBC-Wall Street Journal poll found that 63% of voters have a negative view of Trump, while just 29% have a positive impression.
Ironically, Clinton is acknowledged by many Democrats to be a weak candidate, with a penchant for secrecy and a seeming lack of warmth with voters. Many of the Republicans whom Trump defeated in the primary elections earlier this year would likely have been far more competitive in the presidential contest against Clinton.
Instead, Republican leaders underestimated Trump's uncanny, populist ability to capitalize on voter discontent over the economic impact of globalization and other resentments, and failed to effectively counter his explosive rise as a divisive political figure.
Now, the GOP is staring into the abyss of a possible electoral defeat for the White House that could rival the historic losses of Barry Goldwater in 1964 and George McGovern in 1972.
"No one in the Republican leadership is thinking about the future of the party," says former Republican Party chairman Michael Steele. "The party is caught between its base on the one side, and the elected leadership in Washington on the other. There is a real question about whether the Republican Party can survive."